IEEE APS CHAPTER LECTURE - Giuseppina Monti - Inductive Resonant WPT - How to Obtain Different Operative Regimes
---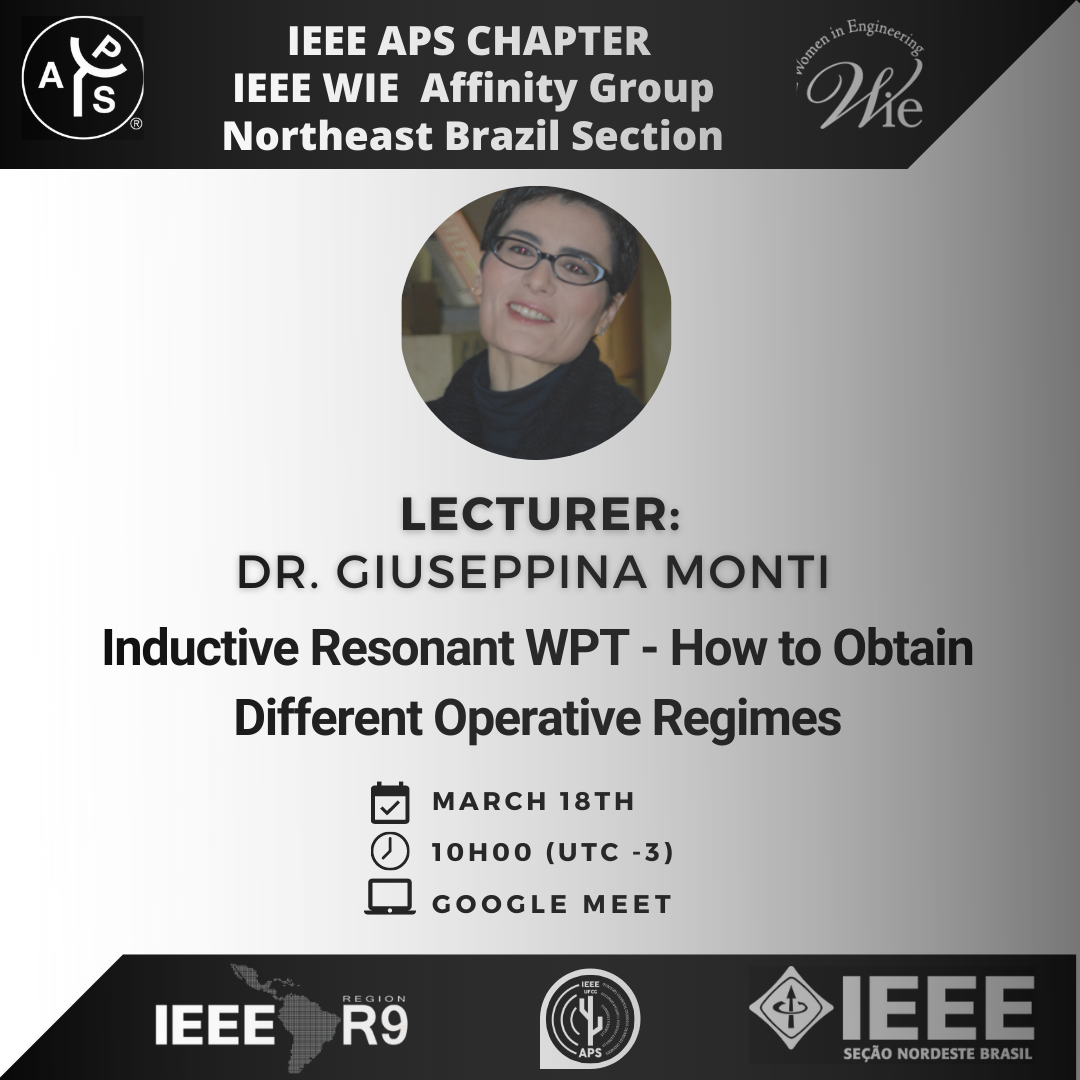 The webinar will focus on inductive resonant wireless power transfer (WPT).
---
Date and Time
Location
Hosts
Registration
---
Date: 18 Mar 2021
Time: 10:00 AM to 11:00 AM
All times are (GMT+03:00) Etc/GMT-3
Add Event to Calendar
Co-sponsored by

SBC05141B - Federal Univ Of Campina Grande, AP03
---
Speakers
Topic:
Inductive Resonant WPT - How to Obtain Different Operative Regimes
After a brief introduction to WPT, the operating conditions providing different operating regimes for an inductive resonant WPT link will be derived. Three different possible operative regimes will be analyzed and discussed. The first operative regime which will be illustrated aims at maximizing the performance of the link in terms of power gains. The second operative regime which will be analyzed is the case of a link providing a load-independent output voltage. Finally, the third operative regime which will be presented adopts a frequency agile scheme and is well-suited for applications requiring a performance independent of the coupling coefficient. Analytical data validated through experiments will be presented.
Biography:
Giuseppina Monti received the Laurea degree in Telecommunication Engineering (with honors) from the University of Bologna, Italy, in 2003, and the Ph.D. in Information Engineering from University of Salento (Italy), in 2007. She is currently with the Department of Innovation Engineering (University of Salento), where she is Associate Professor of electromagnetic fields. Since 2007, the research activities of G. Monti have been focused on the area of electromagnetic enabling technologies for energy autonomous smart systems. Special emphasis is put on wearable devices, energy harvesting, wireless power transmission (WPT). With regard to the development of technologies for WPT and energy harvesting, G. Monti is active both on: 1) the design of low-power long-range power links based on the use of rectennas, 2) the design and the theoretical analysis of high-power low/mid-range power links based on the use of electromagnetically coupled resonant systems (wireless resonant energy links). G. Monti has co-authored four book chapters and more than 150 papers appeared in international conferences and journals.


Address:Brazil
---