Navigating EMC Compliance from Design to Manufacturing
---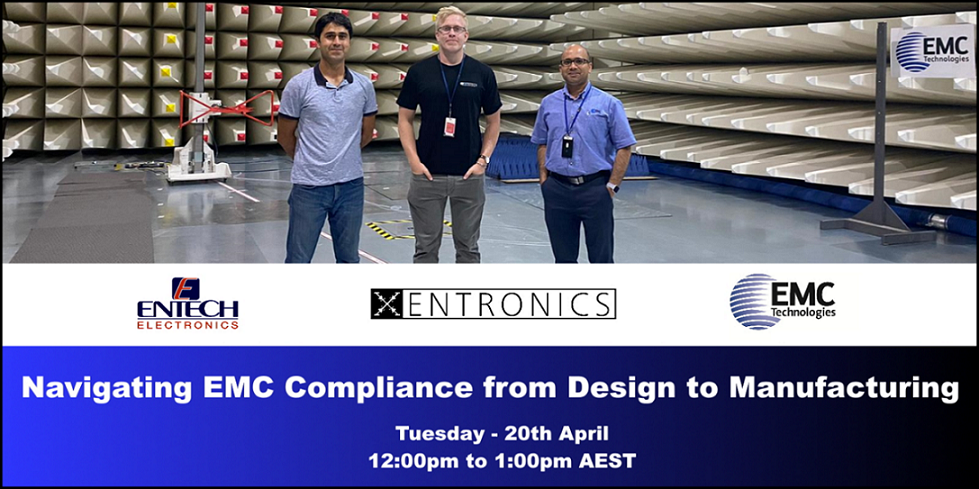 EMC Compliance is a key part of the product development process, yet is often left as the last priority for both design and manufacturing considerations. Agile development, leveraging off existing designs or development kits, and the prominence of IoT connectivity being a feature means that choices early in the design lifecycle are rarely factoring in EMC. This leads to massive design changes late in the development process, delays in time to market - and in some cases - product recall from compliance audits or issues in the field. In this presentation, three key industry figures will touch on the pillars you need to know - compliance, design, and manufacturing. They will cover the "need to know" basics, common misconceptions and mistakes, and give a toe-in-the-water insight into how deep and important these considerations are for you, your business, and developers.
---
Date and Time
Location
Hosts
Registration
---
Date: 20 Apr 2021
Time: 12:00 PM to 01:00 PM
All times are (UTC+10:00) Canberra
Add Event to Calendar
This talk would be run as a virtual event using Zoom. Please register, and an event URL will be sent to you one day before the talk.
Melbourne, Victoria
Australia
---
Starts 26 March 2021 12:00 PM
Ends 19 April 2021 11:59 PM
All times are (UTC+10:00) Canberra
No Admission Charge
---
Speakers
Yaser Darban, Scott Williams, Arun Gayen
Biography:
Yaser Darban / Entech Electronics:
For the last 4 years, Yaser has supported businesses around Australia in their product development journey at the manufacturing stage, through effective communication, education, and transparency of operations and the supply chain. Through Entech Electronics, he operates as a business development manager, working with his team to introduce and guide clients from completion of concept, through to mass production in Australia and China.
Scott Williams / Xentronics:
With a trifecta pedigree in Research, Consulting, and Manufacturing, Scott's knowledge-base, design considerations, and development methodology spans from product conceptualisation, through to compliance, through to manufacturing. He currently runs a solo contracting and consulting business, Xentronics, providing boutique and high-value Schematic & PCB Design, Compliance & Production Support, and Design Review services for businesses in Australia.
Arun Gayen / EMC Technologies:
Formerly with TUV Rheinland Group in Japan and Australia, Arun has over 15 Years of industry experience in compliance and a wealth of experience in Electrical Product Safety and EMI/EMC. He is currently the Branch Manager for EMC Technologies, Melbourne, and continues to support businesses at the administration and standards level, but also his team day to day in the labs.
---