The Path That She Took: Women Entrepreneurs' Conclave
---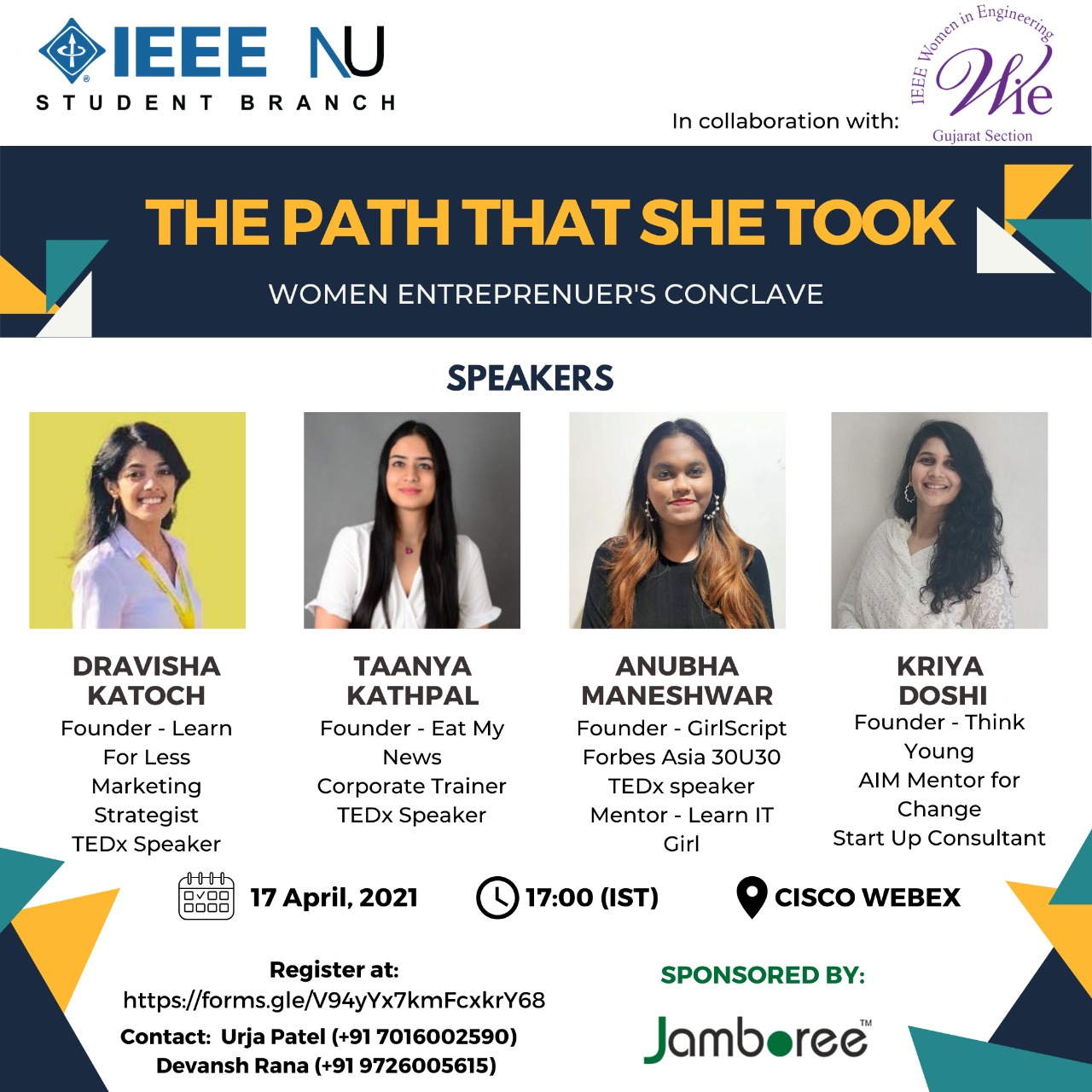 Career choice is a challenging aspect, especially for confused generations like us, who're spoiled with choices. In this situation learning from people who choose the road less traveled by, is the best way in giving yourself a new perspective on an ongoing situation. Hence it is our pleasure to inform you that WIE IEEE, SBNU in collaboration with WIE Gujarat Section is organizing a Women Entrepreneurs' Conclave- 'The Path That She Took' on the 17th of April, 2021.
The aim of the conclave is to connect students to women entrepreneurs who are excelling in their journey despite all odds. It is a panel discussion where speakers will share their journey and the problems they faced while building their business and how they overcame them. The goal is to transform the saga from job seekers to job givers.
The esteemed speaker panel includes:
Ms. Taanya Kathpal is the founder of Eat My News. She is a three-time TEDx speaker and has been invited to 50+ premier institutions
Ms. Dravisha Katoch is the founder of Learn for Less. She is the former Director of Outreach India's Executive Board 2020 Harvard US-India Initiative and an eminent TEDx speaker.
Ms. Anubha Maneshwar is the co-founder of GirlsScript Summer of Code and CEO at YAY foundation. She was also featured in the Forbes Asia 30 under 30 and is a TEDx speaker.
Ms. Kriya Doshi, the founder of ThinkYoung, Also serves as AIM Mentor of Change and is actively consulting with new-age Startups.
The event is free of cost and will take place on 17th of April 2021 from 5:00 pm to 7:00 pm IST, however, prior registration is a must in order to attend the event, register from the link below:
https://forms.gle/V94yYx7kmFcxkrY68


The conclave will be a great opportunity for anyone who plans on exploring career options or starting their own startup so get yourselves registered now!
---
Date and Time
Location
Hosts
Registration
---
Date: 17 Apr 2021
Time: 05:00 PM to 07:00 PM
All times are Asia/Calcutta
Add Event to Calendar
If you are not a robot, please complete the ReCAPTCHA to display virtual attendance info.

---
Co-sponsored by

Jamboree Education Pvt Ltd
---
Speakers
Ms Anubha Maneshwar
Biography:
She is the Founder of GirlScript a non profit organization that has impacted 100000 learners in tech and employment. She has also won Indian Women Leadership Excellence Award 2019.She has spoken at 50+ tech events or conferences till date
---