Experiencias motivadoras de mujeres exitosas que impulsan las TIC en el mundo
---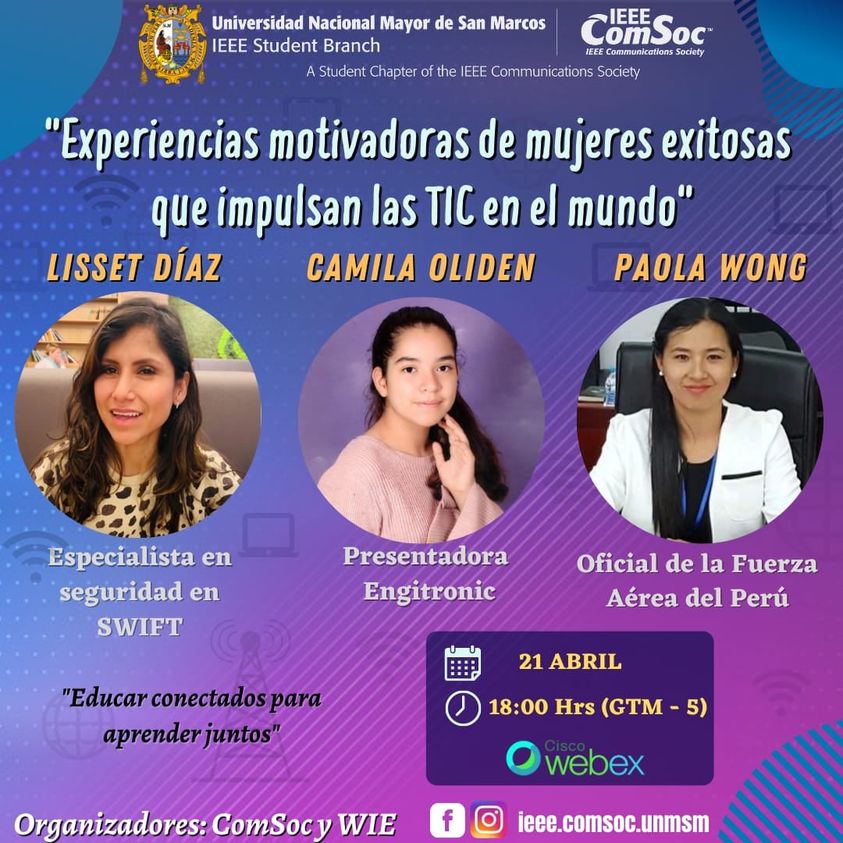 El capítulo Communications Society en colaboración con el grupo de afinidad Women in Engineering de la Universidad Nacional Mayor de San Marcos te invitan participar de la conferencia a realizarse en conmemoración del Día Internacional de las Niñas en las TIC, con el objetivo de conocer un poco más sobre el importante papel que desarrollan las niñas dentro de las TIC y de cómo potenciar esta labor, a través de las experiencias de 3 grandes mujeres
---
Date and Time
Location
Hosts
Registration
---
Date: 21 Apr 2021
Time: 05:00 PM to 09:00 PM
All times are America/Lima
Add Event to Calendar
If you are not a robot, please complete the ReCAPTCHA to display virtual attendance info.

---
Starts 18 April 2021 06:26 PM
Ends 20 April 2021 06:26 PM
All times are America/Lima
No Admission Charge
---
Speakers

Lisset Díaz
Topic:
Rompiendo mitos y en busca de oportunidades
Lisset Diaz Cervantes es ingeniera de telecomunicaciones, realizó prácticas profesionales en ORANGE, empresa enfocada en el área de soporte técnico de equipos de red. Actualmente, es especialista en Ciberseguridad y ha sido expositora en diversos eventos internacionales siendo la última en RSA in San Francisco-USA, y en esta oportunidad nos brindará una ponencia de cómo lograr objetivos de todo tipo.
Email:
---