II CONGRESO INTERNACIONAL DE INVESTIGACIÓN E INNOVACIÓN CI3-2021
---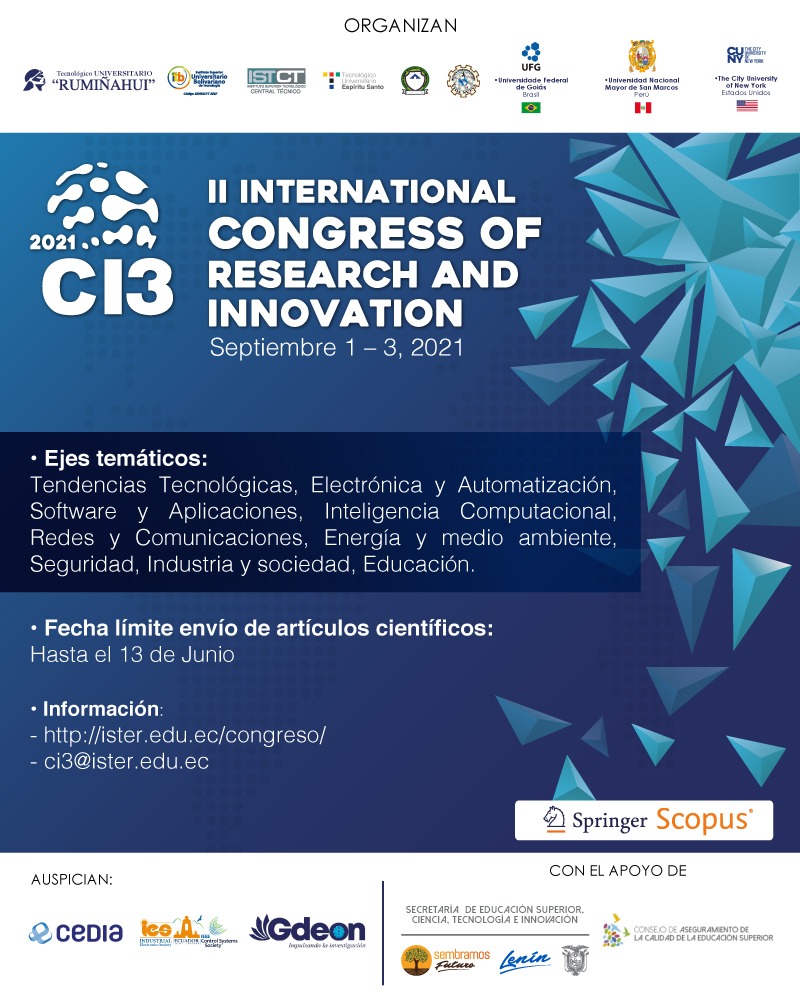 IES&CSS Joint Chapter Ecuador y el Instituto Tecnológico Universitario Rumiñahui ISU-ISTER y GDEON® tienen el agrado de invitar a investigadores, profesionales, docentes y estudiantes, tanto nacionales como extranjeros, al II CONGRESO INTERNACIONAL DE INVESTIGACIÓN E INNOVACIÓN CI3-2021, mismo que se llevará a cabo del 1 al 3 de septiembre 2021.
El evento es organizado por reconocidos institutos superiores a nivel nacional: ISU-ISTER, ISU-Bolivariano, Vida Nueva, ISU-Espíritu Santo, Central Técnico y José Chiriboga Grijalva.
El CI3-2021 acogerá a centenares de participantes, tanto nacionales como internacionales, y tendrá como objetivo difundir los resultados de sus investigaciones y proyectos tecnológicos.
Los artículos científicos que sean aceptados por el comité técnico serán publicados en la serie AISC SPRINGER e indexados en la base de datos SCOPUS (Q3).
Fecha límite de envío de artículos científicos: 13 de Junio 2021.
---
Date and Time
Location
Hosts
Registration
---
Start time: 01 Sep 2021 10:18 PM
End time: 03 Sep 2021 10:18 PM
All times are (GMT-05:00) Etc/GMT+5
Add Event to Calendar
Envíanos todas las inquietudes, estaremos prestos ayudarte.

Organizado por el Instituto Tecnológico Universitario Rumiñahui ISU-ISTER y GDEON
---
Speakers
Prof. Edward Madureira
Topic:
Empresa/Universidad en la UFG: Resultados obtenidos en investigación e innovación
Prof. Jorge Eduardo Noro
Topic:
INNOVACIÓN Y CREATIVIDAD EN EDUCACIÓN: INVESTIGACIÓN, NUEVAS TECNOLOGÍAS Y LA CONSTRUCCIÓN DE LA ESCUELA DEL FUTURO.
---