IEEE AESS Chapter Summit - Regions 1-7
---
Growth through engagement and teamwork
---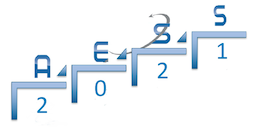 The IEEE AESS Chapter Summit brings together IEEE Aerospace & Electronic Systems Society chapter officers from across the US and Canada. Local volunteer leaders play a key role in engaging and serving our local members and advancing our technical interests in the complex systems of air, space, ocean and ground environments.
Training, motivation, and inspiration from sharing best practices are all on the agenda.
---
Date and Time
Location
Hosts
Registration
---
Date: 08 May 2021
Time: 10:00 AM to 02:00 PM
All times are (GMT-05:00) US/Eastern
Add Event to Calendar
This meeting is virtual. All registrants should have received Zoom link via email. Contact k.kramer@ieee.org if needed.
Please contact k.kramer@ieee.org for registration and connection information.

Co-sponsored by

AES Member Services
---
Speakers

Topic:
IEEE Aerospace and Electronic Systems Society Officers and Chapter Leaders
Welcome (10:00 ET)
Walt Downing, President
Mark Davis, Executive Vice-President -
Session 1 – AESS Chapters Best Practices Presentations (10:15 ET)
R1 Binghamton Section Joint Chapter - Vince Socci, Chapter Chair
R3 Atlanta Section Jt Chapter - Ryan Bales, Chapter Chair
R5 Lone Star Section Chapter - Chris Camargo, Chapter Chair
R5 Galveston Bay Chapter - Zafar Tazvi, Chapter Chair
Session 2 – Chapter Tools (11:15 ET)
Using VTools – Events, E-notices, and More –Kathleen Kramer, Chapter Coordinator
Session 3 – Student Engagement (12:30 ET)
AESS Networking & Mentoring Program –Francesca Filippini, Mentoring Chair
AESS Social Media
Session 4 – Chapter Opportunities (1:00 ET)
Chapter Funding Opportunities –Fabiola Colone, VP Member Services
Best Chapter Awards
Distinguished Lecturer Program – Lorenzo Lo Monte, VP Education
Closing (1:45)
Distribution of Materials –Fabiola Colone, VP Member Services
Adjournment - Walt Downing, President
---
Agenda
Welcome with AESS President Walt Downing
Session 1 - AESS Chapter Best Practices
Session 2 - Chapter Tools
Session 3 - Student Engagement
Session 4 - Chapter Opportunities
Closing Remarks
---