Where Should Batteries Be Put to Manage Wind and Solar Power?
---
As developers and policymakers continue to search for the best way to deploy renewables and storage, the consideration of cost and value will be important. However, the relative benefits and costs can vary by market, by time, and by other factors. Depending on conditions, both separate and hybrid projects can pencil out from a system optimization perspective.
---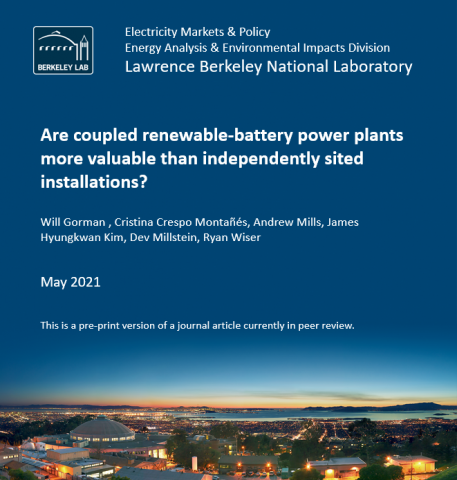 Batteries are becoming an increasingly common part of new power generation projects, especially for solar and wind farms. Solar projects use batteries to shift generation from the day to the evening, to capture higher power prices as the sun goes down. Wind projects can use batteries to smooth power output and avoid congestion.
In many cases the batteries are located with and integrated into the renewable power project, as a hybrid power plant. Wind and solar plants are located to take advantage of strong winds and sunshine, with plentiful land and good grid connections.
Batteries can be put practically anywhere, like in high-value locations where they can provide additional values to the local grid, such as voltage support, congestion relief, and resilience. With the right controls, they can also provide system-wide benefits, such as capacity and load following.
New research from Lawrence Berkeley National Laboratory (Berkeley Lab) looks at the question of where batteries should be located to provide the highest value. Do hybrid renewable + battery power plants provide more value than independently sited installations?
---
Date and Time
Location
Hosts
Registration
---
Date: 15 Jun 2021
Time: 12:00 PM to 01:00 PM
All times are US/Central
Add Event to Calendar
Please register in TWO places:
1. Register on this site (click Register Now, below) as IEEE participants and guests for our information.
2. Also register HERE, and the on-line event link will be sent to your registered email address.
https://lbnl.zoom.us/webinar/register/WN_sjjv7ujUR-mQThHZ6kOotw(link is external)
Berkeley, California
United States
---
---
Speakers
Biography:
Will Gorman is a Graduate Student Researcher in the Electricity Markets and Policy Department at Lawrence Berkeley National Laboratory. His research focuses on the economics of distributed energy resources, the integration of variable generation into the electric power system, and the impact of autonomous and electric vehicles on energy systems. Will has published his research in Applied Energy, Energy Policy, and Utilities Policy among other journals.
Previously, Will worked with the utilities practice at The Brattle Group, an economic consulting firm, where he focused on electricity market and retail rate design. He also held positions as a researcher with Boston University's Institute for Sustainable Energy as well as UT Austin's Webber Energy Group, where he studied topics ranging from building energy efficiency to transportation electrification. Will has his M.S. in Energy and Resources from the University of California, Berkeley and is currently working towards his Ph.D. in the same department. He holds a B.S. in Chemical Engineering and a B.A in Plan II Honors from the University of Texas at Austin.
Address:United States
Biography:
Andrew D. Mills is a Research Scientist in the Electricity Markets and Policy Group at Lawrence Berkeley National Laboratory. Andrew conducts research on the integration of variable generation into the electric power system, evaluating the costs, benefits, and institutional needs of renewable energy transmission and other supporting infrastructure.
Andrew's has published his research in IEEE Transactions on Sustainable Energy, IEEE Journal of Photovoltaics, Wind Energy, and Energy Policy among other journals. He was a contributing author to the IPCC Contribution of Working Group III to the Fifth Assessment Report and Special Report on Renewable Energy Sources and Climate Change Mitigation.
Previously, Andrew worked with All Cell Technologies, a battery technology start-up company.
Andrew has a Ph.D. and M.S. in Energy and Resources from UC Berkeley and a B.S. in Mechanical Engineering from the Illinois Institute of Technology.
Address:berkely, United States
---
Agenda
40 Minute Presentation
20 Minute Q&A
---
Paper and Webinar information details.
https://emp.lbl.gov/news/where-should-batteries-be-put-manage-wind-and
---