Blockchain & Cryptocurrencies in the Digital Era
---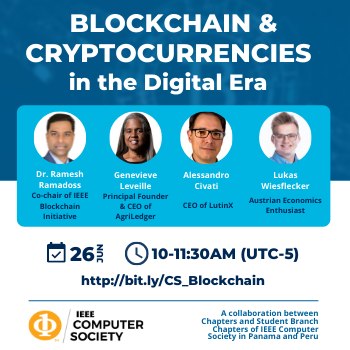 EVENTO GRATUITO Y ABIERTO
El surgimiento de blockchain está íntimamente ligado a la creación del Bitcoin como alternativa al dinero tradicional. Las redes blockchain están formadas por cadenas de bloques que quedan registradas en las partes que intervienen en ese intercambio de datos. Este registro se sincroniza y actualiza en todo el mundo de forma constante según se van añadiendo bloques a la cadena.

En este evento en inglés veremos qué es blockchain y dónde es útil, el impacto que tiene blockchain alcanza muchos sectores y veremos aquí un par de casos y finalmente el futuro del dinero y cómo impactarían las criptomonedas están cambiando el mundo.
_______________________________________________________________________
OPEN AND FREE EVENT
Blockchain networks are made up of chains of blocks that are registered with the parties involved in that data exchange. This record is constantly synchronized and updated around the world as blocks are added to the chain.
In this event in English we will see what blockchain is and where it is useful, the impact that blockchain has reaches many sectors and we will see here a couple of cases and finally the future of money and how cryptocurrencies would impact the world.
---
Date and Time
Location
Hosts
Registration
---
Date: 26 Jun 2021
Time: 10:00 AM to 11:30 AM
All times are (GMT-05:00) America/Panama
Add Event to Calendar
The link for the event will be sent the evening of Friday, June 25th, 2021.
El enlace del evento será enviado la noche del viernes 25 de junio de 2021.
Starts 28 May 2021 01:10 AM
Ends 25 June 2021 01:00 PM
All times are (GMT-05:00) America/Panama
No Admission Charge
---
---
Agenda
1. Welcome and introduction to the event.
2. Dr. Ramesh Ramadoss | Co-Chair IEEE Blockchain Initiative | What is Blockchain and Where is it useful?
3. Genevieve Leveille | Principal Founder and CEO of AgriLedger | Distributed Technology for Building Trust in Global Food Networks.
4. Alessandro Civati | CEO of LutinX | Certificate Verification through Blockchain.
5. Lukas Wiesflecker | The future of money and how cryptocurrencies are changing the world.
6. Final Thoughts.
---