AI against COVID-19 Competition: Workshop & Networking
---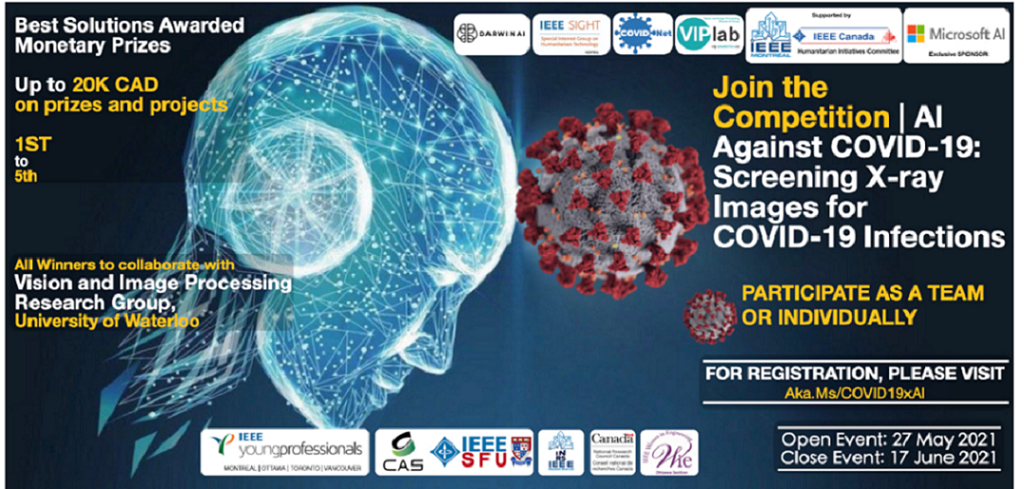 IEEE SIGHT (Special Interest Group on Humanitarian Technology) of Montreal Section, Vision and Image Processing Research Group of the University of Waterloo and DarwinAI Corp. invite data scientists, students and professionals working on Artificial Intelligence (AI) to participate in a virtual competition to help medical researchers diagnose COVID-19 with chest X-ray (CXR) images. The ultimate goal is to contribute to the development of highly accurate yet practical AI solutions for detecting COVID-19 cases and, hopefully, accelerating the treatment of those who need it the most. Moreover, this AI for Good initiative will also allow us to take action on at least one of the United Nations Sustainable Development Goals (SDGs), Good Health and Well-being.
During this workshop and networking event, you have the opportunity to attend two talks by Prof. Alex Wong from the University of Waterloo and Ahmed Adel From Microsoft Canada and also Networks with researchers in the field
---
Date and Time
Location
Hosts
Registration
---
Date: 05 Jun 2021
Time: 12:00 PM to 02:00 PM
All times are (GMT-05:00) Canada/Eastern
Add Event to Calendar
Zoom link and Spatial chat space will be sent to registrants before the event.
---
Starts 03 June 2021 09:16 AM
Ends 05 June 2021 11:30 AM
All times are (GMT-05:00) Canada/Eastern
No Admission Charge
---
Speakers

Prof. Alex Wong
of University of Waterloo
Topic:
Trust and Transparency to AI in Medicine: The Next Frontier
Biography:
He is currently the Canada Research Chair in Artificial Intelligence and Medical Imaging, co-director of the Vision and Image Processing Research Group, and an associate professor at the University of Waterloo. He is also a Co-founder and Chief Scientist at DarwinAI.

Ahmed Adel
of Microsoft AI
Topic:
Microsoft AI and ML platform on Azure
Biography:
Ahmed Adel is the Director, Data & AI Customer Engineering​ at Microsoft Canada. He has more than 30 years of experience in companies such as Microsoft, IBM, and Raya Software.
---
Agenda
12:00 p.m. - 12:05 p.m.: Welcome and introduction
12:05 p.m. - 12:25 p.m.: Talk by Prof. Alexander Wong, University of Waterloo
12:25 p.m. - 12:30 p.m.: Q&A
12:30 p.m. - 12:50 p.m.: Talk by Ahmed Adel, Microsoft Canada
12:50 p.m. - 12:55 p.m.: Q&A
12:55 p.m. - 2:00 p.m.: Networking
---
Register for the actual competition at https://events.vtools.ieee.org/m/269273.
We wouldn't be able to host this competition without the help of our incredible sponsor Microsoft Canada, as well as IEEE Canada Humanitarian Initiatives Committee and IEEE Montreal.
---