Discrete Event Systems Specficiation
---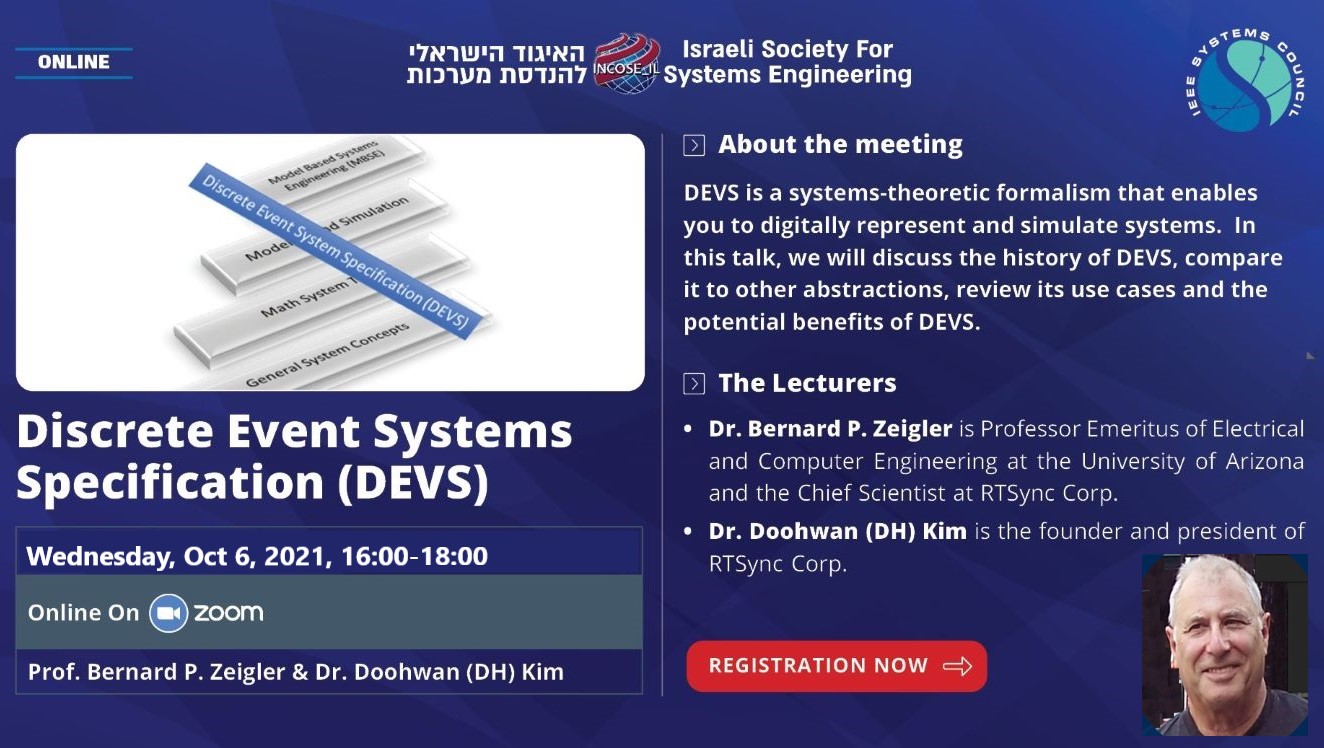 Model Based System Engineering (MBSE) refers to the trend to use models systematically throughout the design process. MBSE has been struggling to find a way to connect the blueprint models that describe the initial architecture with ways to check and evaluate these plans. Simulation has become the preferred means to support this goal. Discrete Event Systems Specification (DEVS) is a model-based way to perform simulation and connect the stages of MBSE.
DEVS enables you to represent real systems (existing or hypothetical) so they can be digitally represented and simulated. It is a part of a framework and theory of modeling and simulation and is unique as a way of constructing a simulation model that is based on a mathematical theory of systems. In this talk, we answer some questions such as: How/when was DEVS born? How does it compare to other abstractions? Where does it make the most sense to use? Where will it lead? What are the potential benefits of DEVS? What is made possible as a direct result of using DEVS?
After a short review and some example case studies, we present our vision for fully integrated modeling and simulation support of the MBSE life cycle based on DEVS. We close by considering the current state-of-the-art tools available and under development towards this vision.
Participation is free for members of the IEEE, Israel Section.
Additional information and registration:
https://incoseil.org/activity_details.php?actid=act_SystemEngineering&id=2883
---
Date and Time
Location
Hosts
Registration
---
Date: 14 Jul 2021
Time: 04:00 PM to 06:00 PM
All times are Israel
Add Event to Calendar
Additional information and registration:
https://incoseil.org/activity_details.php?actid=act_SystemEngineering&id=2883
Tel Aviv, Tel Aviv District
Israel
---
Co-sponsored by

Israeli Association for Systems Engineering - INCOSE_IL - האיגוד הישראלי להנדסת מערכות
---
Speakers
Topic:
Discrete Event Systems Specification - Part A
Biography:
Dr. Bernard P. Zeigler is Professor Emeritus of Electrical and Computer Engineering at the University of Arizona and the Chief Scientist at RTSync Corp. He received a B.Eng. Physics from McGill, M.S. from MIT, and Ph.D. from the University of Michigan (1968). In Israel, Zeigler has been on faculty of the Technion and Weizmann Institutes. Prof. Zeigler is best known for his theoretical work concerning modeling and simulation based on systems theory and the DEVS formalism which he invented in 1976. His book "Theory of Modeling and Simulation" has become a classic in the field. Recently, he published the third edition of the book updated with the help of two young researchers. His R&D work in academia and industry has received recognition from numerous funding and professional agencies. Zeigler is a Fellow of the Institute of Electrical and Electronics Engineers (IEEE) and The Society for Modeling and Simulation International (SCS). He is a member of the SCS Hall of Fame and received the Institute for Operations Research and Management Sciences (INFORMS) Simulation Society Lifetime Professional Achievement Award.
Address:United States
Dr. Doohwan (DH) Kim
of RTSync
Topic:
Discrete Event Systems Specification - Part B
Biography:
Dr. Doohwan (DH) Kim is the founder and president of RTSync Corp., which specializes in Predictive Analytics and System Engineering tools based on DEVS Modeling and Simulation technology. Dr. Kim has been involved in the design, development, and delivery of the advanced M&S solutions for highly complex information science and engineering problems. Dr. Kim is commercializing DEVS technology-based applications and services for government and industry customers. He received his Ph.D. degree from the Department of Electrical and Computer Engineering of the University of Arizona in 1996.
---
Agenda
16:00-16:15 Opening Remarks - Dr. Yaniv Mordecai, IEEE Senior Member, IEEE Israel Systems Council Chapter Chair and INCOSE IL
16:15-17:45 Discrete Event Systems Specification
- Prof. Emeritus Dr. Bernard P. Zeigler, IEEE Fellow, Chief Scientist, RTSync
- Dr. Doohwan (DH) Kim, Presient and CEO, RTSync
---