Autodesk PCB Design Tutorial
---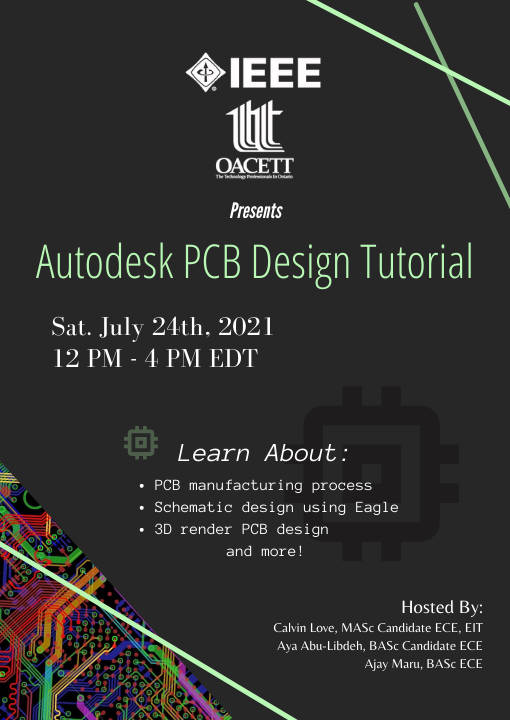 The tutorial session is intended to walk students through the PCB design process using the Autodesk Suite (Eagle and Fusion 360). This lecture is broken up into 3 sections in order to achieve the following learning outcomes:
1. Advantages and disadvantages of PCB design vs conventional circuit prototyping methods and the PCB fabrication process.
2. Develop a library of parts including the schematic symbol, 2D PCB footprint and 3D package design.
3. Convert a circuit schematic into a PCB design to be sent to the manufacturer for fabrication.
4. 3D render PCB Design.
---
Date and Time
Location
Hosts
Registration
---
Date: 24 Jul 2021
Time: 12:00 PM to 04:00 PM
All times are (GMT-05:00) America/Toronto
Add Event to Calendar
To join the event click here or copy and paste the link below in your browser:
https://teams.microsoft.com/dl/launcher/launcher.html?url=%2F_%23%2Fl%2Fmeetup-join%2F19%3Ameeting_ZTJkNGEwNTMtZWY5Mi00MDAzLWJkMmEtNmZjYzE5NWM0OThh%40thread.v2%2F0%3Fcontext%3D%257b%2522Tid%2522%253a%252212f933b3-3d61-4b19-9a4d-689021de8cc9%2522%252c%2522Oid%2522%253a%2522715bba7d-4355-4191-babd-385adbdaa5bb%2522%257d%26anon%3Dtrue&type=meetup-join&deeplinkId=fc82d5d6-a652-4717-a354-7a7cff5b667c&directDl=true&msLaunch=true&enableMobilePage=true&suppressPrompt=true
---
Calvin Love

Co-sponsored by

OACETT
Starts 11 July 2021 12:00 AM
Ends 24 July 2021 12:00 PM
All times are (GMT-05:00) America/Toronto
1 space left!
No Admission Charge
---
Speakers

Calvin Love
of OACETT
Email:
Address:Ontario, Canada

Aya Abu-Libdeh
Email:
Address:Ontario, Canada
---