Sinergia en el área de la salud: Personal médico y biomédico
---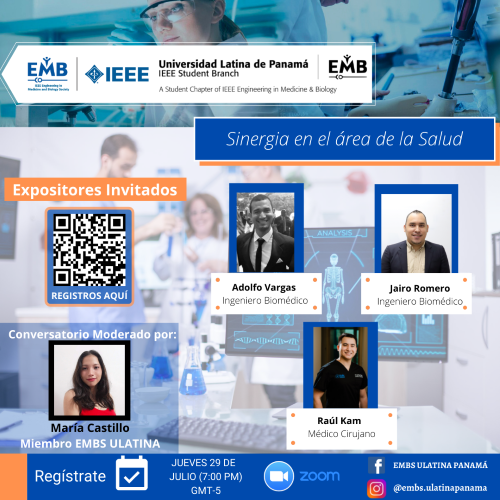 El capítulo estudiantil IEEE Engineering in Medicine & Biology Society- EMBS presenta "Sinergia en el área de la salud: Personal médico y biomédico " en el cual se tocará temas claves acerca del trabajo colaborativo y relación entre personal médico y biomédico, y cómo se complementan para generar soluciones en el área de la salud.
---
Date and Time
Location
Hosts
Registration
---
Date: 29 Jul 2021
Time: 07:00 PM to 08:30 PM
All times are America/Panama
Add Event to Calendar
Reunión a realizar a través de la PLATAFORMA ZOOM.
El link será enviado tras completar el registro de asistencia.
---
Starts 26 July 2021 12:00 AM
Ends 29 July 2021 06:00 PM
All times are America/Panama
No Admission Charge
---
Speakers
Ing. Adolfo Vargas - Ing. Jairo Romero
Biography:
Adolfo Vargas
Ingeniero Biomédico (UDELAS)
Magister en Protección Radiológica (UDELAS)
Diplomado en Salud y Seguridad Ocupacional (ULAT)
Actualmente Estudiante de Maestría en Ciencia de Medicina Nuclear e Imágenes Moleculares (CIU-España)
Experiencia de más de 14 años en el área de Licitaciones públicas y privadas de múltiples especialidades de la Biomédica y el sector de Soporte Técnico de hospitales de 2, 3 y 4 niveles de atención hospitalaria.
Jairo Romero
Ingeniero Biomédico (UDELAS, 2006)
Cirujano Dental (Universidad de Panamá, 2001)
Cursos y entrenamientos de Productos NATUS MEDICAL INCORPORATED.
Experiencia previa en el área de ventas de equipos médicos e instalación, mantenimiento y entrenamiento en varios países.
Actualmente su cargo es el de Ejecutivo de Ventas, en el Dpto. Post Venta en la empresa INFINITY MEDICAL PANAMA, S. A.
Dr. Raúl Kam
Biography:
Raúl Kam
Doctor en Medicina y Cirugía (2010)
–Universidad de Latina de Panamá
–Hospital Aquilino Tejeira (MINSA)
•Maestría Clínica con especialidad en Ortopedia y Traumatología (2013)
•Master Fellowship en Cirugía Artroscópica
–Universidad de Barcelona, Barcelona, España (2018)
–International Society of Arthroscopy, Knee Surgery & Orthopedic Sport Medicine) (2017 – 2018)
–Hospital Perpetuo Socorro, Gran Canaria España
–Instituto García Cugat, Barcelona, España
•Práctica médica actual
–Kam Orthopedic & Care Center, The Panama Clinic, Torre A, Consultorio 1021
Tel: 310-2834 / 6652-3488
---