IEEE CAS-IF Summer-I 2021: "Rapid Development of Artificial Intelligence (AI), Electronic Systems and IoT technologies"
---
IEEE CAS-IF Summer-I 2021
---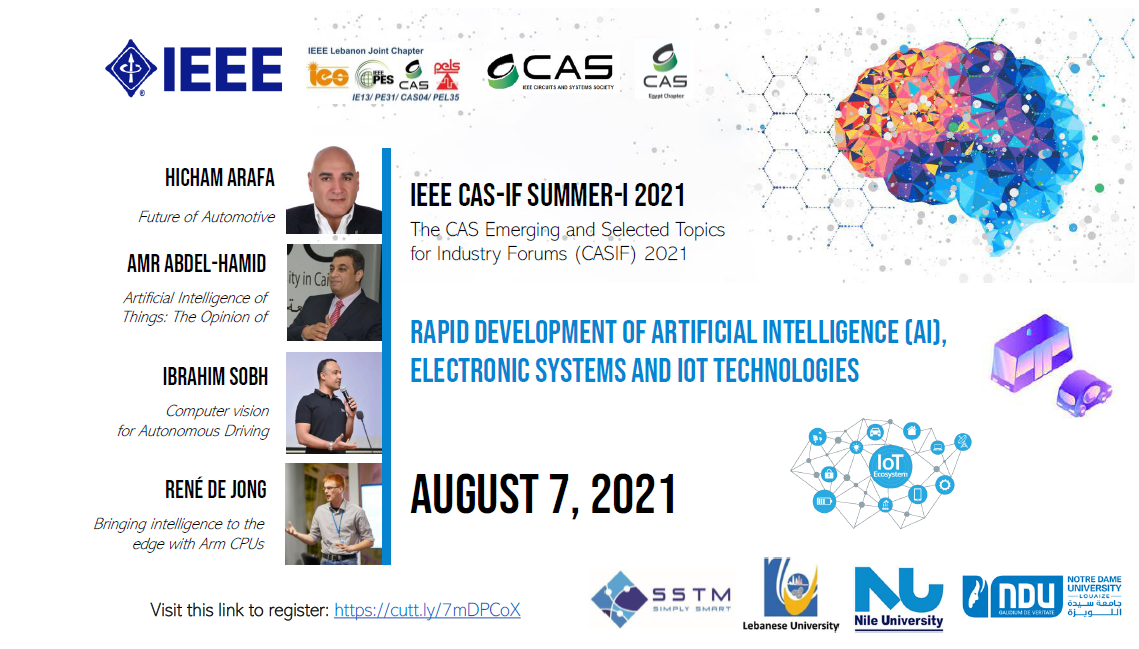 Dear Colleagues, Students and Friends,
On behalf of the IEEE Lebanon Joint Chapter (IE13/PE31/CAS04/PEL35) and CAS Egypt chapter, you kindly invited to attend the 1st CAS-IF summer-1 "CAS Emerging and Selected Topics for Industry Forums" on Saturday August 7, 2021 from 10:45 am till 5:00 pm Beirut Time.
CASS is continuing its "CAS Emerging and Selected Topics for Industry Forums" (CASIF) program on emerging and cross-discipline topics, where industrial speakers describe real-world challenges, and academic speakers describe potential technologies that could address those challenges.
The theme of this CASIF is "Rapid Development of Artificial Intelligence (AI), Electronic Systems and IoT technologies". The objective of this CASIS Summer-1, 2021 is to share the latest topics in the areas related to Circuit and System. CASIF Summer-1, 2021 aims to provide opportunity for students (undergraduates and graduates) to attend and interact with scientists, engineers in the research community and industry. It is a major international forum for researchers, scientists, educators, students and engineers from the industries to share their latest findings in circuits and systems related to AI and IoT.
This 1st CASIF will explore the following Topics:
Kindly, visit this link to register: https://cutt.ly/7mDPCoX (Virtual/Physical Attendees).
Please note that places are limited to 50, send an email to akassem@ndu.edu.lb to reserve your place for the physical attendees. The distance between attendees will be respected due to the COV-19 pandemic.
For more information please visit the CAS-IF summer-1 website at https://attend.ieee.org/casif-sumi-2021/
Regards,
Abdallah Kassem (IEEE CAS Lebanon, Chair)
&
Ahmed Madian (IEEE CAS Egypt, Chair)
---
Date and Time
Location
Hosts
Registration
---
Date: 07 Aug 2021
Time: 10:00 AM to 05:00 PM
All times are (GMT+02:00) Asia/Beirut
Add Event to Calendar
SSTM Egypt is established with the objective of developing IoT Industry Grade Solutions. SSTM Founders got vast experience in research, electronics design, information technology, and product development in the value chain from GSM to Zigbee, Bluetooth 4.0, LORA, and even wired elements as needed.

Co-sponsored by

SSTM
Starts 26 July 2021 10:41 PM
Ends 07 August 2021 10:00 AM
All times are (GMT+02:00) Asia/Beirut
No Admission Charge
---
Speakers
Dr. Ibrahim SOBH
of Valeo Group
Topic:
Computer vision for Autonomous Driving
Visual perception is a key element for self-driving cars. Despite the remarkable success of Deep neural networks in computer vision tasks for autonomous driving (ex: object detection, segmentation, and steering angle prediction, etc), most of the existing models are computationally and memory expensive, making it difficult to be deployed on embedded systems with limited processing power and low memory resources. In this talk, basic compression and acceleration methods are presented with practical approaches and tools.
Biography:
Dr. Ibrahim has more than 20 years of experience in the area of Machine and Deep Learning in addition to Software Development. He received his Ph.D. in Deep Reinforcement Learning. His M.Sc. The thesis is in Machine Learning applied to automatic documents summarization. Dr. Ibrahim has participated in several related national and international megaprojects, conferences, and summits. He delivers training and lectures for academic and industrial entities. Dr. Ibrahim's patents and publications are mainly in Natural language processing, Speech processing, Computer vision. Currently, Ibrahim is a Senior Expert of AI, Valeo Group.
Email:
Address:Valeo Group, , Egypt
René de Jong
of Sr. Research Engineer, ARM
Topic:
Bringing intelligence to the edge with Arm CPUs
Artificial intelligence is emerging in a variety of applications. Whether it is in self-driving cars, smart speakers, or even in-home robotics; Machine learning is a powerful tool for devices to process their environment. However, developing Machine Learning solutions to run efficiently on embedded devices is challenging, and requires a solid full system understanding from the developer as well as expertise in machine learning. And even with the right expertise, the right tools are not always easy to find.
In this talk, we will discuss the developer's journey from Machine Learning Algorithm creation to the implementation on resource constraint devices. We will talk about the tools at your disposal and the right way to use them. We will discuss how to develop the right solution for your envisioned devices.
Biography:
René de Jong is a Senior Research Engineer at the Arm Research Machine Learning Lab. He has almost 10 years of experience in research and performance analysis of Embedded Systems. In his daily work, he investigates probabilistic Machine Learning in resource constraint devices. He obtained his Master of Science degree in Embedded Systems from the Eindhoven University of Technology in the Netherlands.
Email:
Address:Netherlands
---
Agenda
Beirut Time

9:30-10:45

Registration

Refreshment

10:45-11:00

Opening Ceremony

Fawaz El Omar (Dean, Ecole Doctoral, Lebanese Univ.)
Ahmed Madian & Abdallah Kassem (CAS-IF Sum-I, Chairs)
Kiran Gunnam (IEEECAS, Technical Activities Division)

11:00-12:00

Computer vision for Autonomous Driving

Ibrahim SOBH, Valeo Group

12:00-13:00

Bringing intelligence to the edge with Arm CPUs

René de Jong, ARM Company

13:00-14:00

Lunch Break

14:00-15:00

Artificial Intelligence of Things: The Opinion of Things

Amr, Abdal-Hamid, SSTM Egypt Company

15:00-16:00

Future of Automotive

Hicham Arafa, Brightskies Company

16:00-16:15

Closing Ceremony
---
"Rapid Development of Artificial Intelligence (AI), Electronic Systems and IoT technologies"
---