International Women in Engineering COVID 19 Congress 2021 (WIECOV 2021)
---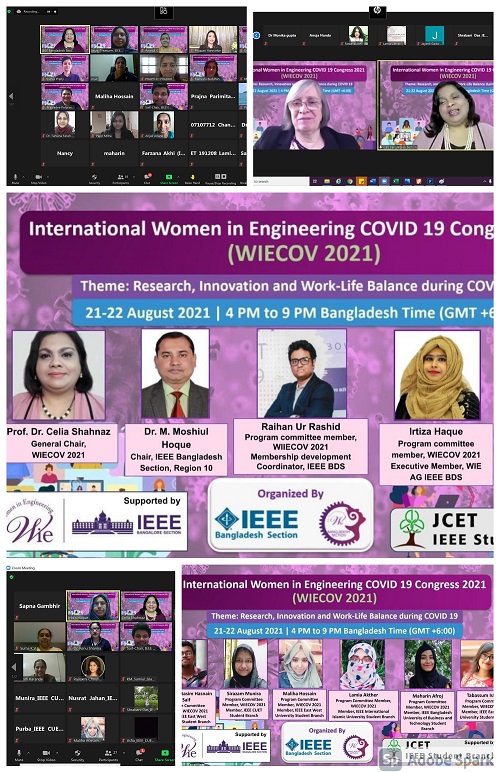 IEEE Bangladesh section offers successful events for the whole section by collaborating with different national and international IEEE sections, affinity groups, student branches etc. Recently IEEE Bangladesh Section and Women In Engineering Affinity Group of IEEE Bangladesh Section have organised an event named "Women In Engineering Covid 19 Congress 2021" (WIECOV 2021) with the help of the Women In Engineering Affinity Group of IEEE Bangalore Section. This successful event was totally a virtual event that went live on 21st and 22nd August 2021, starting the session at sharp 4.00 PM GMT+6 and lasting till 9.00 PM GMT+6.
The event's main focus was to empower female engineers, scientists, students, professionals and entrepreneurs to search for the best possible way to utilise the time of the COVID 19 pandemic by contributing their worth to the society with what calibre they all have in their specific field of interest. The whole program was divided into multiple topics of interest and those are Diversity and Inclusion, Work-Life Balance, Research and Innovation, Technical Society Engagement and Activities, Industry Activities, Entrepreneurial Skill Development, Young Professionals and Women in Engineering Collaboration, New Initiatives to handle COVID19, Career Planning, Professional Development and Retention, Preserving History of Women in Engineering Activities and Affinity Group. Each day had a separate section for all of the focus areas mentioned.
The program was Chaired by Prof. Dr Celia Shahnaz, the former Chairperson of IEEE BDS and current IEEE WIE Committee Chair-Elect 2022. There was an expert team of valuable leaders from IEEE Bangladesh Section and WIE AG IEEE BDS including the current Chairperson of IEEE BDS Prof. Dr Moshiul Haque, Raihan Ur Rashid, Irtiza Haque and Jannatul Adan. The program committee had a few more active student members who contributed to the success of this huge event.
The program was a success as it had more than 50 Speakers from 11 countries. The first day had 20 Speakers and the second day had a few more than 30 speakers. The biography of the speakers is given here (Link: shorturl.at/opHPW ) and the banners of all the speakers are given here (Link: shorturl.at/frMR2 ). There was a good number of attendees from different countries and time zones. This program was educative, informative, creative and interactive. The attendees were from different professions and occupations with an interest in Science, Engineering and Social Innovation. Among the attendees, we had a good number of male attendees along with female attendees. This proved the real meaning of diversity in inclusion.
Day 1 of WIECOV 2021 started with an inaugural speech from Prof. Dr Celia Shahnaz at 4.00 PM GMT+6. After her valuable speech on WIECOV 2021 and thought sharing, respected speakers Poornalatha G, Renu Sharma, Maheshi Dissanayake, Alivarini Mahapatra had spoken on Work, Life and Management Settings to Face the Change as Chance. After their term speaker T. Sree Sharmila spoke on Research and Innovation; Nancy, Pei Yanhua spoke on Career planning, professional development, and retention, Rajlaxmi Chouhan, S. Karthika, Ruwan Gopural Piyapan Hannarkin shared their view on Research and Innovation during COVID -19 Pandemic. After these parts, Satish Babu, a Software designer & developer and Internet Governance specialist shared his initiatives on Vaccination Challenges for Large Countries. The talented speaker Namita Mittal from Jaipur talked about Diversity and Inclusion and ended half of the session with thoughtful shares.
Along with the speaker Sarthak Sengupta from Allahabad India, sharing thoughts on COVID 19 initiatives, WIECOV 2021 had something to gift to the entrepreneurs who can really make these initiatives work in real life. Enchanting personalities Suma K V, Aarti Karande, Mohana Lakshmi J spoke about the tips and tricks for Entrepreneurial Skill Development and handed the technical talk to the real-life entrepreneur Melissa Sassi and Samar Baba from IBM Z. They both gave the audience real-life views on opportunities related to IBM Z and shared their struggles and achievements. In a nutshell, it was a fulfilling day for both the speakers and the participants. The screenshots of day 1 can be found here in this link: shorturl.at/bACRX
The day 2 of WIECOV 2021 started with Deepak Waikar speaking about Engineering Education in the midst of Covid-19 and Beyond, Safoora Saleem sharing insights on Entrepreneurial Skill Development, Sally Musonye on Preserving History of Women in Engineering Activities and Affinity Group, Aisha Nazia Nasir Mayin and S. Elangovan on Career Planning / Professional Development and Retention, Anandi Giridharan on Mental Health. Mentors like Chandrani Singh, K Subramanian, Kumudhini Ravindra and Sujata Chakravarty shared their insights and suggestions on Technical Society Engagement and Activities, Research & Innovation and Entrepreneurial Skill Development, and Compliances and Challenges of COVID-19 on Research and Innovation. Speakers like BeeTheng Lau, Sricheta Parui, Anjali Anand K, Satyaranjan Jena, Lisien Leon Quillas, S. Harivardhagini, Sarika Chouhan, Tripura Pidikiti shared their views on Work Life Balance. On Day 2, to talk on Research and Innovation WIECOV 2021 had Aparna Mahajan, Barakkath Nisha U. Among other interesting sessions, there was the session of S.A. Fattah & IEEE PES HAC Team who discussed the need of Humanitarian Project Design and how it can shape our society towards successful problem solving with engineering. Shruti Jain, Vaishnavi Bhope, Tanmoy Roy Choudhury, Udayan Roy Choudhury, Windhya Rankothge also shared their views on their own interests and they were from IEEE Young Professionals and WIE Affiliations. At the end of Day 2 and WIECOV 2021, there was Ljiljana Trajkovic 2019-2020, IEEE Division X Delegate/Director, Past President, IEEE Systems, Man, and Cybernetics Society, Past President, IEEE Circuits and Systems Society; showing her immense love and respect to IEEE Bangladesh Section. All the attendees were blessed to have her presence and the committee members did not miss the chance to take pictures with her.
---
Date and Time
Location
Hosts
Registration
---
Start time: 21 Aug 2021 04:00 PM
End time: 22 Aug 2021 09:00 PM
All times are (UTC+06:00) Astana
Add Event to Calendar
---
---