CTS WIE: Managing your Difficult Star Performers: How to Leverage the Full Potential of your Teams and Out-Innovate the Competition
---
Learn From An Innovation Expert: "Managing your Difficult Star Performers: How to Leverage the Full Potential of your Teams and Out-Innovate the Competition," One in a Series of Talks about Leading Innovation
---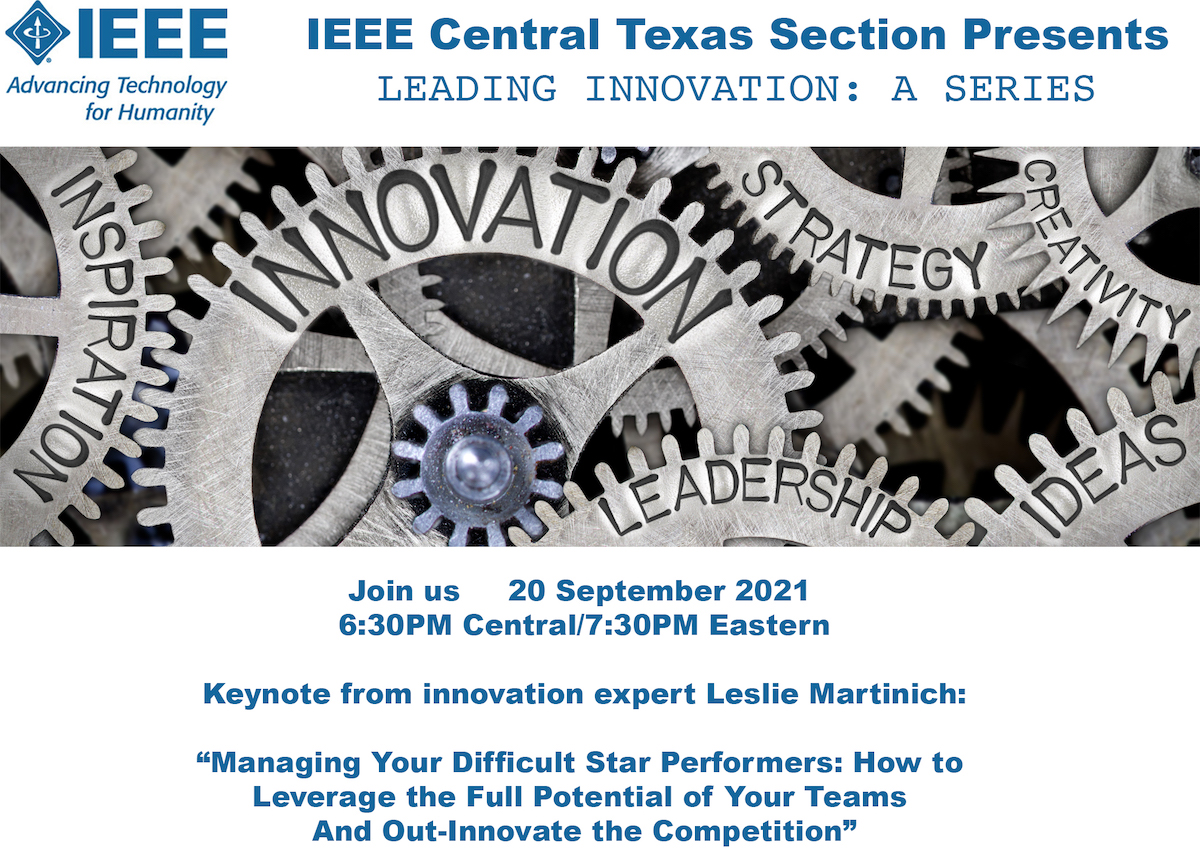 Leaders have the opportunity to work with some very talented employees. And some of those talented employees might be prima donnas. How can you lead teams with highly gifted people to deliver game-changing results (or even just plain awesome results)?
In this fast-paced talk, you'll learn why "the difference between not-so-great leaders and great leaders is the ability to manage stars." And you'll get some tips on just how to do that!
We'll meet virtually. Register, and the link will be sent out 1 day prior to the event.
---
Date and Time
Location
Hosts
Registration
---
Date: 20 Sep 2021
Time: 06:30 PM to 07:30 PM
All times are (GMT-06:00) CST6CDT
Add Event to Calendar
Starts 02 September 2021 08:12 PM
Ends 20 September 2021 05:30 PM
All times are (GMT-06:00) CST6CDT
No Admission Charge
---
Speakers
Topic:
Learn from an Innovation Expert: "Managing your Difficult Star Performers"
Leading stellar engineers is not the same as leading ordinary engineers. Learn the differences, and learn how to lead your team to produce brilliant results.
---
6:30PM US Central Time: Introductions
6:45PM. Talk
7:15PM Q&A
7:30PM Adjourn
---