IEEE Day 2021
---
IEEE Day 2021
---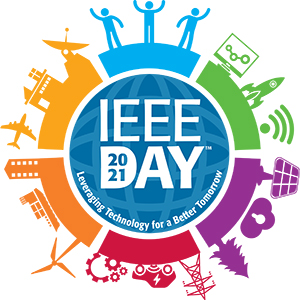 IEEE Day was celebrated first time in history, when engineers worldwide and IEEE members gathered to share their technical ideas in 1884. The celebration of IEEE Day on 5 October 2021 will be the 12th year celebrating this historic event and marks the zenith of the realization of the full potential of IEEE. IEEE Day honors the roles IEEE members played in different fields and activities.
In this spirit IEEE SE Michigan celebrates the IEEE DAY on October 5, 2021. All the members may gather (ONLINE) to celebrate this special day and participate in an online quiz (kahoot.it web and smartphone app) activity with gift cards as prizes and IEEE swag, to wear/display and make yourself proud!
---
Date and Time
Location
Hosts
Registration
---
Date: 05 Oct 2021
Time: 05:30 PM to 07:00 PM
All times are US/Eastern
Add Event to Calendar
Virtual Link will be shared 4 hours prior with all registered participants (members and students alike)
Virtual using Webex
Rochester, Michigan
United States 48309-4479

Building:

Online Session
This is an online only event.

Starts 05 September 2021 05:24 PM
Ends 05 October 2021 01:00 PM
All times are US/Eastern
No Admission Charge
---
Speakers

Sharan Kalwani
Quiz will be conducted using either web or smart phone app (kahoot.it OR kahoot.com)
Biography:
Sharan Kalwani is an industry technology specialist with 25+ years of experience. Sharan has degrees in both Engineering and Computer Science. He has worked in many diverse areas. He is a sought after speaker at many a diverse conference and seminars, such as Supercomputing, HPC Advisory Council, SIAM, Infiniband Trade Association, etc. He has delivered several tutorials, workshops and chaired Birds-of-a-Feather (BoF) sessions. Sharan is a senior member of IEEE-Computer Society, IEEE-Education Society and Vehicle Tech Society, an Emeritus member of Michigan!UNIX/user group (mug.org) the oldest of the *nix user groups based in Michigan (they were first established in late 1985), member of Association for Computing Machinery (ACM) and also leads the SIG-Linux section of SEMCO. He enjoys teaching, holds an Adjunct Faculty position at local educational sites. He has published one book and is now working on his second. He is a recipient of the IEEE MGA Achievement award for his contributions to IEEE activities in 2018.
Address:Michigan, United States
---
Agenda
1. Importance of IEEE Day in the history
2. Awareness about the IEEE (video)
3. Motivation towards doing great things for the community (presentation)

4. IEEE Quiz (using kahoot.it OR kahoot.com)

5. Wrap Up and Thanks to all participants
---
A SE Michigan Section Event

---
Media
| | | |
| --- | --- | --- |
| IEEE Day 2021 Flyer | Details about how the Southeastern Michigan Section plans to celebrate | 353.06 KiB |
---