WRC Women in Robotics and Control - Seminar Series - 2SE1
---
Please notify the event contact below if you have any questions about the event.
---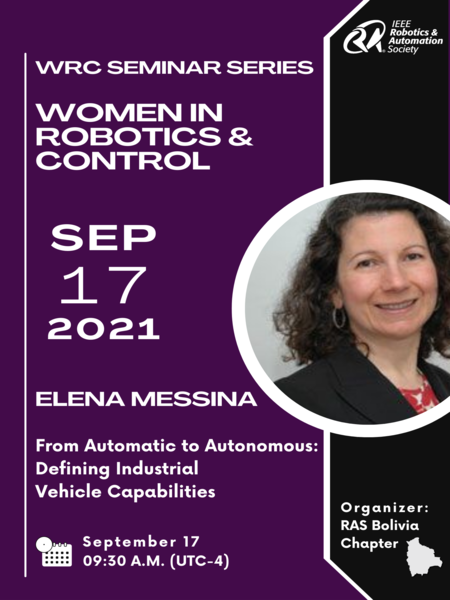 This event aims to describe the levels of autonomy of mobile robots in industrial environments. The RAS Distinguished Lecturer Elena Messina is going to talk about her research work about autonomous industrial vehicles.
---
Date and Time
Location
Hosts
Registration
---
Date: 17 Sep 2021
Time: 09:30 AM to 11:00 AM
All times are America/La_Paz
Add Event to Calendar
---
Speakers
Topic:
From Automatic to Autonomous: Defining Industrial Vehicle Capabilities
Biography:
Elena Messina is Principal at Prospicience LLC, where she provides consulting services on development, assessment, and adoption of advanced robotics technologies. She led the Manipulation & Mobility Systems Group at the U. S. National Institute of Standards and Technology (NIST) until December 2020. At NIST, she focused on advancing the capabilities of robots through the definition of performance requirements, metrics, test methods, tools, and testbeds. Elena has over 165 publications and is co-editor of several books and special journal issues. Prior to joining NIST, Elena held engineering and management positions in industry, developing solid modeling products at the Structural Dynamics Research Corporation and advancing industrial robot capabilities at Cincinnati Milacron. She received a degree in Engineering Science from the University of Cincinnati.
Address:Baltimore, United States
---
Agenda
1. Keynote Speach.
2. General Discussion.
---