IEEE ComSoc Argentina Open Webinar
---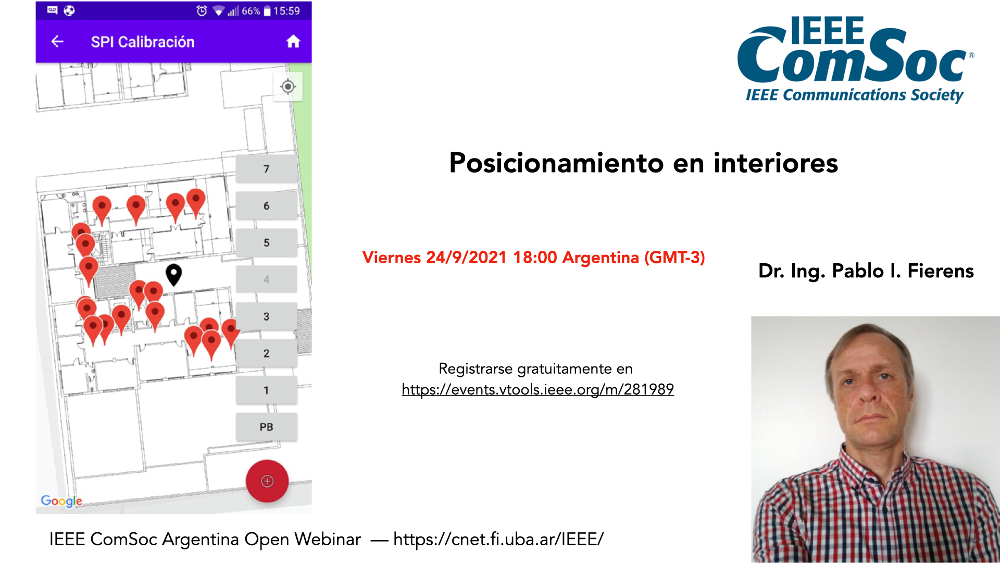 Seminarios mensuales sobre comunicaciones brindados por profesionales en Argentina. Se realizan en idioma castellano y son abiertos.
---
Date and Time
Location
Hosts
Registration
---
Date: 24 Sep 2021
Time: 06:00 PM to 07:00 PM
All times are (UTC-03:00) Buenos Aires
Add Event to Calendar
https://cnet.fi.uba.ar/IEEE/

Co-sponsored by

ITBA
Starts 16 September 2021 09:00 AM
Ends 24 September 2021 05:00 PM
All times are (UTC-03:00) Buenos Aires
No Admission Charge
---
Speakers

Dr. Ing. Pablo I. Fierens
Topic:
Posicionamiento en interiores
La localización de dispositivos inalámbricos es una capacidad esencial con muchas aplicaciones, como el seguimiento de personas o activos físicos, la automatización industrial, la publicidad basada en la ubicación, monitoreo de tráfico, etc.
Estamos habituados a la ubicación mediante GPS. Sin embargo, la señal satelital no llega a interiores, por lo que es necesario buscar alternativas. En esta charla, discutiremos algunas opciones habituales, hablaremos de la precisión alcanzable y de las principales dificultades de los sistemas actuales.
Biography:
Pablo I. Fierens. Ing. Electrónico (ITBA, 1997), MsC (Univ. de Cornell, 2000) y PhD (Univ. de Cornell, 2003).
Desde 2003 se desempeña como docente del Instituto Tecnológico de Buenos Aires. Es investigador CONICET desde 2010 (investigador independiente desde 2018). Es responsable del Centro de Optoelectrónica del ITBA.
Sus principales intereses son la probabilidad aplicada y las comunicaciones.
---
Agenda
18:00 Presentación a cargo de José Ignacio Alvarez-Hamelin (ComSoc Argentina Chair)
18:05 Posicionamiento en interiores (Pablo Fierens)
18:50 Preguntas y comentarios
---