IEEE-USA Career Resources Overview and Interactive Discussion
---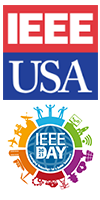 Please join us as we provide an overview of the resources that IEEE-USA currently offers to help you build your career and thrive.
Through our career products and services, IEEE-USA serves as a resource for enhancing the professional growth and career advancement of U.S. IEEE Members. Hosted by Amber Orr (IEEE-USA Career and Professional Development Committee), with some help from the IEEE-USA staff, this information session will highlight the resources IEEE-USA offers to help you manage your career. This overview will be followed by an interactive discussion where we will answer your questions and solicit your ideas of the topics you would like us to cover in the future.
Take advantage of all that IEEE-USA has to offer to ensure lifelong career vitality!
---
Date and Time
Location
Hosts
Registration
---
Date: 06 Oct 2021
Time: 02:00 PM to 03:00 PM
All times are America/New_York
Add Event to Calendar
Join us here:
---
David Iams, IEEE-USA
202.530.8374
Daryll Griffin, IEEE-USA
202.530.8337
Starts 23 September 2021 09:00 AM
Ends 06 October 2021 01:00 PM
All times are America/New_York
No Admission Charge
---
Speakers

Amber Orr, PE; SMIEEE
Topic:
IEEE-USA Career and Professional Development Resources
Biography:
Amber E Orr is a Professional Engineer practicing in the State of Washington, USA. She is a Senior Member of IEEE, is on the Executive Board for Region 6 and has served on the Executive committee for the Spokane Section for since 2005. She received the Special Directors Award for Excellence in Performance in 2019 and was the only recipient in the Western Hemisphere of the IEEE MGA Leadership Award in 2018. She serves on several committees in addition to her Board positions. She has a history of working in both the Industrial and Power & Energy sectors. She is also an Electrical Forensic Engineer. She is currently the Engineering Manager at Mason County Public Utility #3 in Shelton, Washington on the Puget Sound near Seattle and is actively working with IEEE-USA in a volunteer role on the Professional Activities Committees for Engineers (PACE)_
Amber graduated from University of Idaho with a BS in Electrical Engineering and has her PE in the State of Washington.
She started her career in the Industrial sector working with an EPC (Engineering, Procurement and Construction) company on a variety of large industrial projects primarily in the Western United States. She then worked for an OEM (original equipment manufacturer) that designed and built large custom machinery for clients around the world. After this she moved into several consulting engineering roles before taking a position in the Power & Energy Sector.
Amber is currently the Engineering Manager of a Power Utility in Washington State on the Olympic Peninsula and an independent Electrical Engineering consultant and expert witness. She has over 20 years of engineering experience including supervision of electrical design work for utility, commercial, municipal, industrial, and governmental projects including but not limited to: high and medium-voltage up to 230 kV, utility design and construction, protection systems, 480Y/277V and 208Y/120V power distribution systems; switchgear; motor control centers (MCCs); dry-type and liquid-immersed transformers; motors; communication systems; lightning protection systems; and grounding systems. She is also versed with the National Electrical Code (NEC), the National Electrical Safety Code (NESC) and has a substantial amount of direct field and inspection experience. In her capacity as a forensics engineer she has provided claims investigations, litigation support and expert opinions to utilities, attorneys, insurance companies, and fire investigators for evaluation and analysis of electrical systems, components and products. She has had the opportunity to serve as an adjunct Engineering Professor for a period of approximately 7 years, as well.
Currently Amber is a volunteer leader with Institute of Electrical and Electronics Engineers (IEEE), one of the world's largest professional organizations with more than 425,000 members globally. IEEE develops the standards that governments, companies, and organizations like the National Electric Code (NEC) recommend and follow for safety and evolving needs in functionality; currently there are more than 1,300 active standards and work is being done in high level importance and emerging technologies in Blockchain, Big Data, Cyber Security, Virtual Reality, quantum computing, etc. If you can imagine a product or service that has an electron associated with it: IEEE has likely developed standards to facilitate its introduction or evolution in society or is working to do so.
She is also a recipient of two IEEE award(s):
2019 Special Directors Award for Excellence in Performance
2018 IEEE MGA Leadership Award
In 2014 she was elected as the Spokane Section Chair where she was tasked with a revitalization effort. After several years in this role, she was rewarded by seeing growth, increased connection with the membership, new affiliation groups formed, and a healthy reorganized Executive Committee (comprised of 50% women engineers). She was selected as the PACE (Professional Activities Committees for Engineers) Chair for Region 6 in 2019 and subsequently was selected to serve on 2020 IEEE-USA Career & Professional Development committee.
Amber has since written and presented a paper for the Summer of 2020, 56th Annual IEEE Industrial & Commercial Power Systems annual conference entitled "Utility Services for Data Centers". She continues to look for ways to bridge the 'communication' gaps between industrial and utility interrelationships and connectivity. This includes the regulatory framework that binds them.
IEEE AFFILIATION
IEEE R6 PACE - 2019 -Present Chair
IEEE Spokane Section WIE - 2017 -2018 Chair
IEEE Spokane Section - 2014 -2020 Chair
IEEE IAS/TM Chapter Chair - 2005 -2013 Chair
IEEE Senior Member – SMIEEE, Senior-Member
---
Agenda
Join us here: bit.ly/discoverIEEEUSA1021
Schedule:
IEEE-USA: Who we are and how we can help

IEEE-USA Career Resources:

Career and Professional Webinars (earn PDH credits)

Benchmark your compensation with IEEE-USA's Salary Service (Reports & Salary Calculators)

Resources for Consultants, including:

IEEE-USA Consultant Finder

Local Consultants Networks

IEEE Consultants Network

Consultants Exchange (online community)

Licensure and Registration

IEEE-USA Conferences / EVO

Career and Professional E-Books and Audiobooks - IEEE-USA's catalog of more than 150 IEEE-USA ebooks and audio books on topics like careers, soft skills and public policy is available for free to U.S. members.

IEEE-USA Insight - This online publication features articles on the issues that are shaping the career and public policy landscape.


Upcoming Projects

Discussion

Q&A

What do you want/need to succeed?
---
---