3GPP Standards for 5G New Radio: from Release 15 and beyond
---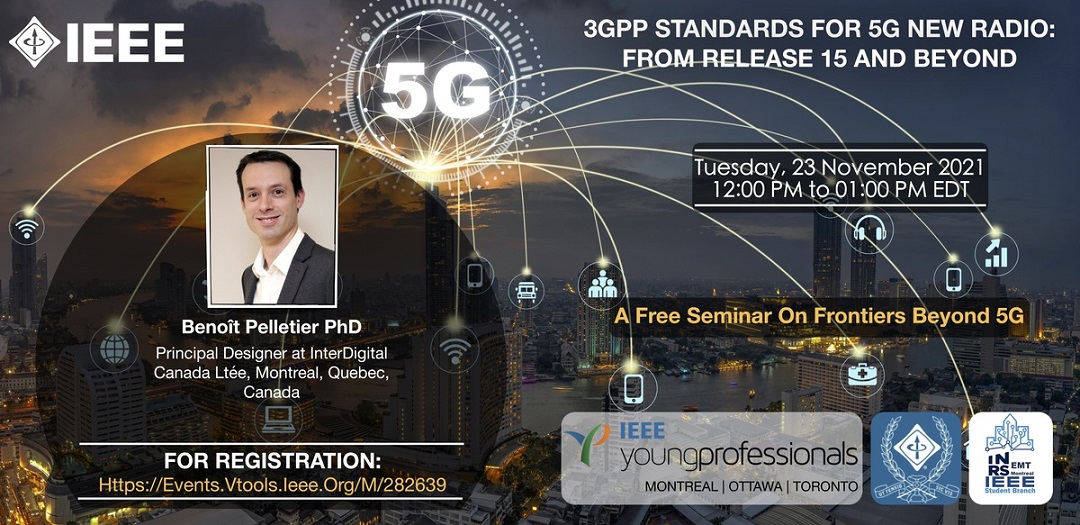 Event to introduce the 3GPP standardization process and discuss the existing and future specifications for 5G New Radio.
The fifth and latest generation of cellular mobile communication protocols (5G) is meant to address use cases well beyond the next decade. The first set of technical specifications for 5G, also referred to as "New Radio" or NR in 3GPP, were completed as part of 3GPP Release 15. The standardization work for 5G NR continues and new features are continuously added to address more advanced use cases and verticals. This presentation will provide an overview of the standardization process in 3GPP and an overview of the technical features for Release 16 and Release 17 of the specifications. The presentation will conclude with an outlook of future wireless evolution.
---
Date and Time
Location
Hosts
Registration
---
Date: 23 Nov 2021
Time: 12:00 PM to 01:00 PM
All times are (GMT-05:00) Canada/Eastern
Add Event to Calendar
Starts 23 September 2021 08:45 PM
Ends 22 November 2021 11:55 PM
All times are (GMT-05:00) Canada/Eastern
No Admission Charge
---
Speakers

Benoît Pelletier
Biography:
Benoît Pelletier received his Ph.D. degree in 2007 from McGill University, Canada and is currently Principal Designer at InterDigital Canada Ltée. He has been contributing to the development of the 3GPP technical work for HSPA+, LTE, and 5G NR, focusing on L1/L2 protocol design. Now in his technical lead role he continues to influence the technical work for the evolution of 5G systems. In addition to participating to the 3GPP standardization technical work, he is also an author on numerous peer-reviewed journal and conference publications. His current research interests include protocols enhancements for beyond 5G systems, support of verticals, and distributed resource allocation.
Address:Montreal, Quebec, Canada
---