Oregon Comsoc: Unleashing Services at the Edge
---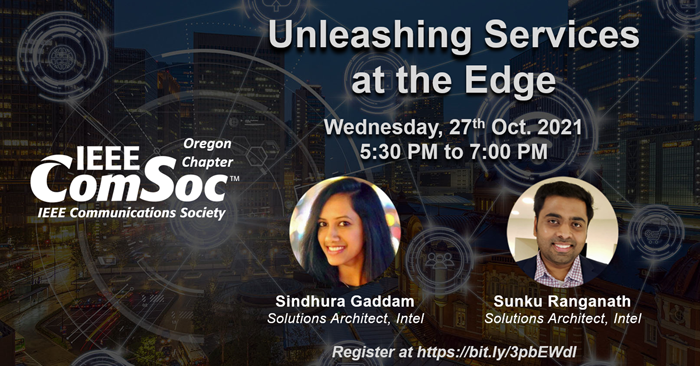 Abstract
Edge computing is emerging as the next transformational technology across industries—and its rapid growth is only increasing. Gartner suggests that by 2025, over 75% of data will be created and processed outside a centralized data center. A highly distributed non-homogeneous Edge brings various deployment challenges that exemplify the assertion that this is not just a cloud in a different location. As edge services continue to gain mindshare, the ecosystem and enterprises need a more efficient deployment option to abstract complexity and simplify development and lifecycle management of infrastructure and apps for the Edge.

This talk introduces a novel Smart Edge Open (SE-O) architecture using a Kubernetes-based edge platform for enabling application and service acceleration across multiple edge use cases. SE-O enables innovative business models and service deployment models across various industry segments. We will also present candidate use cases demonstrating SE-O-based solutions for private 5G networks, smart hospitals, traffic management, content delivery, etc.



Presenters
Sunku Ranganath is a Solutions Architect for Edge Compute at Intel. For the last few years, his area of focus has been on enabling service meshes for the Telecom domain, including designing, building, integrating, and benchmarking NFV based reference architectures using Kubernetes & OpenStack components. Sunku is an active contributor to multiple open-source initiatives. He serves as a maintainer for CNCF Service Mesh Performance & CollectD Projects and participates on the Technical Steering Committee for OPNFV (now Anuket). Other focus areas include IEEE Future Networks Edge Service Platform (P1916-1 standards) and ETSI ENI standards. He is a senior member of the IEEE.

Sindhura Gaddam is a Solutions Architect in the Network Platforms Group at Intel, focusing on edge computing and ecosystem enablement for SmartEdge-Open. Sindhura works with various ecosystem partners to create edge solutions on Intel Architecture (IA) and to scale/accelerate the adoption of IA in edge platforms through SmartEdge-Open. Sindhura has extensive experience in networking, characterization of Network Function Virtualization (NFV) Infrastructure; Software Defined Networking (SDN), OpenStack, Kubernetes, DPDK, and related technologies.
---
Date and Time
Location
Hosts
Registration
---
Date: 27 Oct 2021
Time: 05:30 PM to 07:00 PM
All times are (GMT-08:00) US/Pacific
Add Event to Calendar
Starts 12 October 2021 06:34 PM
Ends 27 October 2021 06:30 PM
All times are (GMT-08:00) US/Pacific
No Admission Charge
---
---