International Virtual Summit-2021
---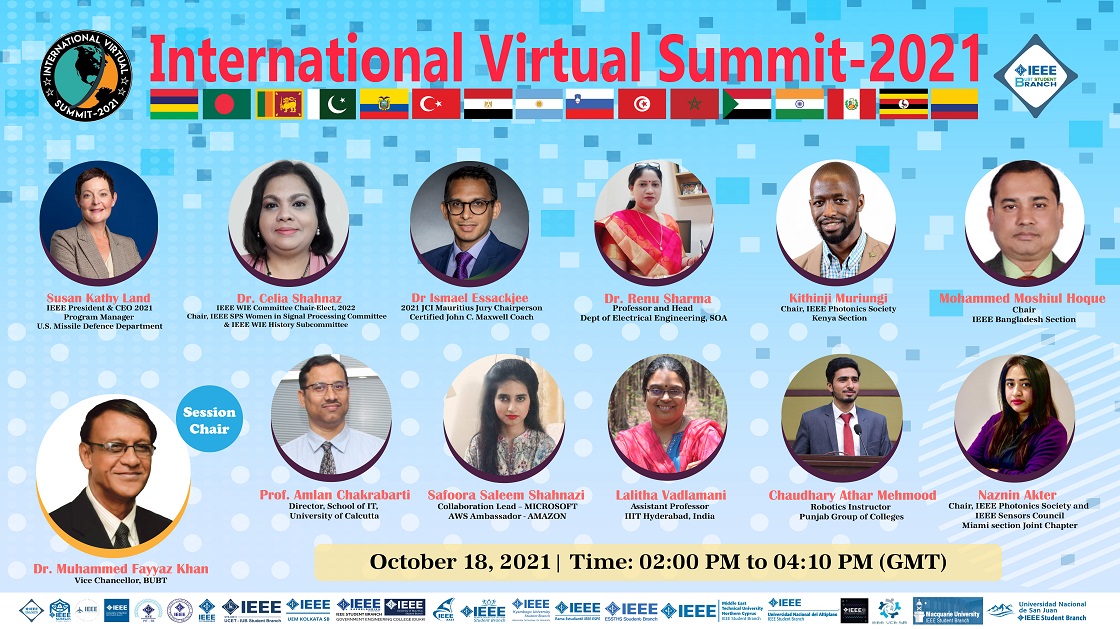 On 18th October 2021, IEEE BUBT Student Branch (STB03252) in collaboration with more than 20 student branches from all around the world arranged "International Virtual Summit-2021".
■ IEEE AIAC Student Branch from Morocco
■ IEEE SB Rajarata University of Sri Lanka from Sri Lanka
■ IEEE Universidad Nacional de san Juan SB From Argentina
■ IEEE UEMK SB from India,
■ IEEE PIT SB from India,
■ IEEE VCE SB from India
■ IEEE GEC IDUKKI SB from India
■ IEEE ESSTHS SB from Tunisia
■ IEEE UCET SB Pakistan
■ IEEE CUI SB from Pakistan
■ IEEE HITEC SB from Pakistan
■ IEEE SUSTECH SB from Sudan
■ IEEE UOM SB from Mauritius
■ IEEE ESPE SB from Ecuador
■ IEEE Maribor SB from Slovenia
■ IEEE METU Northern Cyprus SB From Turkey
■ IEEE UNA PUNO SB from Peru
■ IEEE AAST SB Egypt
There were 11 keynote speakers including the president and CEO of IEEE, Susan Kathy Land, IEEE WIE Committee Chair-Elect, 2022, Celia Shahnaz and many more renowned speakers from all across the world.
The main reason for the summit is to gain real-time knowledge of the different significant topics. As we know the international virtual summit are carried out by different people on an online forum, bringing people from all over the world. It can attract attendees from different regions who are able to learn from all of the speakers. It Provides better skills, knowledge and understanding of the latest technologies enhancing our lifestyle.
At first, the vice-chancellor of BUBT, Professor Dr. Muhammed Fayyaz Khan sir gave the Inaugural Speech of International Virtual Summit - 2021. After the Inauguration, Rimon, Maharin and Ajmira (Student Member) summoned the speakers one after another to conduct their sessions. Firstly, Susan Kathy Land, the president and CEO of IEEE gave the idea on IEEE the Potential and the Promise. Then Dr Celia Shahnaz, IEEE WIE Committee Chair-Elect, 2022 talked about Signal Processing and Deep Learning for Medical and Health Care applications. After her session, Dr Renu Sharma, Professor and Head Dept of Electrical Engineering at Siksha O Anusandhan Deemed to be University conducted her session on Framework for Cost-Benefit Analysis to improve resiliency of the energy system. Afterwards, Prof. Amlan Chakrabarti, Director of School of Information Technology at University of Calcutta analytically described the Deep Networks for Video Analytics. Then Lalitha Vadlamani, Assistant Professor of IIIT Hyderabad, India explained Coding for Communication, Storage and Computing in a wonderful way. After her session, Kithinji Muriungi, Chair of IEEE Photonics Society Chapter at Kenya Section conducted his session on Future Applications of Photonics and Emerging Technologies for Security and Defense Using Drones. Next up, Dr Ismael Essackjee, 2021 JCI Mauritius Jury Chairperson had a talk on Personal Development and Growth. After the session, Chaudhary Athar Mehmood, Robotics Instructor at Punjab Group of Colleges, Lahore Section recapitulated on Robotics as a Profession. Afterwards, Naznin Akter, Chair, IEEE Photonics Society and IEEE Sensors Council at Miami section Joint Chapter talked on IEEE Photonics Society Scholarship. Next up, Safoora Saleem Shahnazi, Collaboration Lead at MICROSOFT gave a talk on Building Leadership Skills for an Uncertain Tomorrow. At last, Professor Dr M. Moshiul Hoque, Chair, IEEE Bangladesh Section explicated the roles of AI+ML in Industry 4.0 in his session.
The audience were really responsive. The speakers really inspired the audience through the summit. Through this virtual summit, the participants got a chance to know about the topics and how to use it for future aspects. It was indeed a successful event.
The YouTube playlist link of this summit:
https://www.youtube.com/playlist?list=PL73ovhkwRuJ1gVGl51_93-r69rzE-Mw3z
---
Date and Time
Location
Hosts
Registration
---
Date: 18 Oct 2021
Time: 08:00 PM to 11:50 PM
All times are Asia/Dhaka
Add Event to Calendar
---
Speakers
Susan Kathy Land
IEEE President & CEO 2021
Program Manager, U.S. Missile Defense Department
Dr. Celia Shahnaz
IEEE WIE Committee Chair-Elect, 2022
Chair, IEEE SPS Women in Signal Processing Committee & IEEE WIE History Subcommittee
Dr. Renu Sharma
Professor and Head Dept of Electrical Engineering,
Siksha O Anusandhan Deemed to be University
Prof. Amlan Chakrabarti
Director, School of Information Technology, University of Calcutta & Head IT and Technology Cell,
Dept. Of Higher Education, Govt. of West Bengal.
Lalitha Vadlamani
Assistant Professor, IIIT Hyderabad, India
Kithinji Muriungi
Chair, IEEE Photonics Society Chapter, Kenya Section
Dr Ismael Essackjee
2021 JCI Mauritius Jury Chairperson
Senior Engineer/Researcher/Meta-Coach
Certified John C. Maxwell Coach, Trainer and Speaker
Chaudhary Athar Mehmood
Robotics Instructor
Punjab Group of Colleges, Lahore Section
Naznin Akter
Chair, IEEE Photonics Society and IEEE Sensors Council,
Miami section Joint Chapter.
IEEE Photonics Society 2021 Graduate Student Scholarship Winner
Safoora Saleem Shahnazi
Collaboration Lead – MICROSOFT
AWS Ambassador - AMAZON
Business Development Manager - Vertex IT Solution
Professor Dr. M. Moshiul Hoque
Dean, Faculty of Electrical & Computer Engineering, CUET
Chair, IEEE Bangladesh Section
---