Future-proofing your career in STEM: A panel discussion
---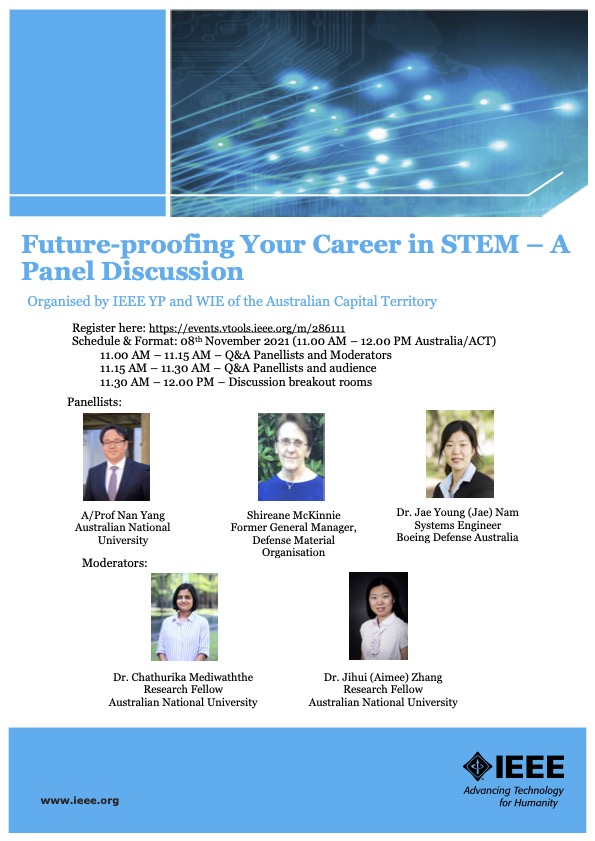 IEEE Young Professionals and Women in Engineering of the Australian Capital Territory Section are pleased to host a panel discussion on "Future-proofing your career in STEM". This panel discussion brings together leading professionals from industry, academia, and government to share the experiences and stories in their career journey. The panel will also discuss topics such as emerging skills that graduates need to succeed in a new professional environment, the importance of soft and technical skills, networking, challenges present for fresh graduates, Early Career Researchers (ECRs) and PhDs in the workforce of STEM disciplines.
The event will be held virtual on Zoom and is open to all. The discussion will be open for questions and discussions with the panellists, so please don't hesitate to bring your questions. Registration is required. A Zoom link will be forwarded to all registered participants 24hrs before the event.
Panellists:
Nan Yang received the Ph.D. degree from Beijing Institute of Technology (BIT), China, in March 2011. Since July 2014, he has been with College of Engineering and Computer Science at the Australian National University, Canberra, Australia, where he is currently an Associate Professor at the School of Engineering, the leader of the multi-scale communications research team, and the head of the Emerging Communications Laboratory. He received the IEEE ComSoc Asia-Pacific Outstanding Young Researcher Award in 2014, and the Best Paper Awards from the IEEE GlobeCOM 2016 and the IEEE VTC Spring 2013. Also, he received the Top Editor Award from the Transactions on Emerging Telecommunications Technologies in 2017 and eight Exemplary Reviewer Awards from top IEEE journals from 2012 to 2019. He is currently serving on the Editorial Board of five journals, such as the IEEE Transactions on Wireless Communications, IEEE Transactions on Molecular, Biological, and Multi-Scale Communications, and IEEE Transactions on Vehicular Technology. He has published more than 160 journal and conference articles at international prestigious venues. His current research interests include terahertz communications, ultra-reliable and low-latency communications, cyber-physical security, intelligent connectivity, and molecular communications.
Shireane McKinnie is a leader in acquisition and sustainment of complex, high technology Defence systems. Her experience spans aerospace, electronics, maritime, land, explosive ordnance and ICT sectors. As a General Manager and in other positions in the Defence Materiel Organisation Shireane led the acquisition and sustainment effort for significant renewal of Australian Defence Force's (ADF) fixed and rotary wing aircraft fleets, its ship and submarine fleets, vehicle fleet upgrades and the modernisation of the ADF's Command, Control, Communications, Intelligence, Surveillance, Reconnaissance and explosive ordnance capabilities. Since leaving Defence in 2015, Shireane established her own business to provide professional services to Government and industry. She holds a number of governance positions in the Public and Private sectors. In 2010, Shireane was awarded the Public Service Medal for outstanding achievement in the field of engineering and defence acquisition. She was also awarded an Honorary Fellowship of Engineers Australia in 2015, the highest membership award, for conspicuous service to the engineering profession.
Jae Young (Jae) Nam is a Systems Engineer at Boeing Defence Australia. She works on aerospace projects, most of which are involved with upgrades to the Airborne Early Warning and Control (AEW&C) system. The military aircraft provides Australian Defence Force with one of the most advanced airspace battle management capabilities in the world. In her day-to-day job, she works with various teams of different expertise for conceptualisation, design, verification and integration activities. She also volunteers her time to help employees network with each other as the REACH Networking Lead for her site. She graduated in 2020 with PhD in Mechanical and Material Systems Engineering from Australian National University, where she researched the failure behaviour of fibre-reinforced composite and fibre metal laminates. She also worked part-time as a Product Manager at Seeing Machines, delivering software/hardware products that use in-house developed AI-technology for detection and intervention of driver fatigue and distraction.
---
Date and Time
Location
Hosts
Registration
---
Date: 08 Nov 2021
Time: 11:00 AM to 12:00 PM
All times are (GMT+10:00) Australia/ACT
Add Event to Calendar
The event will be held via Zoom.
Starts 20 October 2021 11:00 AM
Ends 08 November 2021 11:00 AM
All times are (GMT+10:00) Australia/ACT
No Admission Charge
---
---
Media
---