[Red Dwarf Stars Series] Career Strategery! - Hosted by the IEEE Rising Stars Conference
---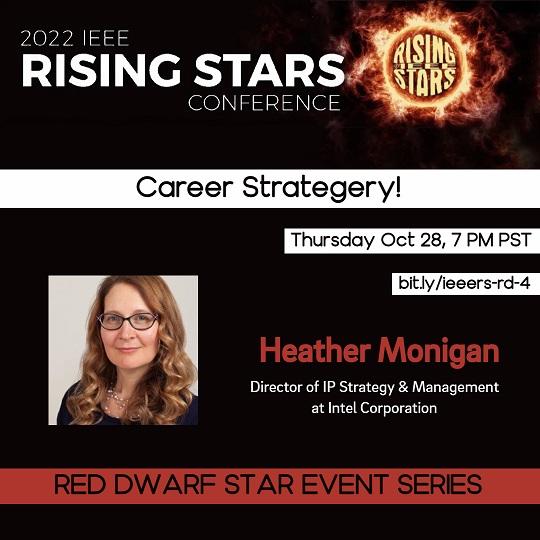 2022 IEEE Rising Stars Conference team presents
THE RED DWARF STARS SERIES
Career Strategery!
Heather Monigan
Red Dwarf stars are the smallest stars. This series of events will not show the smallest stars, but red dwarf stars represent the formation and growth to our IEEE Rising Stars Conference. The 2022 IEEE Rising Stars Conference team will be hosting a series of monthly events to show you a glimpse of what we are preparing for the conference. We'll be sharing some professional development and technical content throughout this series, as well as some of the networking experience.
Join us every last Thursday of the month on a series of informative and engaging free events as we prepare for our large stage at the 2022 IEEE Rising Stars Conference, in Las Vegas and Virtual, on January 2-4.
More information at: https://ieee-risingstars.org/
Follow us on Social Media:
Facebook, Instagram, Twitter, LinkedIn, YouTube
Conference Announcements:
Registration for the conference is open!
Early Bird pricing deadline is Nov 29, 2021. Don't miss the special prices.
---
Date and Time
Location
Hosts
Registration
---
Date: 28 Oct 2021
Time: 07:00 PM to 08:00 PM
All times are (GMT-08:00) US/Pacific
Add Event to Calendar
Starts 01 October 2021 12:05 AM
Ends 28 October 2021 09:00 PM
All times are (GMT-08:00) US/Pacific
No Admission Charge
---
Speakers

Heather Monigan
of Intel
Topic:
Career Strategery!
Biography:
Heather Monigan is currently the Engineering Director of IP Strategy & Management for the Intel Corporation's Internet of Things Group (IOTG) creating a new capability for IOTG with a diverse and high-impact team. Over the time horizon of her 22+ year career, she has forged her own path embracing both engineering and servant leadership with a deep, technical background in computer design, analog engineering, and signal integrity. She has overcome numerous obstacles by deliberately crafting a career that is technically challenging and aligned with her values, while increasing her leadership and impact, both inside and outside of Intel. She has become the role model and the voice at the table that she wished had been there for her in college and early in her career. Her passion is contagious in her frequent speaking engagements about her career struggles at national leadership conferences, Society of Women Engineers (SWE) Conferences, universities, and schools, inspiring young leaders to pursue their dreams and find their joy.
Without any role models of her own, she chose to study computer engineering at her father's suggestion. Even though he spent his entire career on Wall Street, her father believed you could always step-down into another career if you have an engineering degree. That advice enabled her to have financial security after she lost her father in her last year of college, working three jobs to pay tuition and make rent. On his death bed, she promised that she would graduate and get her Masters – which she did, becoming the first woman in her family to graduate college. She was able to honor the twenty-year anniversary of her father's passing when she created and personally endowed the Francis J. Monigan Memorial Scholarship Fund through the Phi Sigma Rho Foundation which enables a woman in engineering to continue to follow her dream. The scholarship recognizes both grit and compassion, which she felt her father always had, but are most certainly traits that she lives out as well.
Heather exemplifies what it means to be a successful woman in a STEM career. She values and demonstrates servant leadership at its core and believes that leadership is bringing out the best of others to collectively achieve outstanding results together. She believes that representation is important and visibly volunteers and actively mentors.
She is a published author, holds a US Patent and both a Life Member and active in SWE. Her leadership extends into the community as she has served seven years and counting on Grand Canyon University's Engineering Advisory Board, past SWE PHX Outreach Chair, past IEEE PHX Section Treasurer, and currently the active IEEE PHX Section Vice Chair. She has a BS in Computer Engineering from the University of Dayton and an MBA. Heather spends her "spare" time staying married and keeping two kids aged 15 & 13 alive.
---