Distinguished Lecture:Large Area Electronic Skin
---
Distinguished Lecture programme on "Large Area Electronic Skin" by IEEE Sensors Council Chapter, Hyderabad Section
---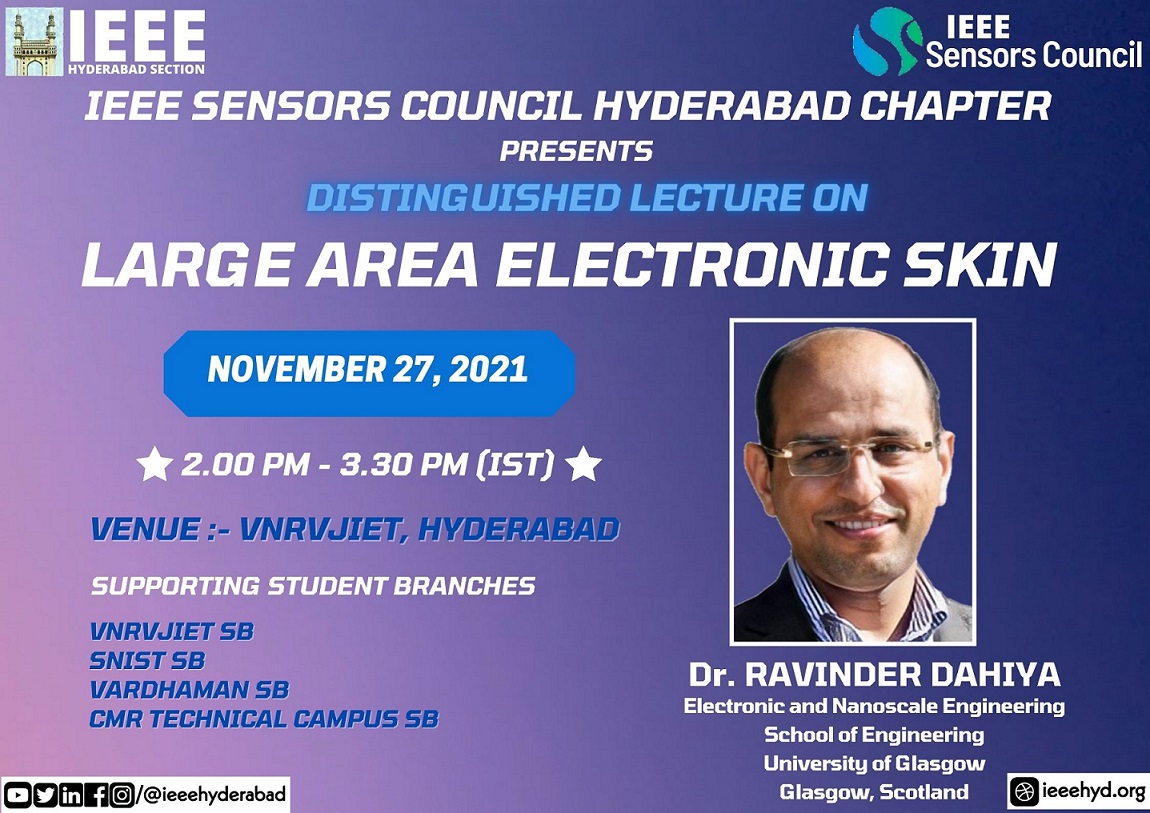 IEEE Hyderabad Section Sensors Council Chapter is organizing a Distinguished Lecture titled "Large Area Electronic Skin" as recent advances in the field, pursued through "More than Moore" technology, are propelled by burgeoning fields such as wearable systems, bendable displays, and biomedical applications on 27th Nov 2021 from 2.00 PM to 4.00 PM (IST)
---
Date and Time
Location
Hosts
Registration
---
Date: 27 Nov 2021
Time: 02:00 PM to 03:30 PM
All times are (GMT+05:30) Asia/Calcutta
Add Event to Calendar
Dr.Amit Kumar, Chair IEEE Hyderabad Section Sensors Council Chapter- amitkr@ieee.org

Dr. V. Jayaprakasan, Coordinator Technical Activities, Sensors Council Chapter

Ms. Sangeeta Singh, Secretary, Sensors Council Chapter

Dr. V Priyanka Brahmaiah,Treasurer, Sensors Council Chapter

Mr. Sai Kumar Tara, Coordinator Student Activities, Sensors Council Chapter
Starts 01 November 2021 11:00 AM
Ends 27 November 2021 11:00 AM
All times are (GMT+05:30) Asia/Calcutta
No Admission Charge
---
Speakers

Dr. Ravinder Dahiya
of University of Glasgow
Topic:
Distinguished Lecture:Large Area Electronic Skin
The microelectronics technology and subsequent miniaturization have revolutionized computing, and communication. The exponential rate of advancement based on Moore's Law has been propelled by $1Tr of investment over 50 years. Recent advances in the field, pursued through "More than Moore" technology, are propelled by burgeoning fields such as wearable systems, bendable displays, and biomedical applications. Often these applications require electronics to conform to 3D surfaces and therefore arises the need to have sensors and electronics on unconventional substrates such as plastics and even paper. The sensitive electronics systems on large areas and stretchable
substrates are other related developments, which will open new application avenues such as intelligent robotics. An example of one
such tactile or electronic skin on the body of a humanoid robot. This lecture will present various approaches for obtaining distributed electronics and sensors on flexible and conformable substrates, especially in context with electronics skin. The lecture will begin with the developments such as using off-the-shelf sensors and electronic components on flexible printed circuit boards. This will be followed by various alternatives being explored today (e.g. printing of nanowires, and ultra-thin chips, etc.) and the potential challenges and success on various time scales. The lecture will conclude with a discussion on how the field may evolve in the future with applications such as disposable solutions for mobile health or skin-on-objects as the enabler for internet of things and smart cities.
Biography:
Ravinder Dahiya is Professor of Electronics and Nanoengineering and Engineering and Physical Sciences Research Council (EPSRC) Fellow in the School of Engineering at University of Glasgow. He is the Director of Electronic Systems Design Centre (ESDC) and the leader of Bendable Electronics and Sensing Technologies (BEST) group. His group conducts fundamental research on high-mobility materials based flexible electronics and electronic skin, and their application in robotics, prosthetics and wearable systems. Prof. Dahiya has published more than 200 research articles, 4 books (3 at various publication stages), and 9 patents (including 7 submitted). He has given more than 90 invited/plenary talks. He has led many international projects (>£10M grant income) including those funded by European Commission, EPSRC, The Royal Society, The Royal Academy of Engineering, and The Scottish Funding Council. He is Distinguished Lecturer of IEEE Sensors Council and is on the Editorial Boards of Scientific Reports (Nature Group), IEEE Transactions on Robotics and IEEE Sensors Journal. He has been Guest Editor of 6 Special Issues. He is Member-at-Large of the IEEE Sensors Council. He was the Technical Program Co-Chair (TPC) for IEEE Sensors Conference in 2017 and is continuing in the same role for IEEE Sensors Conference in 2018. Prof. Dahiya holds EPSRC Fellowship and in past he received Marie Curie Fellowship and Japanese Monbusho Fellowship. He has received several awards and most recent among them are: 2016 IEEE Sensor Council Technical Achievement Award, and the 2016 Microelectronic Engineering Young Investigator Award. In 2016, he was included in list of Scottish 40UNDER40.
---
Agenda
Welcome Address
Introduction of the Speaker and Talk
Q and A
Vote of Thanks
---