IEEE MOVE - Fireside Chat with Mary Ellen Randall and Tim Lee
---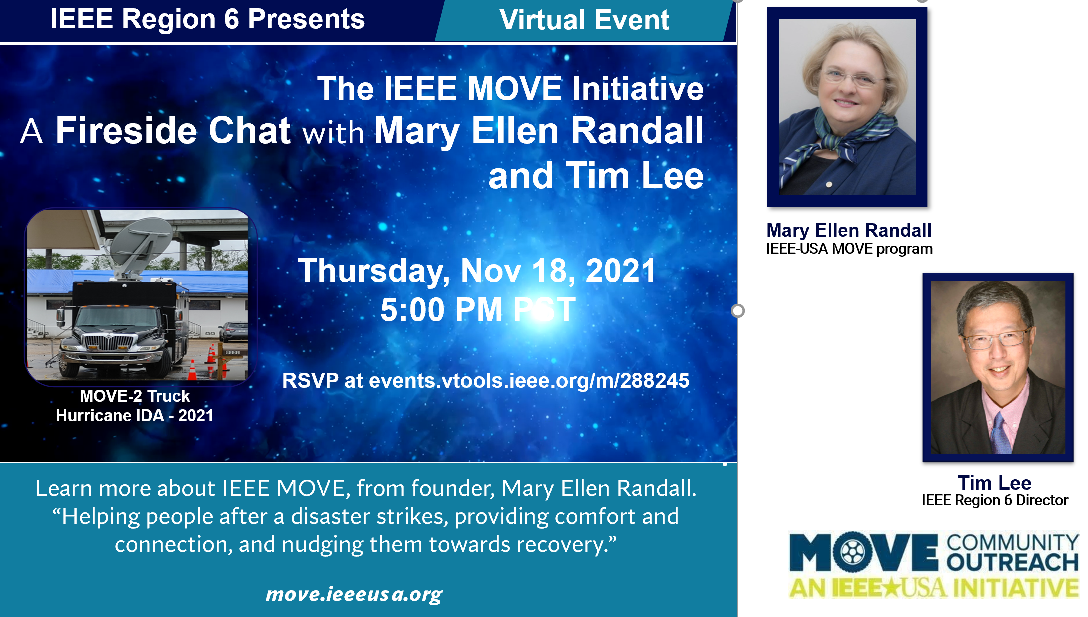 Sponsored by IEEE Region 6
The MOVE Initiative - A Fireside Chat with Mary Ellen Randall
Please join our Fireside chat with Mary Ellen Randall, as we learn about the MOVE (Mobile Outreach Volunteer Engagement) Initiative. We will learn how the initiative started, the amazing impacts that it has made to communities throughout the country and the international growth of the MOVE Global Initiative. Upcoming sessions and volunteer opportunities will also be discussed providing details on how you can volunteer or support this impactful initiative.
MOVE is an IEEEUSA initiative where IEEE volunteers help with both natural disaster relief and STEM educational efforts. Centered around the MOVE truck and its capabilities, MOVE volunteers learn about the truck capabilities, how to operate safely as a MOVE team member, what to expect on a deployment and what is expected. Come join the exciting MOVE team and provide comfort for people who have been impacted by a natural disaster.
---
Date and Time
Location
Hosts
Registration
---
Date: 18 Nov 2021
Time: 05:00 PM to 06:00 PM
All times are US/Pacific
Add Event to Calendar
If you are not a robot, please complete the ReCAPTCHA to display virtual attendance info.

Starts 31 October 2021 04:10 PM
Ends 18 November 2021 11:10 PM
All times are US/Pacific
No Admission Charge
---
Speakers

Mary Ellen Randall
Biography:
Mary Ellen Randall is founder/CEO of Ascot Technologies, Inc., an award-winning software company which develops enterprise applications utilizing mobile delivery technologies. Previously, Ms. Randall held management and technical positions in IBM, including managing projects on an international scale.
Ms. Randall serves on the IEEE Board of Directors, as an IEEE Corporate Officer, as IEEE Treasurer and previously served as IEEE Vice President of the worldwide Member and Geographic Activities. Ms. Randall also created, developed and currently manages the IEEE MOVE International Community Outreach Program for Disaster Relief and STEM education. She received three awards for this work, the IEEE Haradan Pratt Award (2020), one worldwide award for "Innovation" and one USA-wide "Citation of Honor" Award.
Ms. Randall is a Fellow of the IEEE and a member of the Eta Kappa Nu honor society in the profession of Electrical and Computer Engineering. Ms. Randall was named a top "Woman In Business" in the Research Triangle NC area and made Business Leader Magazine's "Impact 100" List.

Tim Lee
Biography:
Timothy Lee is the Region 6 Director and an active member and supporter of the MOVE initiative. He is currently a Boeing Technical Fellow at The Boeing Company in Southern California and leads the development of disruptive microelectronics technologies for advanced communications networks and sensor systems for airborne and space applications. His current research interests include silicon Application Specific Integrated Circuits (ASICs) and gallium nitride Monolithic Microwave Integrated Circuits (MMICs), and 2.5D/3D heterogeneous integration/packaging of micro-systems. He led the development of hardware for satellite communications and phased-array antenna systems. He has over 36 years of experience and has held technical/managerial positions at research laboratories, aerospace companies, and semiconductor foundries. His innovations include the development of millimeter-wave MMIC transmitters and receivers.
---
Agenda
In March 2021, the IEEE MOVE (Mobile Outreach Volunteer Engagement) celebrated its 5th anniversary of providing service to the community. Initially started as an IEEE-USA initiative, MOVE is expanding to other areas of the world. MOVE volunteers supports disaster relief agencies committed to assisting victims of natural disasters, such as hurricanes, forest fires, and flooding. It brings assistance in terms of short-term communications, computer, and power solutions, allowing those affected by these natural disasters to stay connected. The trucks are staffed by IEEE volunteers who cross train with the Red Cross to provide technology and services at disaster sites. When not deployed for natural disasters, MOVE volunteers conduct community outreach and facilitate learning opportunities for students and the general public in the areas of Science, Technology, Engineering, and Math (STEM).This talk will include new developments with regard to expansion beyond the US and will also most highlight recent disaster responses.
Questions are encouraged for an interactive Q and A.
---