IEEE ComSoc Argentina Open Webinar
---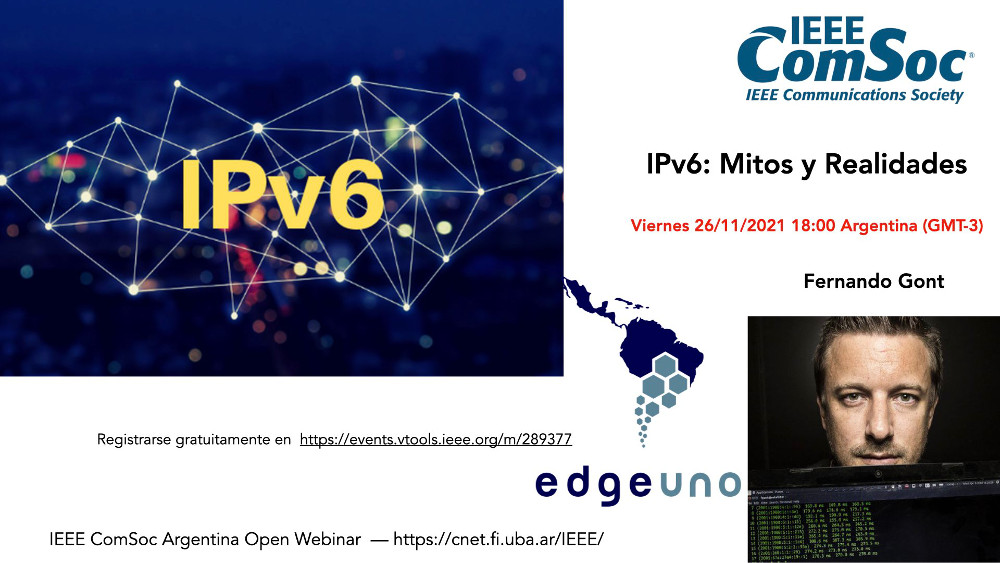 Seminarios mensuales sobre comunicaciones brindados por profesionales en Argentina. Se realizan en idioma castellano y son abiertos.
---
Date and Time
Location
Hosts
Registration
---
Date: 26 Nov 2021
Time: 06:00 PM to 07:00 PM
All times are (UTC-03:00) Buenos Aires
Add Event to Calendar
Se informa por e-mail unas horas antes del evento.
https://cnet.fi.uba.ar/IEEE/

Co-sponsored by

EdgeUno
Starts 09 November 2021 01:00 PM
Ends 26 November 2021 05:00 PM
All times are (UTC-03:00) Buenos Aires
No Admission Charge
---
Speakers

Fernando Gont
Topic:
IPv6: Mitos y Realidades
Los recién llegados al mundo de IPv6 generalmente se enfrentan con el desafío de navegar por una gran cantidad de aseveraciones de
marketing sobre las supuestas características del protocolo IPv6. En esta presentación, Fernando Gont brindará una descripción general de IPv6, desmintiendo muchos de los mitos típicamente asociados con dicho protocolo.
Biography:
Fernando Gont es Director de Seguridad de la Información en EdgeUno (https://www.edgeuno.com). Antes de sumarse a EdgeUno, Gont fue investigador y consultor de seguridad en SI6 Networks, y trabajó en varios proyectos para el Centro de Coordinación de Seguridad de Infraestructura Nacional del Reino Unido (NISCC) y el Centro para la Protección de la Infraestructura Nacional (CPNI) del Reino Unido en el campo de seguridad de protocolos de comunicaciones. Como parte de su trabajo para estas organizaciones, ha escrito una serie de documentos con recomendaciones para ingenieros de redes e implementadores del conjunto de protocolos TCP/IP, y ha realizado la primera evaluación de seguridad exhaustiva del conjunto de protocolos IPv6.

Gont ha participado en varios grupos de trabajo del Grupo de Trabajo de Ingeniería de Internet (IETF) durante más de 15 años, y ha publicado más de 30 RFC de IETF y más de una docena de internet-drafts de IETF. Gont también ha desarrollado el grupo de herramientas SI6 Networks' IPv6 Toolkit -- un kit de herramientas de seguridad portáble para la suite de protocolos IPv6, y ha contribuido a varios proyectos de código abierto como el kernel Linux y el sistema operativo OpenBSD.

Gont ha sido ponente en una gran cantidad de conferencias y reuniones técnicas sobre seguridad de la información, sistemas operativos e
ingeniería de Internet, que incluyen: CanSecWest 2005, FIRST Technical Colloquium 2005, ekoparty 2007, Kernel Conference Australia 2009, DEEPSEC 2009, HACKLU 2011, DEEPSEC 2011 , Hackito Ergo Sum 2012, H2HC 2017, H2HC 2019, Troopers 2019 y Hack In Paris 2018. Además, es un asistente habitual de las reuniones del Grupo de Trabajo de Ingeniería de Internet (IETF).
Más información sobre Fernando Gont está disponible en su sitio web personal: https://www.gont.com.ar
---
Agenda
18:00 Presentación a cargo de José Ignacio Alvarez-Hamelin (ComSoc Argentina Chair)
18:05 IPv6: Mitos y Realidades (Fernando Gont)

18:50 Preguntas y comentarios
---