The History of Cybersecurity Frameworks and How They are Evolving to Meet Cyber-Physical Systems Needs for the National Critical Infrastructure: The Orange Book to Critical Infrastructure
---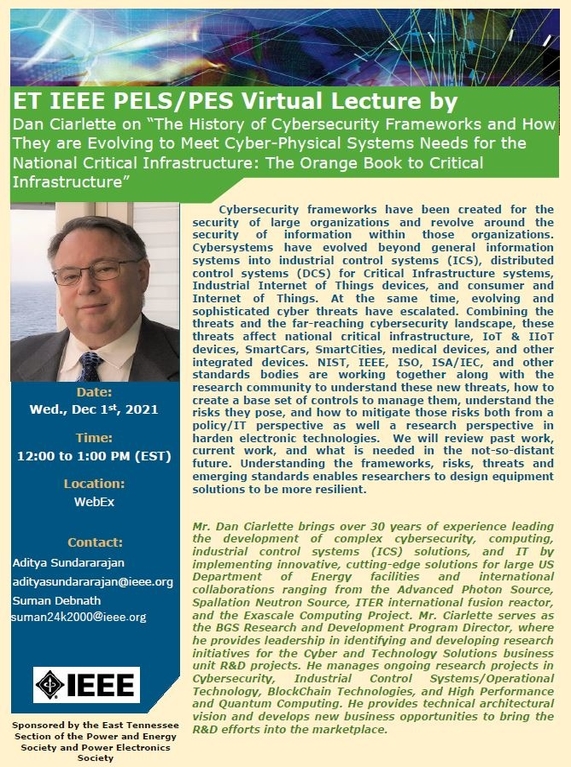 Cybersecurity frameworks have been created for the security of large organizations and revolve around the security of information within those organizations. Cybersystems have evolved beyond general information systems into industrial control systems (ICS), distributed control systems (DCS) for Critical Infrastructure systems, Industrial Internet of Things devices, and consumer and Internet of Things. At the same time, evolving and sophisticated cyber threats have escalated. Combining the threats and the far-reaching cybersecurity landscape, these threats affect national critical infrastructure, IoT & IIoT devices, SmartCars, SmartCities, medical devices, and other integrated devices. NIST, IEEE, ISO, ISA/IEC, and other standards bodies are working together along with the research community to understand these new threats, how to create a base set of controls to manage them, understand the risks they pose, and how to mitigate those risks both from a policy/IT perspective as well a research perspective in harden electronic technologies. We will review past work, current work, and what is needed in the not-so-distant future. Understanding the frameworks, risks, threats and emerging standards enables researchers to design equipment solutions to be more resilient.
PDH credits will be available for $5 and above.
---
Date and Time
Location
Hosts
Registration
---
Date: 01 Dec 2021
Time: 12:00 PM to 01:00 PM
All times are (GMT-05:00) EST
Add Event to Calendar
If you are not a robot, please complete the ReCAPTCHA to display virtual attendance info.

Knoxville, Tennessee
United States
---
Starts 15 November 2021 10:31 AM
Ends 30 November 2021 05:00 PM
All times are (GMT-05:00) EST
Admission fee

?
---
---