[Red Dwarf Stars Series] Crafting an Effective Resume - Hosted by the IEEE Rising Stars Conference
---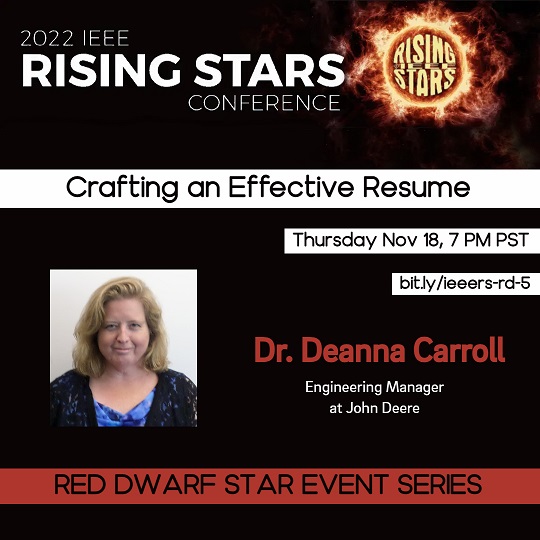 2022 IEEE Rising Stars Conference team presents
THE RED DWARF STARS SERIES
Crafting an Effective Resume
Dr. Deanna Carroll
Red Dwarf stars are the smallest stars. This series of events will not show the smallest stars, but red dwarf stars represent the formation and growth to our IEEE Rising Stars Conference. The 2022 IEEE Rising Stars Conference team will be hosting a series of monthly events to show you a glimpse of what we are preparing for the conference. We'll be sharing some professional development and technical content throughout this series, as well as some of the networking experience.
Join us every last Thursday of the month on a series of informative and engaging free events as we prepare for our large stage at the 2022 IEEE Rising Stars Conference, in Las Vegas and Virtual, on January 2-4.
To avoid conflicts with the holidays on November, we'll be hosting the November event on the 3rd week of the month.
More information at: https://ieee-risingstars.org/
Follow us on Social Media:
Facebook, Instagram, Twitter, LinkedIn, YouTube
Conference Announcements:
Registration for the conference is open!
Early Bird pricing deadline is Nov 29, 2021. Don't miss the special prices.
---
Date and Time
Location
Hosts
Registration
---
Date: 18 Nov 2021
Time: 07:00 PM to 08:00 PM
All times are (GMT-08:00) US/Pacific
Add Event to Calendar
Starts 28 October 2021 12:05 AM
Ends 18 November 2021 06:00 PM
All times are (GMT-08:00) US/Pacific
No Admission Charge
---
Speakers

Dr. Deanna Carroll
of John Deere
Topic:
Crafting an Effective Resume
Biography:
Deanna Carroll is the Electrical-Software Product Verification & Validation (PV&V) Engineering Manager for the Construction & Forestry division of John Deere. In this role Deanna leads teams responsible for Electrification, Electronics and Software PV&V. A key part of her role includes providing guidance on product development strategy for the division. She has been with John Deere for 10 years, and has over 25 years in the embedded controls industry. Deanna's educational background includes a Ph.D. Electrical Engineering from Texas A&M and an MBA from the University of Michigan. Her passion is the Customer, leveraging her experience in systems engineering and controls to answer the fundamental need for smarter, safer, and more sustainable construction.
To relax, Deanna enjoys taking road trips: moose spotting in Maine, staring in awe at the Mesa Verde cliff dwellings, and star-gazing in the Arizona desert are a few of her favorites.
---