IEEE Swiss CAS Chapter hosts a WiCAS Lunch Event on Networking between Women in Science and Engineering
---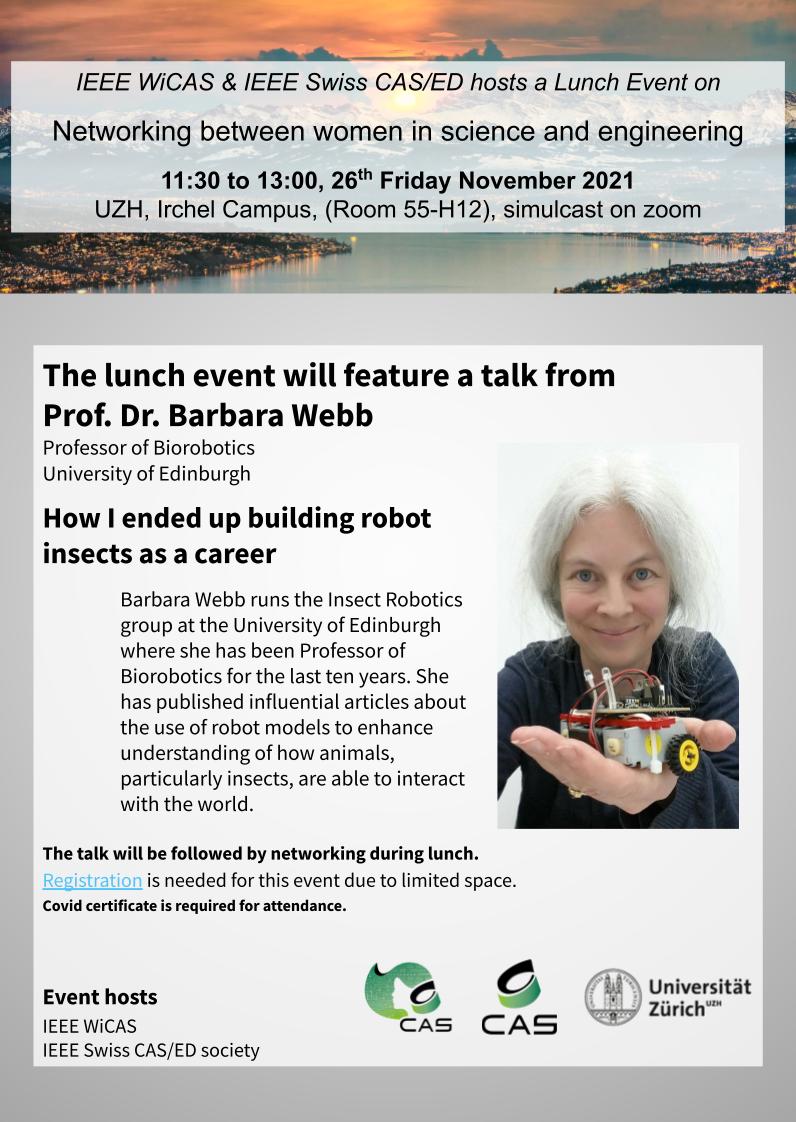 The IEEE Swiss CAS/ED chapter together with IEEE WiCAS hosts a lunch event to foster interactions between women in the field of circuits and systems and also in the science and engineering field in the Swiss community. The event will feature a talk by Prof. Barbara Webb from University of Edinburgh and a follow-up discussion session to discuss topics of interest from the participants.
We invite women at different levels of studies and who are engaged or interested in emerging fields of circuits and systems to participate in this event. The talk will be simulcast. Space for physical participation at the lunch event is limited.
---
Date and Time
Location
Hosts
Registration
---
Date: 26 Nov 2021
Time: 11:30 AM to 02:00 PM
All times are (UTC+01:00) Bern
Add Event to Calendar
Registration for physical attendance at the lunch event is needed. Spaces for the physical event are limited. Registration ends at 12noon 24.11.2021 or when spaces run out.
Talk will be simulcast here.
---
Speakers
Topic:
How I ended up building robot insects as a career
Biography:
Barbara Webb runs the Insect Robotics group at the University of Edinburgh where she has been Professor of Biorobotics for the last ten years. She has published influential articles about the use of robot models to enhance understanding of how animals, particularly insects, are able to interact with the world.
Email:
Address:Informatics Forum, 10 Crichton St, Edinburgh, United Kingdom, EH8 9AB
---
Agenda
11:30 Welcome
12:00 Talk by Prof. Barbara Webb on How I ended up building robot insects as a career
12:30 Discussion
13:00 Lunch
14:00 Closing
Requirements: Covid certificate and mask indoors
Lunch space is limited
Talk will also be broadcast through zoom. Link will be provided later.
---