2022 IEEE International Symposium on Electromagnetic Compatibility, Signal & Power Integrity
---
The 2022 IEEE International Symposium on Electromagnetic Compatibility, Signal & Power Integrity (EMC+SIPI) returns to the Pacific Northwest for the first time since 2006! Join the IEEE EMC Society for a celebration of its 65th anniversary symposium in beautiful Spokane, Washington! The 2022 IEEE Symposium on EMC+SIPI leads the industry in providing state-of-the-art education on EMC as well as Signal Integrity and Power Integrity techniques.
---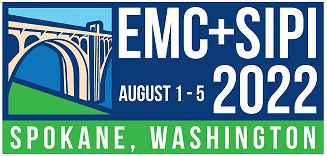 Join us for five full days of technical papers, workshops, tutorials, experiments, and demonstrations as part of the technical program PLUS two and one-half days of an extensive technical exhibition. With networking social events, several parallel sessions, and some 70,000 square feet of exhibit space, there is something for everyone interested in EMC+SIPI! Check the Final Program for more information!
Featured "Ask the Experts" Panels include topics addressing the Havana Syndrome, IBIS (Power/Signal Integrity), and EMC Test Lab Accreditation. View the list of panels with corresponding abstracts and speakers here. Bring your questions or simply listen and learn!
Featured Workshops and Tutorials include topics addressing application of reverb chambers, EMC testing basics, automotive EMC, EMC test site validation standards, innovative wireless test methodologies for 5G NR and mmWave applications, EMI modeling techniques, full system EMC simulation using encrypted 3D components, introduction to 5G and related health effects issues - AND MORE! View the complete list of Workshops and Tutorials here; the corresponding abstracts and speakers will be included in the Advance Program coming soon!
Are you interested in learning more about antennas from an industry expert? Then attend the Short Course "Antennas: The Structural Element of EMC" with renowned author, Professor Constantine Balanis. Click here for more information. Attendance is limited so register early to ensure your spot!
Need some intensive learning in EMC? Then attend the Clayton R. Paul Global University with global experts from industry and acadamia. No where else can you receive this high-level EMC education in one place at one time. View the course program and speaker bios here. Attendance is limited so register early to ensure your spot!
Note "Standards Week" includes sessions addressing ANSC C63 and IEEE EMC as well as Signal/Power Integrity standards. The Standards and Technical Committees meetings held during the symposium week are OPEN to those with an interest in learning more. Attend these meetings and get up to speed on new standards as well as the latest revisions to existing standards. Do you have a question on a standard? Ask the key contributors to the Standards directly at the symposium – something you cannot easily do on line!
Keynote Speaker, Dr. Brian M. Kent, will kick-off the technical paper sessions with the presentation "Return-to-Flight Electromagnetic Measurements: The NASA Shuttle Ascent Debris Radar Systems". Symposium attendees will gain considerable insight into space qualified subsystem test and evaluation.
Call for Volunteers!! (Hello Students!) Those interested in lending volunteer talent to the symposium should contact Alpesh Bhode at abhobe@cisco.com ASAP. There are many placements and perks available; pick the placement that is a win-win for your learning experience and the EMC symposium organizing committee.
Networking events are planned for the Women in Engineering, Young Professionals, and Team EMC (a popular cyclist group). Visit the Symposium website to learn more about these social activities and sign up for our newsletter to get up to date information directly to your inbox.
Are you in need of EMC, wireless, signal/power integrity products and services? Then visit the Symposium Exhibition Tuesday-Thursday and browse the 70,000 sq ft exhibit hall. Our technical exhibition will provide you with an opportunity to learn from some of our key industries and discuss how their solutions can help you with your work and research. Exhibits only attendance is FREE. As a bonus, the lively experiments and demonstrations, poster papers, and "Ask the Experts" panels are located in the exhibition hall. View the list of exhibitors and see the exhibition floor plan here; check the website for exhibit hours.
*****************************************************************************************
Due to Spokane's inspiring landscape, combined with a thought-provoking technical program and exhibition, you may want to consider the Spokane Symposium as your "sabbatical" to recharge on design and measurement techniques for EMC, Signal Integrity, and Power Integrity. While the virtual conferences we attended provided a great educational opportunity, that there is no substitute for the informal, spontaneous discussions that take place at in-person events. Several people have mentioned that many of their papers and technical collaborations, as well as new product ideas, have resulted from these in-person discussions. "Recharge" in Spokane at the Symposium!
We look forward to seeing you in Spokane! If you have any questions, please contact us at symposiuminfo@emcss.org.
---
Date and Time
Location
Hosts
Registration
---
Start time: 01 Aug 2022 07:00 AM
End time: 05 Aug 2022 05:00 PM
All times are (GMT-08:00) US/Pacific
Add Event to Calendar
---
---
Agenda
August 1-5: Technical Program Sessions plus Standards, Committee, and Working Group Open Meetings
August 1-5: Social and networking events scheduled throughout the week including Young Professionals, Women in Engineering, Annual Awards Ceremony, Welcome Reception, Gala Dinner, Companion Program, and more!
August 2-4: Exhibition; Clayton R. Paul Global University
August 3: Antenna Short Course with Constantine Balanis
August 5: IBIS Summit
---
Register in advance or ON SITE at the Symposium. One-day and Five-Day registration packages are available. View the registration rate card here. Use our Social Media Toolkit to help us promote the symposium!
---