Robotics and Automation Talks - MRS - E1
---
Please notify the event contact below if you have any questions about the event.
---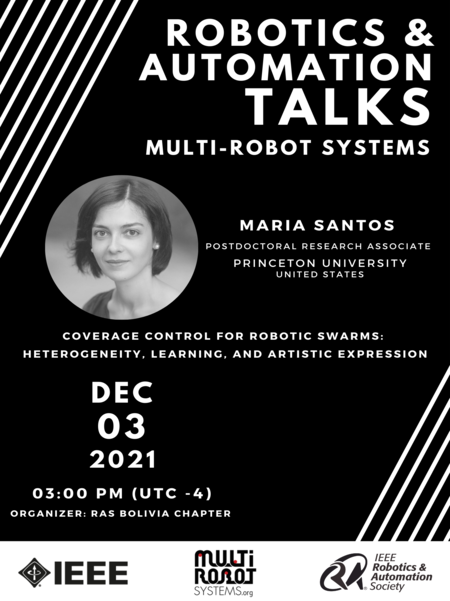 This event aims to describe the features and applications of systems compound by multiple robots. Dr. Maria Santos is going to talk about her research work related to the control of robotic swarms.
---
Date and Time
Location
Hosts
Registration
---
Date: 03 Dec 2021
Time: 03:00 PM to 04:00 PM
All times are America/La_Paz
Add Event to Calendar
---
Speakers
Topic:
Coverage Control for Robotic Swarms: Heterogeneity, Learning, and Artistic Expression
Multi-robot teams inherent features of redundancy, increased spatial coverage, flexible reconfigurability, and fusion of distributed sensors and actuators make these systems particularly suitable for applications such as precision agriculture, search-and-rescue operations, or environmental monitoring. In such scenarios, coverage control constitutes an attractive coordination strategy for a swarm, since it allows the robots in a team to spread over a domain according to the importance of its regions: the higher the relevance of an area for the objective of the application, the higher the concentration of robots will be. However, the coverage paradigm typically considers the individual robots to be interchangeable in terms of the kind of features they monitor, i.e. all the robots in the team are equipped with the same sensors. In our work, we consider realistic scenarios where swarms need to simultaneously monitor multiple types of features (e.g. radiation, humidity, temperature) concurrently at different locations, which require a mixture of sensing capabilities too extensive to be designed into every individual robot. This challenge can be addressed by considering heterogeneous multi-robot teams, where each robot is equipped with a subset of those sensors as long as, collectively, the team has all the sensor modalities needed to monitor the collection of features in the domain. In this talk, we explain how this heterogeneity can be introduced into the formulation of the coverage problem and what are the implications of considering a heterogeneous swarm in scenarios where qualitatively different features or events must be monitored simultaneously in a domain. Furthermore, we dive into the problem of how robots can effectively cover an environment without previous knowledge of the spatial distribution of features in the domain. Towards the end of the talk, we move away from the conventional applications of robotic swarms to touch upon how coverage can serve as an interaction modality for artists to effectively utilize robotic swarms for artistic expression. In particular, we focus on the heterogeneous variation of coverage as the means to interactively control desired concentrations of color throughout a canvas for the purpose of artistic multi-robot painting.
Biography:
María Santos is a Postdoctoral Research Associate in the Department of Mechanical and Aerospace Engineering at Princeton University, where she works with Dr. Naomi Leonard. María recently completed her Ph.D. in Electrical and Computer Engineering at the Georgia Institute of Technology, advised by Dr. Magnus Egerstedt. Prior to that, she received the M.S. degree in Industrial Engineering (Ingeniera Industrial) in 2013 from the University of Vigo, Vigo, Spain, and an M.S. degree in Electrical and Computer engineering from the Georgia Institute of Technology, Atlanta, GA, USA, in 2016 as a Fulbright scholar. María's research focuses on the distributed coordination of multi-robot systems, with a particular focus on modeling heterogeneous capabilities within large swarms of robots. She is also very interested in exploring how to use swarm robotics in various forms of artistic expression, research for which she was awarded a La Caixa Fellowship for Graduate Studies in North America during her doctoral studies.
---
Agenda
1. Keynote Speach.
2. General Discussion.
---