"INSPIRO" Motivational Boot camp for High Schoolers Session 1
---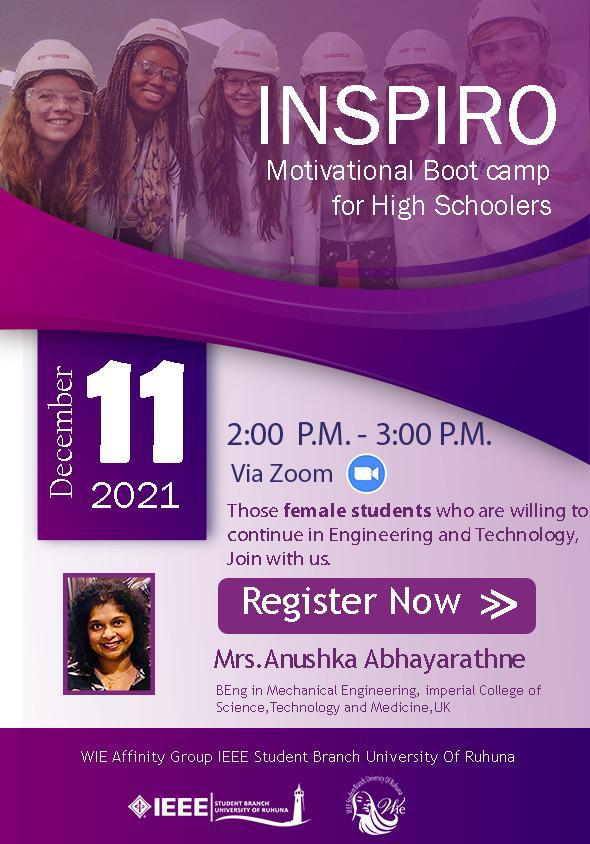 Without limiting to the university level, WIE affinity group, the IEEE student branch of the Ruhuna chapter has organized a webinar for the high school students, especially for female students to inspire them to achieve their goals by overcoming challenges. As the objectives from this webinar;
1. Hope to inspire students to follow their academic interests in science and encourage motivational thinking to select their future path by successfully facing challenges as a teenager.
2. Make them interested in Engineering and technical fields.
3. Hope to increase the number of female students who get an opportunity to pay attention to technical subjects as well as the Engineering fields.
4. Providing some learning points about how to increase their technical knowledge by using some available resources.
---
Date and Time
Location
Hosts
Registration
---
Date: 11 Dec 2021
Time: 02:00 PM to 03:00 PM
All times are (UTC+05:30) Sri Jayawardenepura
Add Event to Calendar
Only school students are invited to register for the event and the registration links and all the relevent details have been emailed to the selected schools in Sri Lanka.
Starts 28 November 2021 05:00 PM
Ends 10 December 2021 12:00 AM
All times are (UTC+05:30) Sri Jayawardenepura
No Admission Charge
---
Speakers
Mrs. Anushka Abhayarathne
Topic:
Speaker for Session 1
Speaker : Mrs. Anushka Abhayarathne
Experience in :
Teacher of Maths and Choir Directress, Ladies College, Colombo
MSc in Biomedical Engineering, Imperial College of Science, Technology and Medicine, UK

BEng in Mechanical Engineering, Imperial College of Science,
Technology and Medicine, UK
---
Media
---