2022 IEEE Rising Stars
---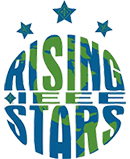 "Where Students and Young Professionals Come to Connect and be Inspired"
As a premier event, IEEE Rising Stars Global is designed to inform, excite, enthuse, and enlighten the top engineering young professionals and students. The conference brings together the most promising students and young professionals around the world to network and is inspired by each other. The program includes interactive events, competitions, technical innovation talks from industry experts, networking opportunities and professional development.
The Rising Stars event consists of two tracks. One focuses on bringing together technical professionals who are experts in emerging technologies including autonomous vehicles, space, and manufacturing, cloud computing, big data, artificial intelligence, security, and IoT. The Professional track consists of technical professionals who come to enlighten and inspire attendees to succeed in an ever-changing job environment and on how to develop as leaders in their respective fields. The IEEE Rising Stars Global conference provides direction and perspective to performing young professionals and students. Attendees at the event will gain insight on how best to further their careers by networking and learning from industry professionals and executives from leading international companies. Rising Stars Global attendees will leave the event with better preparation to face the challenges presented to them and armed with the appropriate contacts needed to gain the insight to be successful.
The Next Big Thing panel is the capstone session of the conference. It's an opportunity for panel members to gaze into their crystal balls and explore what's next in their company, their industry, or their market segment. Comments can address specific emerging technologies in the field, initiatives, or programs their company is planning. Their crystal ball can be limited to a few years, based on the speed of change in their industry.
The second portion of their forecast represents a discussion of the skills needed to succeed in their industry or, specifically, in their company. That skillset can be a mix of both technical and professional skills.
Discounted hotel rates expire on December 1, 2021
---
Date and Time
Location
Hosts
Registration
---
Start time: 02 Jan 2022 09:00 AM
End time: 04 Jan 2022 12:30 PM
All times are (UTC-08:00) Pacific Time (US & Canada)
Add Event to Calendar
Virtual and In-Person Options Available
Inspired by the generosity of the event sponsors, we are happy to announce that registration prices have been lowered!
IEEE Members: $75
Non-Members: $100
Discounted rates available until December 23rd, 2021, (or until promotional tickets sell out)
Tropicana Las Vegas – a DoubleTree by Hilton Hotel & Resort
3801 S Las Vegas Blvd
Las Vegas, Nevada
United States 89109
---
Rising Stars is an IEEE Region 6 Event
---
---