NASA Systems Engineering: Introduction to Project Life Cycle and Future Developments in Space Exploration.
---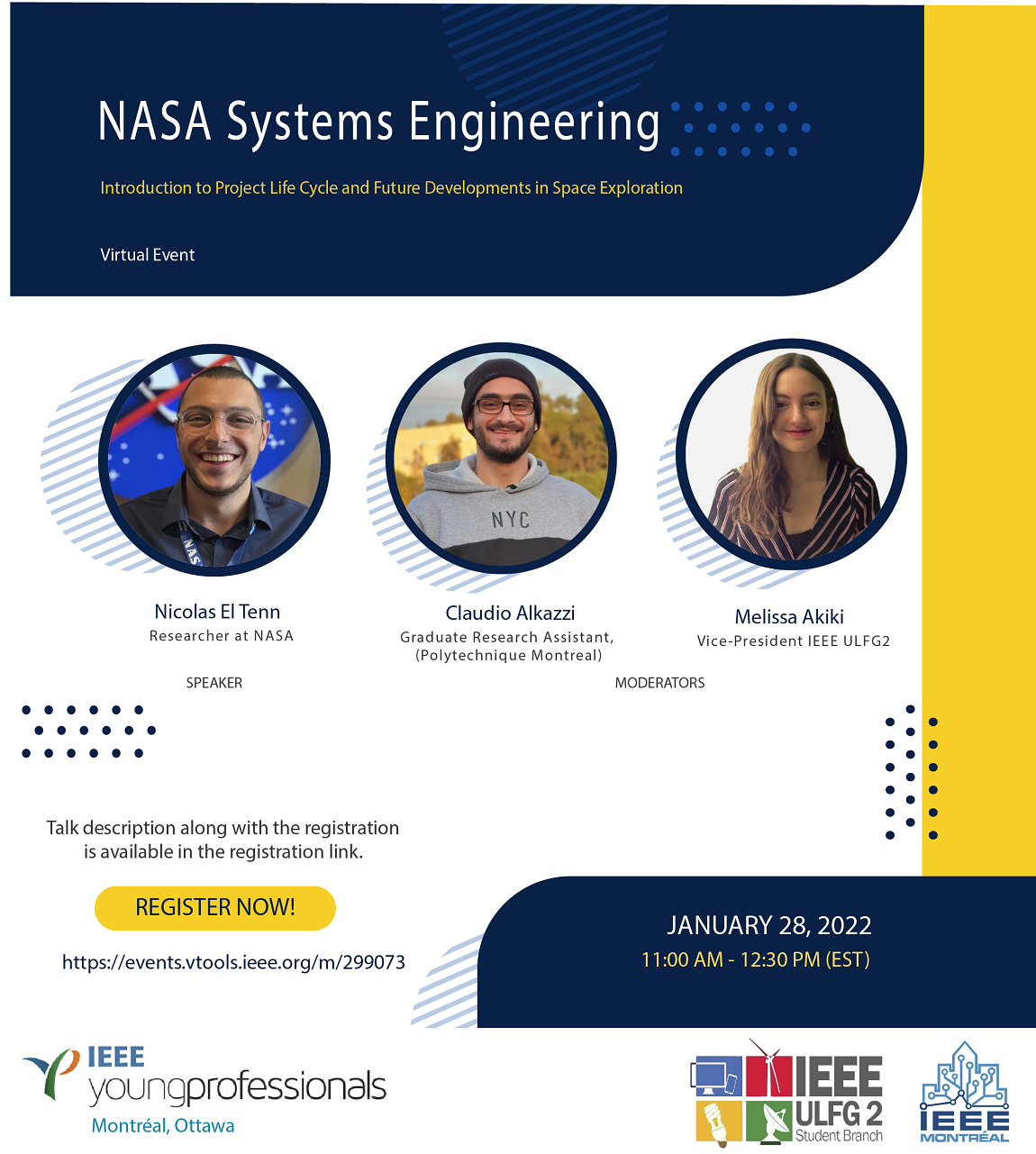 Many engineers seeking to enter the space industry lack insight on project life cycle phases that may impede on project process and aptness to meet both requirements and deadlines. In this talk, I will dissect the different phases that compose Project Life Cycle. This presentation will provide an overview of each phase, including: Concept Studies, Concept and Technology Development, Preliminary Design and Technology Completion, Final Design and Fabrication, System Assembly, Integration and Test, Launch, Operations and Sustainment, and Closeout. The presentation will conclude with an outlook of future technologies for space exploration and settlement.
---
Date and Time
Location
Hosts
Registration
---
Date: 28 Jan 2022
Time: 11:00 AM to 12:30 PM
All times are (GMT-05:00) EST
Add Event to Calendar
The virtual platform info will be delivered to the registrants a couple of hours prior to event.
---
Starts 05 January 2022 08:36 AM
Ends 28 January 2022 10:00 AM
All times are (GMT-05:00) EST
No Admission Charge
---
Speakers

Nicolas El Tenn
Biography:
Nicolas El Tenn is graduating with his Bachelor of Science in Computer Engineering from the University of Central Florida in May of 2022. He currently works as a Lab Technician at Texas Instruments Innovation Lab that focuses on laser cutting, 3D printing, and soldering. He has contributed to the NASA LUCY Mission that launched October 16, 2021 in spacecraft design and Fused Deposition Modeling. His current project has recently received funding from NASA and consists of developing a plant habitation system that enables permanent settlement in space. Further research interests include neural networks and robot vision.

Claudio Alkazzi
Biography:
Claudio is the Industrial Workshop Coordinator and Marketing Manager at IEEE Young Professionals Montreal. He is pursuing his Master's in Electrical Engineering at Polytechnique Montréal, where his research focus is on deep learning integrated in 5G wireless communications. He is currently a graduate research assistant at PolyGrames research center.
Melissa Akiki
Melissa Akiki is a third year Electrical and Electronics Engineering Student at the Lebanese University-Faculty of Engineering-Section 2, Roumieh (ULFG2). She is currently the Vice President of the IEEE ULFG2 Student branch and was an IEEE Day 2021 Ambassador for Region 8, Lebanon Section. She is also a volunteer in the IEEE Puzzlers Community where they create fun brain teasers for the volunteers.
---
This event is a collaboration with IEEE Lebanese University Faculty of Engineering-Roumieh (ULFG2) Student Branch.


---