Unlock Your Higher Studies Goals
---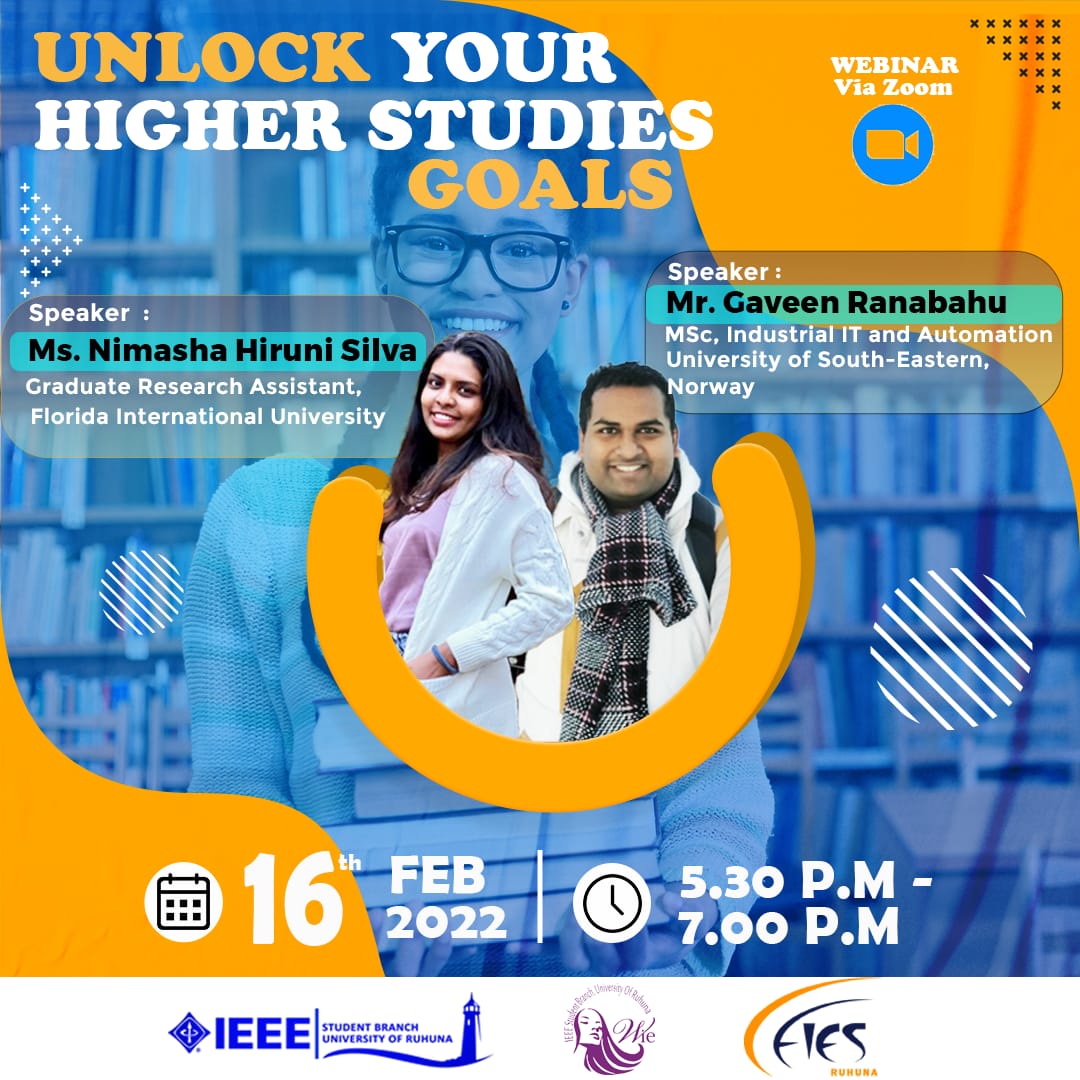 "Unlock Your Higher Studies Goals" is a webinar organized by EIES in collaboration with the WIE (Women in Engineering) Affinity group, IEEE Student Branch, University of Ruhuna. We aimed to motivate and encourage students to choose the correct higher studies pathway that will help them achieve their career goals. It specially focused on facing and succeeding the various challenges we face as students and how to be a goal oriented individual while following your passion for Engineering. This webinar was successfully done on Wednesday, 16th February 2022 at 5.30 PM through the zoom platform with the participation of over 100.
The topic of the webinar was Unlock Your Higher Studies Goals. The guest speakers of the event were Ms. Nimasha Hiruni Silva and Mr. Gaveen Ranabahu.
Ms. Nimasha Hiruni Silva graduated with BSc. (Hons) in Electrical and Information Engineering in 2019. She is currently working as a Graduate Research Assistant in Florida International University. She is a former Software Engineer at Whale Cloud and former Network Support Engineer at Exetel. She was the social secretary of EIES in 2017 and IET Committee member in 2016. She is also the Sports Caption in 2016 and Assistant treasurer of Sports Club in 2015.
Mr. Gaveen Ranabahu graduated with BSc. (Hons) in Electrical and Information Engineering from university of Ruhuna in 2019. He is a former Engineer at Dialog Axiata PLC and a specialist of Cloud operations, currently doing MSc in Industrial IT and Automation at University of South -Eastern Norway. He is also a former junior treasure of EIES and a former editor of software circle of EIES.
It was a great opportunity for the participants as many key messages were disseminated in the webinar and the audience was made fully aware about how to choose the correct higher studies pathway. Very useful information was given in the webinar and many questions were discussed. The speaker emphasized that,
Qualifications (how much GPA needed? / Does class matter?)
How to find opportunities/ scholarships and application procedures?
How to manage expenses?
Career opportunities after higher studies. (Academia/ Industry)
Final year project impact on higher studies
The webinar was a great session and speakers shared lot of experiences that they have gained while doing higher studies. Many participants were very interactive and discussed many questions with the speakers. It provided many facts about how to get ready ourselves to start higher studies after graduation. In conclusion, it was a good opportunity for all the participants.
---
Date and Time
Location
Hosts
Registration
---
Date: 16 Feb 2022
Time: 05:30 PM to 07:00 PM
All times are (UTC+05:30) Sri Jayawardenepura
Add Event to Calendar
Zoom link will be provided before the webinar
---
Speakers
Ms. Nimesha Hiruni Silva
Topic:
Unlock Your Higher Studies Goals
Graduate Research Assistant, Florida International University
Mr. Gaveen Ranabahu
Topic:
Unlock Your Higher Studies Goals
MSc, Industrial IT, and Automation University of Southern-Eastern, Norway
---