Social Media Power Hour: Amp Up Your Social Skills in 60 Minutes
---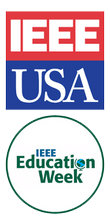 IEEE-USA Livestream Tutorial and Q&A
Social media is a powerful tool if used well, but can be ineffective or even detrimental if used poorly. This webinar will provide a broad overview of how to effectively use social media for greater impact. Platforms covered will include Facebook, Twitter, Instagram, LinkedIn, and YouTube. In this webinar, you'll learn:
The elements of a good social media post

How to effectively use images and video

How to vary tactics between social media platforms

How to drive engagement
Whether you're a complete novice or have been using social media for years, you'll finish this hour with actionable tips to help you gain more traction on the most popular platforms.
Questions from attendees are encouraged!
---
Date and Time
Location
Hosts
Registration
---
Date: 30 Mar 2022
Time: 02:00 PM to 03:00 PM
All times are (UTC-05:00) Eastern Time (US & Canada)
Add Event to Calendar
David Iams, IEEE-USA
202.530.8374
Daryll Griffin, IEEE-USA
202.530.8337
Starts 17 February 2022 01:42 PM
Ends 30 March 2022 01:00 PM
All times are (UTC-05:00) Eastern Time (US & Canada)
No Admission Charge
---
Speakers

Corey Ruth
of IEEE-USA
Topic:
Social Media Skills
Biography:
Corey Ruth is IEEE-USA's Media Relations Associate. He has ten years of experience in the public relations industry, and has served multiple clients in the consumer tech, B2B, travel and retail industries. He joined IEEE-USA in 2017, with responsibilities including media outreach, partnership management, written and multimedia content creation, and more.
Email:

Jonathon Choe
of IEEE-USA
Topic:
Social Media Skills
Biography:
Jonathon Choe is IEEE-USA's Social Media Associate. He is a social media and content marketing specialist and has held strategic roles in the public affairs industry, serving clients across corporate and nonprofit sectors. He joined IEEE-USA in 2018, with responsibilities ranging from social media development and strategy to multimedia production.
Email:
---
Agenda
Now Available for viewing on demand:


---
For information regarding upcoming webinars or to visit our vast webinar archive, please visit: https://ieeeusa.org/careers/webinars/
PDHs are available to IEEE members in the U.S.
---