IEEE STUDENT BRANCH organized an expert lecture cum talk on "ACADEMIC RESEARCH & INNOVATION TO PATENT GRANT"
---
IEEE STUDENT BRANCH organized an expert lecture cum talk on "ACADEMIC RESEARCH & INNOVATION TO PATENT GRANT"
---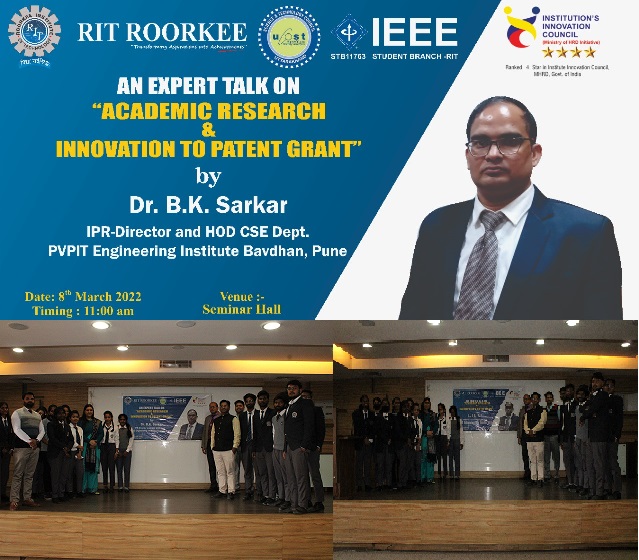 An expert talk on "ACADEMIC RESEARCH AND INNOVATION TO PATENT GRANT" was conducted for the faculties and students of RIT Roorkee on March 8, 2022, from 11 am. Dr. Aruna Bhat being the coordinator of IPR Cell, RIT Roorkee welcomed all the participants. Dr. B.K. Sarkar was the eminent speaker of the event. After going through the profile of Dr. B.K. Sarkar, the program started with a basic understanding of patents. A patent gives the owner of the invention the right to prevent others from making, using, importing, or selling the invention without their permission. Dr. Sarkar also explained the procedure of patent grant viz. Filing, Formal Exam, Prior Art search, Publication, Substantive Examination, Refusal, Opposition, and Appeal. He also gave a detailed description of the importance of Academic Research where one can investigate systematically a problem and identify the factors that help to solve the problem or deal with the situation. Many students got their queries solved during the talk.
Dr. Aruna Bhat presenteda vote of thanks and thanked everyone who attended this expert talk. The event came to an end at 1 pm.
---
Date and Time
Location
Hosts
Registration
---
Date: 08 Mar 2022
Time: 11:00 AM to 12:00 PM
All times are (GMT+04:00) Indian/Reunion
Add Event to Calendar
Registrations were made using google form....
IEEE Student Branch, R&D Cell RIT,Roorkee

Co-sponsored by

IPR Cell RIT Roorkee
Starts 06 March 2022 10:39 AM
Ends 08 March 2022 09:00 AM
All times are (GMT+04:00) Indian/Reunion
No Admission Charge
---
Speakers
Prof. (Dr.) B.K. Sarkar
of IPR Director, PVPIT, Bavdhan Pune
Topic:
ACADEMIC RESEARCH TO PATENT GRANT
Prof.(Dr.) B. K. Sarkar
Post.Doc. (Singapore), PhD. (CS) (IIT), M-Tech (CS) (IIT), B-Tech (CS).
Founder (04): GEH Research LLP, ADBIGA Innovation LLP,
BS5 INNIVATION & DEVELOPMENT LLP, VBR Innovation LLP.
Total no of Patent National, International: (in Group) =580
Project Completed. (In Group) =2756.00 Cr. (International, National Level)
Running Project Under Japan Govt. = (in Group) =567.00Cr.(International)
Book Published: International =14, ISBN :( 978-613-9-82266-9) "Concept of
Programming, (ISBN: 978-613-9-93803-2)" Paradigm of Cloud Computing"
ISBN:(978-3-7438-8487)" Introduction to Internet and Web technology,
ISBN:987-613-9-44766-4) (Introduction to Neural Network)
Total no of E-Book= 10, (Neural Network, Programming, Computer Graphics .....)
Workshop/Guest Lectures/Visits/Seminar (Guide, Presented) = 57-IPR- Patent, 24- NBA, 12- NAAC, 16- USPatent, 10-Start-up India, (45-National, 12- International))
Member: JCET, IJCET, IJECRT, IETE, IJLTEMAS, ISTE, SMU, IIHT, Global R/D, GEH.
Total no of Research Paper: International-46, National-32.
Mobile: +91, 8830121996, 8059794469 E-mail: dr.bksarkar2003@yahoo.in
Teaching Experience: Total =17.9-Years [(7.9-Years)-Director, Dean, Professor, (5-Years) Associate
Professor), (5.4-Year)-Assistance Professor]
Biography:
Prof.(Dr.) B. K. Sarkar
Post.Doc. (Singapore), PhD. (CS) (IIT), M-Tech (CS) (IIT), B-Tech (CS).
Founder (04): GEH Research LLP, ADBIGA Innovation LLP,
BS5 INNIVATION & DEVELOPMENT LLP, VBR Innovation LLP.
Total no of Patent National, International: (in Group) =580
Project Completed. (In Group) =2756.00 Cr. (International, National Level)
Running Project Under Japan Govt. = (in Group) =567.00Cr.(International)
Book Published: International =14, ISBN :( 978-613-9-82266-9) "Concept of
Programming, (ISBN: 978-613-9-93803-2)" Paradigm of Cloud Computing"
ISBN:(978-3-7438-8487)" Introduction to Internet and Web technology,
ISBN:987-613-9-44766-4) (Introduction to Neural Network)
Total no of E-Book= 10, (Neural Network, Programming, Computer Graphics .....)
Workshop/Guest Lectures/Visits/Seminar (Guide, Presented) = 57-IPR- Patent, 24- NBA, 12- NAAC, 16- USPatent, 10-Start-up India, (45-National, 12- International))
Member: JCET, IJCET, IJECRT, IETE, IJLTEMAS, ISTE, SMU, IIHT, Global R/D, GEH.
Total no of Research Paper: International-46, National-32.
Mobile: +91, 8830121996, 8059794469 E-mail: dr.bksarkar2003@yahoo.in
Teaching Experience: Total =17.9-Years [(7.9-Years)-Director, Dean, Professor, (5-Years) Associate
Professor), (5.4-Year)-Assistance Professor]
Email:
Address:IPR Director, PVPIT, Bavdhan Pune, , Pune, India
---
Agenda
1. ACADEMIC RESEARCH & INNOVATION
2. TAKING ACADEMIC RESEARCH TO PATENT GRANT
---
IEEE STUDENT BRANCH Roorkee Institute of Technology, Roorkee and IPR Cell RIT Roorkee
---