IEEE ComSoc Latin America Open Webinar: Fog, Edge y Cloud: ¿Qué hay detrás de este tridente goleador?
---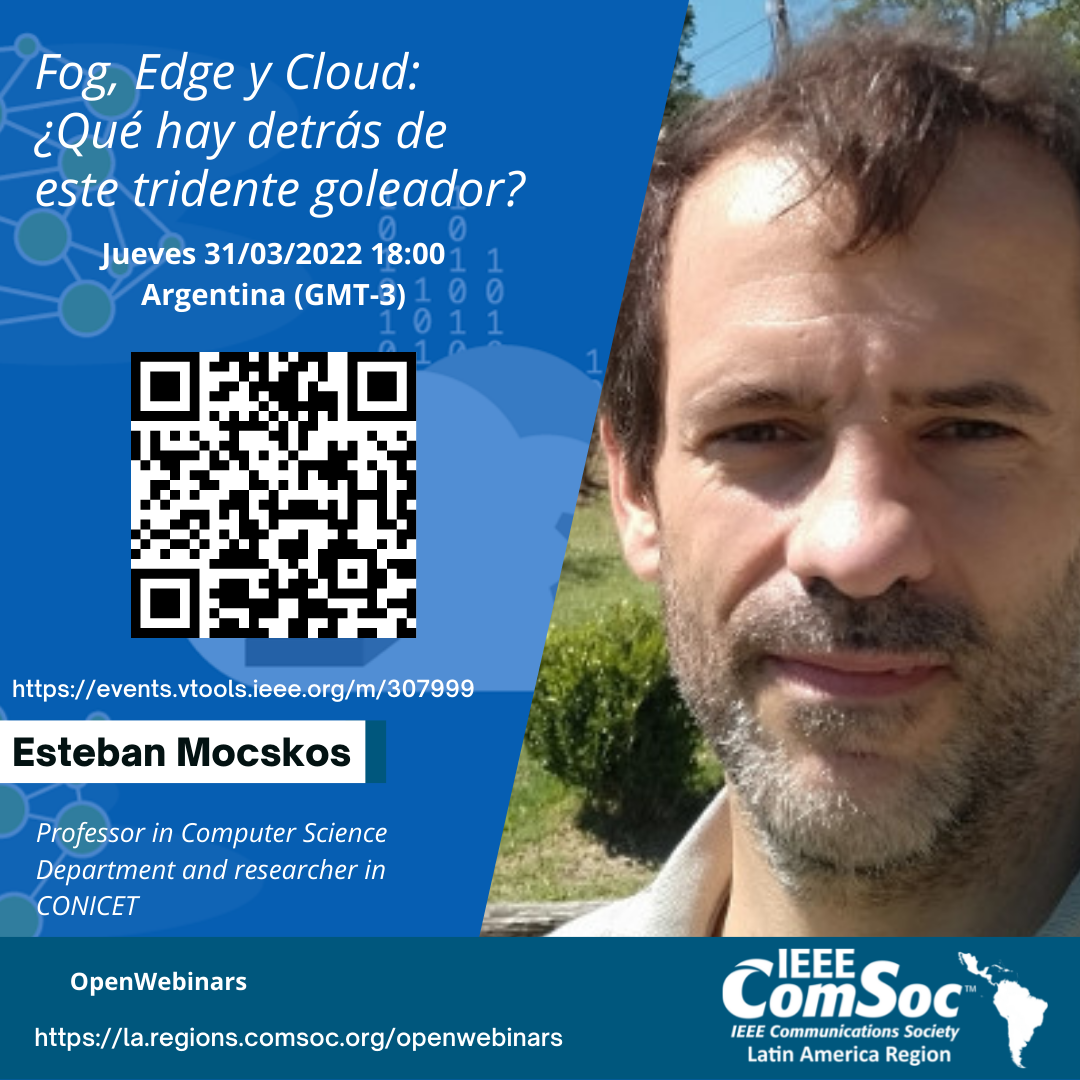 Seminarios mensuales sobre comunicaciones brindados por profesionales en Latinoamérica. Se realizan en idioma castellano y son abiertos.
---
Date and Time
Location
Hosts
Registration
---
Date: 31 Mar 2022
Time: 06:00 PM to 07:00 PM
All times are (UTC-03:00) Buenos Aires
Add Event to Calendar
Se informa por e-mail unas horas antes del evento.
Co-sponsored by

CSC (CONICET, Argentina)
Starts 15 March 2022 10:00 AM
Ends 31 March 2022 05:00 PM
All times are (UTC-03:00) Buenos Aires
No Admission Charge
---
Speakers

CSC (CONICET)
Topic:
Fog, Edge y Cloud: ¿Qué hay detrás de este tridente goleador?
Fog y edge Computing presentan un paradigma en el que el cómputo se resuelve localmente sin necesidad de transferir todos los datos a los data centers basados en Cloud Computing. Son tecnologías que están madurando aceleradamente, pero que aún tienen muchos desafíos por delante.
En esta charla vamos a explorar cuáles son los conceptos que soportan estas tecnologías, algunos desafíos interesantes que se vienen y cómo nos pueden impactar tanto en nuestro quehacer diario doméstico como en las más actividades.
Biography:
Esteban Mocskos es profesor en el Departamento de Computación de la Facultad de Ciencias, Exactas y Naturales, UBA. También es investigador de CONICET con lugar de trabajo en el CSC-CONICET, instituto que hostea TUPAC, una de las supercomputadoras más grandes del país.
Es miembro activo de la comunidad de Computación de Alto Rendimiento (HPC) de la región, así como responsable técnico en el Sistema Nacional de Cómputo de Alto Desempeño. Forma parte de proyectos de investigación internacionales enfocados en la temática de HPC.
Ha sido autor trabajos de investigación en revistas y conferencias internacionales de primer nivel y actualmente dirige el Laboratorio Interdisciplinario de Computación de Alto Rendimiento (más información del grupo en licar.dc.uba.ar).
Sus líneas de investigación están relacionadas con los sistemas distribuidos, la programación paralela y el uso de técnicas y herramientas de simulación a gran escala.
---
Agenda
18:00 Presentación a cargo de José Ignacio Alvarez-Hamelin (ComSoc Argentina Vice Chair)
18:05 Fog, Edge y Cloud: ¿Qué hay detrás de este tridente goleador? (Esteban Mocskos)

18:50 Preguntas y comentarios
---