Intellectual Property 101 (IEEE-USA Free Webinar)
---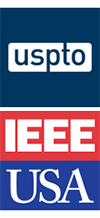 USPTO Copyright, IP, Trademark, and Patent Series
Unfamiliar with patents, trademarks, copyrights, and trade secrets? Learn about intellectual property (IP) basics and potential ways to protect your innovations as you transition from idea to product.
The session covers:
What is the USPTO?

An overview of intellectual property types: patents, trademarks, copyrights, and trade secrets

Why innovators and entrepreneurs should consider protecting their IP

How to get started in protecting your intellectual property.
View the recording here:
---
Date and Time
Location
Hosts
Registration
---
Date: 20 Apr 2022
Time: 02:00 PM to 03:00 PM
All times are (UTC-05:00) Eastern Time (US & Canada)
Add Event to Calendar
Daryll Griffin, IEEE-USA
202.530.8337
David Iams, IEEE-USA
202.530.8374
---
Speakers

Elizabeth Dougherty
of the U.S. Patent and Trademark Office (USPTO)
Topic:
Intellectual Property 101
Biography:
As the Eastern Regional Outreach Director for the U.S. Patent and Trademark Office (USPTO), Elizabeth Dougherty carries out the strategic direction of the Under Secretary of Commerce for Intellectual Property and Director of the USPTO, and is responsible for leading the USPTO's East Coast stakeholder engagement. Focusing on the region and actively engaging with the community, Ms. Dougherty ensures the USPTO's initiatives and programs are tailored to the region's unique ecosystem of industries and stakeholders.

Full Bio: https://www.uspto.gov/about-us/executive-biographies/elizabeth-dougherty
---
Agenda
We are excited to partner again with the United States Patent and Trademark Office (USPTO) to bring you valuable information and advice from Patent, Trademark, IP, and Copyright experts. We hope you can join us for the entire series.
USPTO Copyright, IP, Trademark, and Patent Series
IEEE-USA's free webinars/events are designed to help you find your next job, maintain your career, negotiate an appropriate salary, understand ethical considerations in the workplace and learn about other career-building strategies and public policy developments that affect your profession.
---
For information regarding upcoming webinars or to visit our vast webinar archive, please visit: https://ieeeusa.org/careers/webinars/
PDHs are available to IEEE members in the U.S.
---