SIGHT Group, Computer Chapters Share: NJ Big Data Alliance Workshop Series Food Industry - w. Food Insecurity Topic
---
SIGHT Group, Computer Chapters Share: NJ Big Data Alliance Workshop Series Food Industry - w. Food Insecurity Topic
---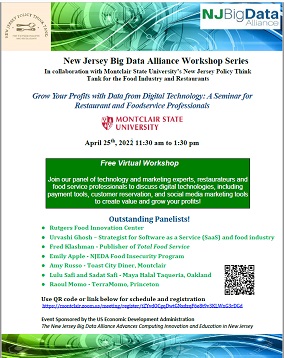 IEEE NJ Coast Section SIGHT Group and Computer Chapter shares information about upcoming NJ Big Data Alliance Workshop Series Food Industry with various topics of interest including those of interest to Computer Chapter Members and Humanitarian Activities such as Food Insecurities.
Please register Online following the link provided herein.
New Jersey Big Data Alliance Workshop Series
In collaboration with Montclair State University's New Jersey Policy Think Tank for the Food Industry and Restaurants
Grow Your Profits with Data from Digital Technology: A Seminar for
Restaurant and Foodservice Professionals
April 25th, 2022 11:30 am to 1:30 pm
Outstanding Panelists!
● Rutgers Food Innovation Center
● Urvashi Ghosh – Strategist for Software as a Service (SaaS) and food industry
● Fred Klashman - Publisher of Total Food Service
● Emily Apple - NJEDA Food Insecurity Program
● Amy Russo - Toast City Diner, Montclair
● Lulu Safi and Sadat Safi - Maya Halal Taqueria, Oakland
● Raoul Momo - TerraMomo, Princeton
Use QR code or link below for schedule and registration

https://montclair.zoom.us/meeting/register/tZYvdOCgqDwtGNxdzqF6e8t9v3KLWnG3rDGd
Event Sponsored by the US Economic Development Administration
The New Jersey Big Data Alliance Advances Computing Innovation and Education in New Jersey
---
Date and Time
Location
Hosts
Registration
---
Date: 25 Apr 2022
Time: 11:30 AM to 01:30 PM
All times are (UTC-05:00) Eastern Time (US & Canada)
Add Event to Calendar
Register with link provided in the announcement. Location is available through the link.
https://montclair.zoom.us/meeting/register/tZYvdOCgqDwtGNxdzqF6e8t9v3KLWnG3rDGd
Holmdel, New Jersey
United States
---
---
---
SIGHT Group, Computer Chapters Share: NJ Big Data Alliance Workshop Series Food Industry - w. Food Insecurity Topic
---