Mini Colloqium on "Memristive Devices" and Symposium on Schottky barrier MOS devices 2022
---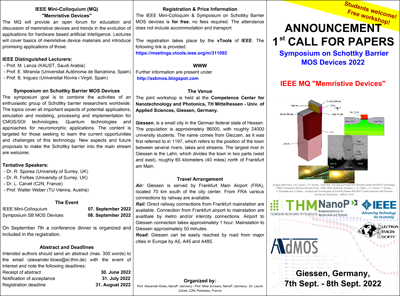 Our R&D event starts on September 7th with the MQ on "Memristive Devices". On September 8th the the Symposium of SB-MOS is held.
Following lecturers attend the MQ:
Prof. M. Lanza (KAUST, Saudi Arabia)
Prof. E. Miranda (UniversitatAutònoma de Barcelona, Spain)
Prof. B. Iniguez (UniversitatRoviraiVirgili, Spain)
Invited speakers SSBMOS:
Dr. Radu Sporea (Advanced Technology Institute, University of Surrey, Guildford, UK)
Dr. Laurie E. Calvet (C2N, CNRS-Université Paris-Sud, France)
Dr. Richard Forbes (Advanced Technology Institute, University of Surrey, Guildford, UK)
Prof. Walter Weber (TU Vienna, Austria)
Abstract and Deadlines
Intended authors should send an abstract for the SSBMOS (max. 300 words) to the email (alexander.kloes@ei.thm.de)
This year the joint R&D event is sponsored by the THM and the IEEE EDS Germany Chapter, and organized by Dr. Laurie Calvet (C2N, Palaiseau, France), Prof. Mike Schwarz (NanoP THM, Germany), Prof. Alexander Kloes (NanoP THM, Germany) and the staff at the THM.
Attendees are welcome to participate in our joint R&D event. The attendees are limited in total to 300 (virtually). Further information is present at
Symposium of SBMOS
https://ssbmos.blogspot.com
---
Date and Time
Location
Hosts
Registration
---
Start time: 07 Sep 2022 01:00 PM
End time: 08 Sep 2022 04:00 PM
All times are (UTC+01:00) Berlin
Add Event to Calendar
The event will be held in hybrid format, onsite and via Zoom. Login information provided before the event and requires registration.
Wiesenstraße 14
Giessen, Hessen
Germany 35390
---
Co-sponsored by

THM - University of Applied Sciences
Starts 01 May 2022 12:00 PM
Ends 31 August 2022 12:00 PM
All times are (UTC+01:00) Berlin
No Admission Charge
---
---