VTS: Pedestrian Access Considerations at Transit Stations
---
The IEEE Vehicular Technology Society
ONLINE MEETING

Tuesday, April 19, 2022, 12:00 PM
---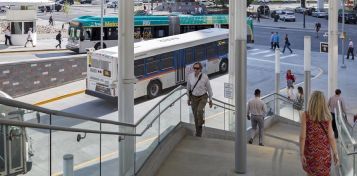 Winner of the IEEE Northern Virginia Chapter of the Year 2017
Winner of the IEEE Northern Virginia Chapter of the Year 2018
THE REGULARLY SCHEDULED VTS MEETINGS WILL BE HELD ONLINE UNTIL FURTHER NOTICE
You will need a computer with speakers to watch the presentation. A microphone and webcam are optional but encouraged.
Cost: Free!
Please register by 5 pm Monday, April 18
Webinar login details will be provided by 8:00 pm on Monday, April 18.
Check the Chapter website for updates:
Speaker: John A Nawn, P.E., PTOE, CFM, F. NSPE
Topic: Pedestrian Access Considerations at Transit Stations
Note: You only need to provide the required information (noted with a red *) on the registration web link, BUT please help us out and let us know if you are an IEEE or VTS member. Everyone is always welcome at our meetings and membership is NOT required, but when we send meeting reports to IEEE, we need to list the number of IEEE/VTS members who participate.
---
Date and Time
Location
Hosts
Registration
---
Date: 19 Apr 2022
Time: 12:00 PM to 01:30 PM
All times are (GMT-05:00) US/Eastern
Add Event to Calendar
The meeting will be held on Zoom. A Zoom link will be emailed by 8:00pm the day before the meeting to registered participants.
Washington, District of Columbia
United States
---
Starts 11 April 2022 05:00 PM
Ends 18 April 2022 05:00 PM
All times are (GMT-05:00) US/Eastern
No Admission Charge
---
Speakers

John A. Nawn, P.E.
of Delon Hampton Associates
Presenter John Nawn will take us through some of the more critical pedestrian accessibility issues and nuances at transit stations including walkway, parking, floor surface, platform, and vehicle considerations. Mr. Nawn will discuss various codes and standards and their application to the safe and efficient movement of pedestrians, our riders, and constituents through our transit facilities and onto our transit vehicles.
Biography:
John holds a BS and MS in Civil Engineering from Drexel University. John is a licensed Professional Engineer in nine states, a certified Professional Traffic Operations Engineer, a Certified Floodplain Manager, and a Fellow of the National Society of Professional Engineers. With 35 years of experience, John is presently employed by Delon Hampton Associates as a member of their Project Management Oversight team on Federal Transit Administration Projects including the replacement of the Raritan River Bridge on NJ Transit and a multi-billion-dollar station upgrade program for MTA, New York.
Prior to joining Delon Hampton, John worked full-time for over 9 years as a forensic engineer/expert witness providing services to counsel for both plaintiffs and defendants in matters involving highway, intersection and traffic liability, premises liability, vehicle accident reconstruction, pedestrian matters, parking lot design, and transportation facility construction liability. John has testified at trial or deposition over 50 times as an expert witness in local state and federal courts in multiple states and jurisdictions.
John is also an adjunct professor where he teaches a graduate-level course in Transportation Systems Management in the Fall at Temple University and the undergraduate Highway Engineering course in the Spring at Widener University.
John is a member of ASCE, ITE, ASTM, and NSPE, where he presently serves as the Managing Director of NSPE's Northeast Region and is a past president of the Pennsylvania Society of Professional Engineers. John was the ASCE Philadelphia Section's 2007 Engineering Manager of the Year and the 2017 Civil Engineer of the Year. John was also the 2011 Pennsylvania Society of Professional Engineers, State Engineer of the Year, and the 2017 Delaware Valley Engineer of the Year.
John resides in Newtown Square, Pennsylvania with his wife Barbara. He has two children and five grandchildren. John served his community for 10 years as an elected Township Supervisor including the last 6 years as Chairman of the Board of Supervisors. John is also the Chairman of the Board of Directors of Community Transit, Inc., a demand-based transit company operating approximately 100 busses, including SEPTA's Paratransit service, providing approximately 2500 daily trips to the citizens of Delaware County.
Email:
Address:Newtown Square, Pennsylvania, United States
---
Agenda
12:00 pm - Introductions/roll call and discussion of current rail industry news and happenings
12:30 pm - Technical presentation & discussion
01:30 pm - Adjourn
-----------------------------------------------
IEEE VTS CHAPTER OFFICERS:


Chair: David (DJ) Johnson
Vice-Chair: Reg Mitchell
Secretary: Karl Berger, PE
Treasurer: Steve Bezner, PE
Cashier: Ken Briers
Program Committee: Heather Roman, Matt Nawn
Please help your VTS Chapter: If you would like to speak or have contact information for a speaker, please contact Heather Roman <hroman at omni-strategy dot com> or Matt Nawn <matthew.nawn at dot.gov>
---
Future Meetings:
May 10
Summer break
September 13
October 11
November 8
December 13
---