R3 Senior Member Roundup June
---
WIE Senior Member Roundup
---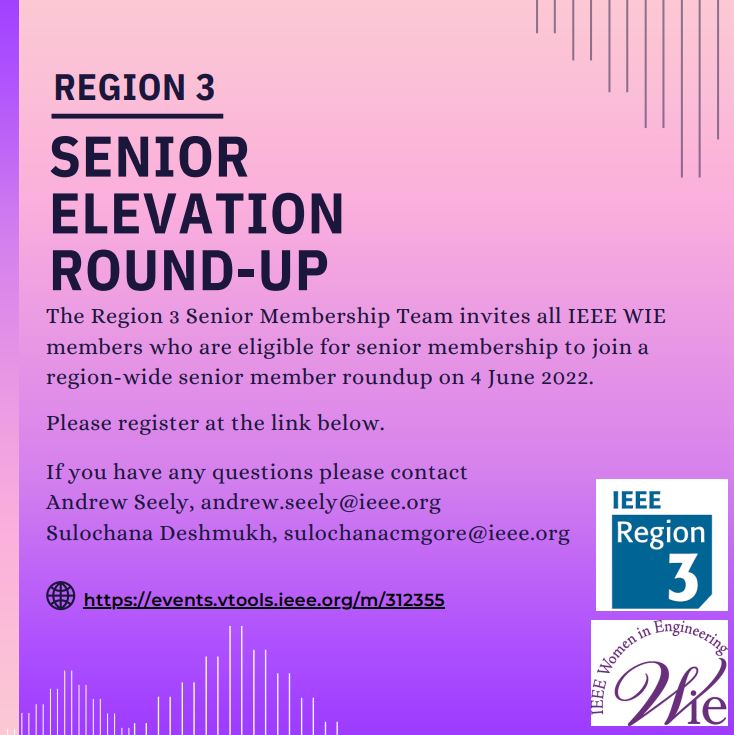 Join Region 3 for a region-wide senior membership event. Pre-registration is required.
The Region 3 Senior Membership Team invites all IEEE WIE members who are eligible for senior membership to join a region-wide senior member roundup on 4 June 2022. If you are an IEEE member in good standing with more than 10 years of professional experience or academic accomplishments, you may be eligible for IEEE senior membership. Please see https://www.ieee.org/membership/senior/ for details on the senior membership rank.
Our Region 3 team provides your nomination and reference providers from our pool of senior member volunteers. To get started, please contact the Region 3 senior member coordinator, Andrew Seely, andrew.seely@ieee.org today. We'll need your current resume, member number, IEEE section, and email address. We will assign you with references who will conduct a live 30 minute get-to-know-you interview on a Zoom call on the 4th of June, and then complete your full senior member nomination package in time for consideration by the IEEE Admission and Advancement panel on June 25. For WIE members who wish to take part but who are unable to attend the live session, we can defer you to the 23 July session or we can complete your nomination offline.
This time we are focusing on Women in Engineering members, but anyone is welcome to attend.
---
Date and Time
Location
Hosts
Registration
---
Date: 04 Jun 2022
Time: 12:00 PM to 05:00 PM
All times are (GMT-05:00) EST
Add Event to Calendar
Co-sponsored by

Region 3 Ex Com - Senior Member Elevation and Women In Engineering
Starts 15 April 2022 12:00 AM
Ends 04 June 2022 12:00 PM
All times are (GMT-05:00) EST
No Admission Charge
---
---
Agenda
TBD - Pls note the event does not require you to attend the whole 12-5pm time frame.
Once you register you'll receive finalized details.
---
Please let us know if you have any questions.
---