"Leadership That Drives Agile Thinking", VIRTUAL MEETING
---
Due to COVID-19, this will be ONLINE only.
IMPORTANT: You must register with valid email by end of the day on Saturday, May 14th to get the Webex login information. Webex login credentials will be sent to your *registered email* the day before this event.
---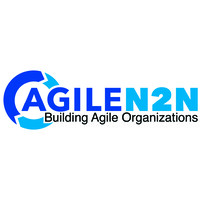 Join us for our next Consultants' Network meeting on Monday, May 16th at 7:00PM, featuring AgileN2N with presenters Shashi Singh and Alan Berow. As always, our meetings are free and open to anyone who is interested, not just consultants or IEEE members.
"Leadership That Drives Agile Thinking"
Agile returns us to the old value of focusing on customers' needs in an environment where people are
not simply human resources. Companies are seeing the advantages in time-to-market, value, and quality of
becoming Agile. As more and more companies begin their unique Agile journeys, some falter or fail.
Poor outcomes can usually be traced to management failures, especially the failure to be personally
committed to the journey.
This presentation will provide insights into management's role in an Agile transformation and what you,
as consultants outside of the transformation, can do to help your clients succeed. Before diving into the
core of the presentation, we will provide an essential review of what Agile is and is not.
If we have time, we would like to include an Agile game to demonstrate a learning technique that helps
people understand the ineffective practices they might use. Please bring a piece of paper and pen/pencil
to the event.
---
Date and Time
Location
Hosts
Registration
---
Date: 16 May 2022
Time: 07:00 PM to 08:30 PM
All times are (UTC-06:00) Central Time (US & Canada)
Add Event to Calendar
Link to the event will be sent out to all registrants the day before. Note, the link will be sent the attendee's *registered* email address.
VIRTUAL EVENT
Palatine, Illinois
United States
---
Starts 26 April 2022 11:55 PM
Ends 14 May 2022 11:59 PM
All times are (UTC-06:00) Central Time (US & Canada)
No Admission Charge
---
Speakers
AGILE N2N, Inc, (https://agilen2n.com) enables organizations to become Agile in a fast changing and competitive business environment. Agility comes from focusing on customers, building a continuous improvement mindset, empowered teams, servant- leadership, and cross functional collaboration. The end result improves time to market, innovation, creates delighted customers, adaptive leadership, and
engaged employees. An agile mindset allows an organization and its people to continuously reinvent themselves as their business environment changes.
We begin by listening to our clients, assessing their current state, their needs, strengths, and opportunities, and their motivation and ability to change. We use this to lay out a road map for their unique agile journey. As in all agile journeys, there will be twists and turns. We stay with our clients to evolve their journey.
Our practice of getting to know our clients and consultants, their needs, and their culture before connecting them are our key differentiator. We have an exceptional talent base of Agile Trainers, Coaches, Scrum Masters, DevOps Engineers, and other strategic technical talents, such as architects, developers, and testers. We maintain our relationships with regular touchpoints to enable continuous
improvement.
Our client base is diverse and growing - analytics, education, finance, healthcare, and technology. Our clients include Merchants Fleet, the University of Illinois System, Fitch Ratings, Gamma Technologies, Hexaware, HERE Technologies, and Verizon.
Biography:
Shashi Singh - EMBA, PMP, CSP, ACP, CSM, SAFe SPC4 - is the founder and president of Agile N2N. With over 20 years' experience in diverse business environments, Shashi specializes in helping companies create value through leadership, culture, and finding and retaining highly qualified people. He uses an Agile approach to help his clients build their business for tomorrow while running their business today.
Shashi maintains his keen knowledge of trends and techniques through Meetups, Communities of Practice, a wide range of conferences, and by empathically listening to his students, mentees, and clients. He gives back by speaking at events in Europe, US, and India.
Alan Berow – BSEE, MBA, CSM, ASQ CSSGB, IEEE Life Member - is the lead trainer at Agile N2N. He has held positions in design validation, technical support management, failure analysis, and development process design. Throughout his career, Alan gained first-hand experience with the impact of long design cycles unable to meet evolving customer needs and deliver value. While looking for ways to fix this, he found Agile.
With a small group of Agilists, he helped a global company begin its successful Agile journey. Alan is currently helping Agile N2N through mentoring and training new Agilists and facilitating opportunities for new and experienced Agilists to share their knowledge and experience.
Address:1755 Park Road, Suite 200, Naperville, Illinois, United States, 60563
---
Agenda
7:05pm – Announcements & Introductions
7:15pm - Presentation
8:15pm - Q&A
---
The IEEE Chicago/Rockford Consultants' Network would like to extend a special thanks to the MAKERSPACE AND ENTREPRENEUR CENTER at HARPER COLLEGE for their support of our past events. Though COVID-19 has disrupted their operations, you can learn more about the many exciting developments underway at this new, growing community by visiting https://www.harpercollege.edu/maker/index.php.
---