SIGHT Day Justice for All: Mock Trial Competition
---
SIGHT Day Justice for All: Mock Trial Competition
---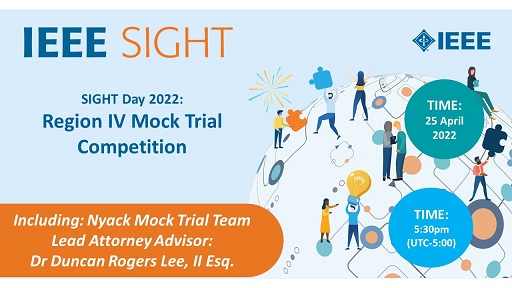 Celebrate SIGHT Day. Keep up with Do Good Things Justice and Health for All. Attend the Mock Trial Competition.
This week is the week of Region IV Mock Trial Competitions. The winner of the Regionals will compete for the New York State Championship on May 23rd and 24th. All competitions this year are via Zoom.
The Region IV competition will involve each team holding two trials; the first, this Monday, April 25th, and the second, Tuesday, April 26th. Each team will perform the role of Prosecution at one trial and the role of Defense at the next. The two teams with the highest scores will proceed to a final round on Thursday, April 28th. All region IV trials will start at 5:30 p.m.. The Zoom links are listed below for all three days of the Region IV competition.
Nyack has been designated as "Team B" for all trials. This means that on Monday, Nyack will represent the Defendant against The Mount Academy (Ulster County Champion) as Prosecution. On Tuesday, Nyack will play Prosecution against Monroe-Woodbury (Orange County Champion) as Defense. As you will see some of the Nyack Team appear on both sides which makes for a fun and interesting competition.
The case is a criminal trial of a stock broker accused of conspiring to and then running a classic Ponzi scheme defrauding investors of millions of dollars. Students have had to learn about the workings of the stock market and in particular about exotic derivative investments as well as having had to learn about the workings of the criminal justice system including courtroom decorum, the rules of evidence and ethical attorney behavior. They have worked very hard giving up parts of their weekends, afternoons and school vacations to become prepared. I know I join teacher coaches, Steve Nardi and Pat Gavigan as well as assistant attorney advisor, Giulia Palermo, Esq., in saying we are very proud of the teams performance and accomplishments. We know you will be too.
Some reminders if you join us on Zoom this week to watch. First, there is to be no communication of any sort with team members once the trial starts until after closing arguments have been delivered and the judge concludes the case (unlike the Rockland County competition, judges will not announce who won). Team members must be in separate rooms and on separate devices from observers and other team members. Observers should have their video turned off and microphones muted at all times. Team members must have back-up electronic devices in the event of technical problems on their main electronic devices.
One final note. The Nyack Mock Trial Team is being presented with an award for winning the Rockland County Championship as part of the annual Law Day ceremony on Friday April 29th. That ceremony is open to the public (Masks required) and will be held in the Jury Assembly Room on the second floor of the Rockland County Courthouse from 9:30 till 11:30 a.m. If you can come, I urge you to do so, but arrive early because you will have to pass through the courthouse metal detectors on your way in.
Dr. Duncan Rogers Lee II, Lead Attorney Advisor
Nyack High School Mock Trial Team
Zoom Links for Regionals
Round 1 – Monday, April 25, 2022
Team A v. Team B (Mount Academy Vs Nyack)
https://us02web.zoom.us/j/89832298116?pwd=STF1dzdKcDVCSjlTSzVZRkM1T
zkyUT09
Meeting ID: 898 3229 8116
Passcode: 648082
---
Date and Time
Location
Hosts
Registration
---
Date: 25 Apr 2022
Time: 05:30 PM to 10:30 PM
All times are (UTC-05:00) Eastern Time (US & Canada)
Add Event to Calendar
Zoom Links for Regionals
Round 1 – Monday, April 25, 2022
Team A v. Team B (Mount Academy Vs Nyack)
https://us02web.zoom.us/j/89832298116?pwd=STF1dzdKcDVCSjlTSzVZRkM1T
zkyUT09
Meeting ID: 898 3229 8116
Passcode: 648082
Holmdel, New Jersey
United States
---
---
---
SIGHT Day Justice for All: Mock Trial Competition
---