VTS: Real-Time Tracking on MDOT MTA Baltimore Metro: Challenges and Successes
---
The IEEE Vehicular Technology Society
ONLINE MEETING

Tuesday, May 10, 2022, 12:00 PM
---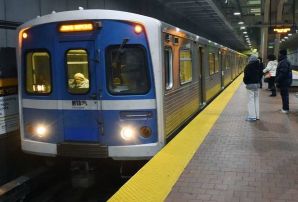 Winner of the IEEE Northern Virginia Chapter of the Year 2017
Winner of the IEEE Northern Virginia Chapter of the Year 2018
THE REGULARLY SCHEDULED VTS MEETINGS WILL BE HELD ONLINE UNTIL FURTHER NOTICE
You will need a computer with speakers to watch the presentation. A microphone and webcam are optional but encouraged.
Cost: Free!
Please register by 5 pm Monday, May 9
Webinar login details will be provided by 6:00 pm on Monday, May 9.
Check the Chapter website for updates:
Topic: Real-Time Tracking on MDOT MTA Baltimore Metro: Challenges and Successes
Accurate, reliable, and accessible real-time train arrival information is a key expectation riders today have of a modern subway transit service. Yet since opening in 1983, passengers taking Baltimore's Metro SubwayLink were largely in the dark as to when the next train would come... that was, until December 2021!
Join MTA's Real-Time Team for the complete story on where the agency is today, what it took to get there, challenges overcome, and what's next.
Speakers: Steve Gladstone, Tanay Gupta, Michael Helta, Cole McCarren - Maryland Transit Administration
Speaker Bios:
Steve Gladstone is the Director of Digital Marketing and Content for the Maryland Transit Administration where he's been loving life for almost five years now. Don't let the title fool you as he brings with him a computer science degree from the University of Maryland, which he's put to use building out real-time tracking and passenger information systems with the rest of the team. While not pursuing system integrations and pushing interoperability between platforms, he wanders around the agency trying to find any loose chocolate people are silly enough to leave out in the open.

Tanay Gupta supports MDOT MTA's Office of Innovation on projects related to passenger-facing technology & analytics. These projects include developing the vehicle positions feed for metro real-time based on track circuitry data, a mobile app to quantifiably track improvements to MTA's bus service, and an automated notification to bus operations about real-time data quality. Prior to this role, he graduated from WSP USA's rotational management consulting program, supporting national clients across aviation, rail, and highway sectors. Mr. Gupta has a BS in Mechanical Engineering with a minor in Computer Science from the University of Illinois at Urbana-Champaign.

Michael Helta is the Chief Innovation Officer at the Maryland Transit Administration. In his role, Michael seeks out strategies, technologies, and tactics to continually improve services to better the customer experience wherever possible. Improvements include developing real-time arrival information for the first time across all modes, developing an agency data warehouse, improving operational SOPs, improving service-related communications, and much more. Michael has BAs in Psychology and Criminal Justice and a Masters in Community Planning all from the great University of Maryland at College Park. A native of Maryland, Michael has now lived in Baltimore for over 15 years and loves every minute of it. In his free time, you can find him playing disc golf, riding buses, or hanging out with his daughter Zoe - which may involve playing disc golf and/or riding buses!

Cole McCarren is MTA's Real-Time Passenger Information Manager. Cole has a BS in Geography and a minor in GIS from the University of Maryland, College Park, and is an Accredited Professional of the Congress for the New Urbanism. He started his transit career 7 years ago as a bus driver and worked in dispatching, operations supervisory and operations planning, and technical advisory roles around Maryland before specializing in transit data, passenger-facing information, and the transit customer experience. Outside of work, he loves music and exploring the great outdoors - usually with his dog, Oatmeal.
---
Date and Time
Location
Hosts
Registration
---
Date: 10 May 2022
Time: 12:00 PM to 01:30 PM
All times are (GMT-05:00) US/Eastern
Add Event to Calendar
The meeting will be held on Zoom. A Zoom link will be emailed by 6:00 pm the day before the meeting to registered participants.
Note: You only need to provide the required information (noted with a red *) on the registration web link, BUT please help us out and let us know if you are an IEEE or VTS member. Everyone is always welcome at our meetings and membership is NOT required, but when we send meeting reports to IEEE, we need to list the number of IEEE/VTS members who participate.
Starts 03 May 2022 02:00 PM
Ends 09 May 2022 06:00 PM
All times are (GMT-05:00) US/Eastern
No Admission Charge
---
---
Agenda
12:00 pm - Introductions/roll call and discussion of current rail industry news and happenings
12:30 pm - Technical presentation & discussion
01:30 pm - Adjourn
-----------------------------------------------
IEEE VTS CHAPTER OFFICERS:


Chair: David (DJ) Johnson
Vice-Chair: Reg Mitchell
Secretary: Karl Berger, PE
Treasurer: Steve Bezner, PE
Cashier: Ken Briers
Program Committee: Heather Roman, Matt Nawn
Please help your VTS Chapter: If you would like to speak or have contact information for a speaker, please contact Heather Roman <hroman at omni-strategy dot com> or Matt Nawn <matthew.nawn at dot.gov>
---
Future Meetings:
Summer break
September 13
October 11
November 8
December 13
---