IEEE AP-S COPE AND SIGHT: EU-REKA, SWASTH AND BNP PROJECTS
---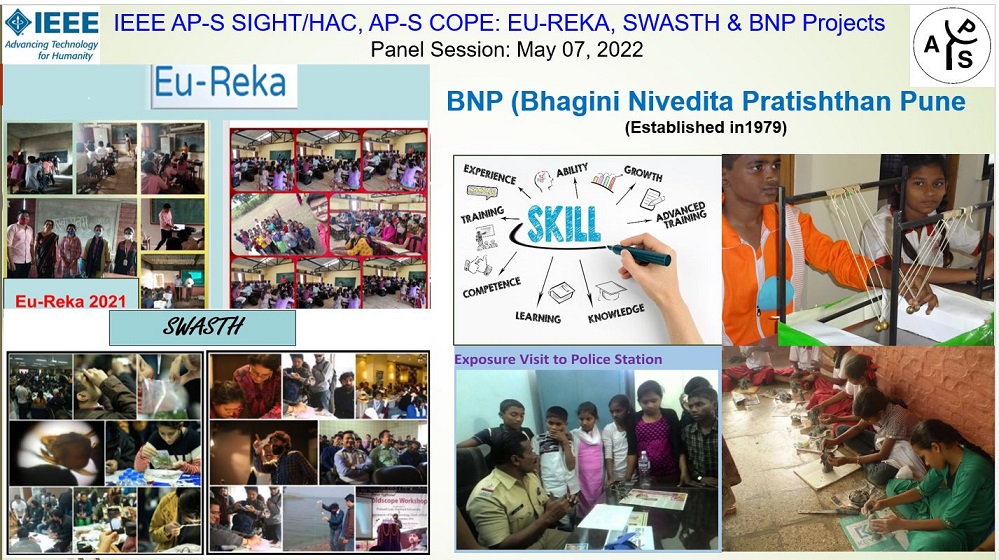 BNP:
More than 4 decades of the legacy of working in the domain of family welfare and spreading education, targeting underserved communities
Driven by the motto "Everything in the field of upliftment of women and Children"
Topic: IEEE AP-S SIGHT/COPE Meeting
Time: May 7, 2022, 10:00 PM Eastern Time (the US and Canada)
Join Zoom Meeting
Join our Cloud HD Video Meeting
---
Date and Time
Location
Hosts
Registration
---
Start time: 07 May 2022 10:00 PM
End time: 08 May 2022 12:30 AM
All times are (GMT-05:00) US/Eastern
Add Event to Calendar
The event will be held online. A link will be provided to the participants.
Co-sponsored by

IEEE North Jersey Section
Starts 01 May 2022 10:00 AM
Ends 07 May 2022 10:00 PM
All times are (GMT-05:00) US/Eastern
No Admission Charge
---
Speakers

Prof. GS Mani
Topic:
IEEE AP-S COPE AND SIGHT: EU-REKA, SWASTH AND BNP PROJECTS
Biography:
Prof. Dr. G. S. Mani is a Former chair at IEEE, Pune section, and Former Dean and Director at DIAT, DRDO, Pune. He is currently serving as a Chair of IEEE Pune JCAME (joint Chapter AP/MTT/EMC), He quotes that if you have discipline, it provides you with tolerance and that tolerance is important. He further adds that when a student is given an idea about fine arts he also gets an idea about tolerance, which is important for facing life problems. He states when arts interact with stem, it produces the biggest byproduct. That is why there is a need for the stem to become steam in our education system.
Email:
Address:India

Dr. Manjusha Mungi
Topic:
IEEE AP-S COPE AND SIGHT: EU-REKA, SWASTH AND BNP PROJECTS
Biography:
Dr. Manjusha A. Mungi was born on August 15, 1947, in Pune (Maharashtra), India. She received her M.Sc. (Physics-Electronics) from the University of Pune, India in 1984, and her B.Ed. (Bachelor In Education, with Mathematics, Physics as special subjects) in 1985 from the S.N.D.T University Mumbai, India. She was a Lecturer of Physics at Ness Wadia College, Pune, India, S.P. College, Pune, India, and then taught Math and Physics at various coaching institutes.
She motivates and mentors High School students for pursuing Science and Engineering in College. She retired as a Vice-Principal of the Jnana Prabodhini Prashala, Pune, India, a unique school, specially established for gifted students, affiliated with C.B.S.E. (National Board of Education). Other activities and goals of this institute include developing leadership qualities among students, creative thinking, motivating intelligence for social changes, and many more. Various experiments on teaching methods have been successfully implemented.
As a Vice-Principal of the School, she was closely involved in management as well as teaching responsibilities.
Conducted various science project camps for the students of Jnana Prabodhini
Participated in the committee for preparing the syllabus for the 11th and 12th Grades at the University of Pune, India.
Participated and delivered lectures in a workshop conducted by N.C.E.R.T. (New Delhi), for high school and Junior college teachers in Physics from all over India.
Conducted educational programs on T.V. and Radio and contributed to Educational Magazines
Led a study campaign and visited the remote areas of the desert state of Rajasthan where "Sati" custom was followed until recently. Motivated the girl students to take up administrative services to serve the nation, especially for women's problems.
Led several relief programs for underprivileged kids. Volunteers her time with the Bhagini Nivedita Pratishthan (BNP) in their programs for the underprivileged students, helping them with studies after school (Abhyasika) in science and math, and continues tirelessly working for improvement in their quality of life
BNP - Mobile science lab - bringing science experiments to the underprivileged students and conducting them at the Municipal (Zilla Parishad) schools in Dighi, Bhukum, and Bhugaon, and others on the outskirts of Pune City, India.
Dr. Mungi has experience in teaching various STEM subjects such as Physics, Math, and Electronics for more than 35 years and has also been conducting Vedic rituals in India and abroad for the experimental verification of the "Truth" based on Physics that was followed in ancient times by the Philosophers and Priests in India. The outcome of this research work benefitted mankind, especially persons suffering from Autism, Alzheimer's, diabetes, blood pressure, and more importantly stress relief.
As a Priestess (performer of Vedic Rituals) for more than 30 years:
Interviewed on many television channels like 'Aaj Tak, 'Sahyadri', 'Saam-Marathl' and on several European Channels.
Articles on her interview have been published in different magazines like 'Chitralekha', and 'India Today - International Edition'
Email:
---
Agenda
Topic: IEEE AP-S SIGHT/COPE Meeting

Time: May 7, 2022, 10:00 PM Eastern Time (the US and Canada)
Meeting ID: 894 5817 8907
Panelist:
Dr. Ajay Poddar, Chair IEEE AP-S CAC, Chair IEEE North Jersey Section
Prof. Weng Chew, Chair IEEE AP-S COPE, Past IEEE AP-S President
Prof. Yahia Antar, Co-Chair IEEE AP-S CAC, Past IEEE AP-S President
Dr. Jawad Siddiqui, Chair IEEE AP-S SIGHT, IEEE AP-S COPE Member
Dr. Meisong Tong, IEEE AP-S R10 CAC member, IEEE AP-S COPE Member
Dr. Anisha Apte, IEEE AP-S AdCom Member, Editor AP-S COPE Corner Column, Vice-Chair IEEE NJ AP/MTT Chapter
Ms. Camila Albuquerque, IEEE AP-S R9 CAC member, IEEE AP-S COPE Member
Speaker:
Prof. G. S. Mani, Chair IEEE Pune Section JCAME, Past Dean (Vice-Chancellor), DIAT Pune
Dr. Manjusha Mungi, Member IEEE Pune Section JCAME Chapter, IEEE Pune Section AP-S COPE BNP Project Program Coordinator
---