5G and Vehicular Communications (V2X)
---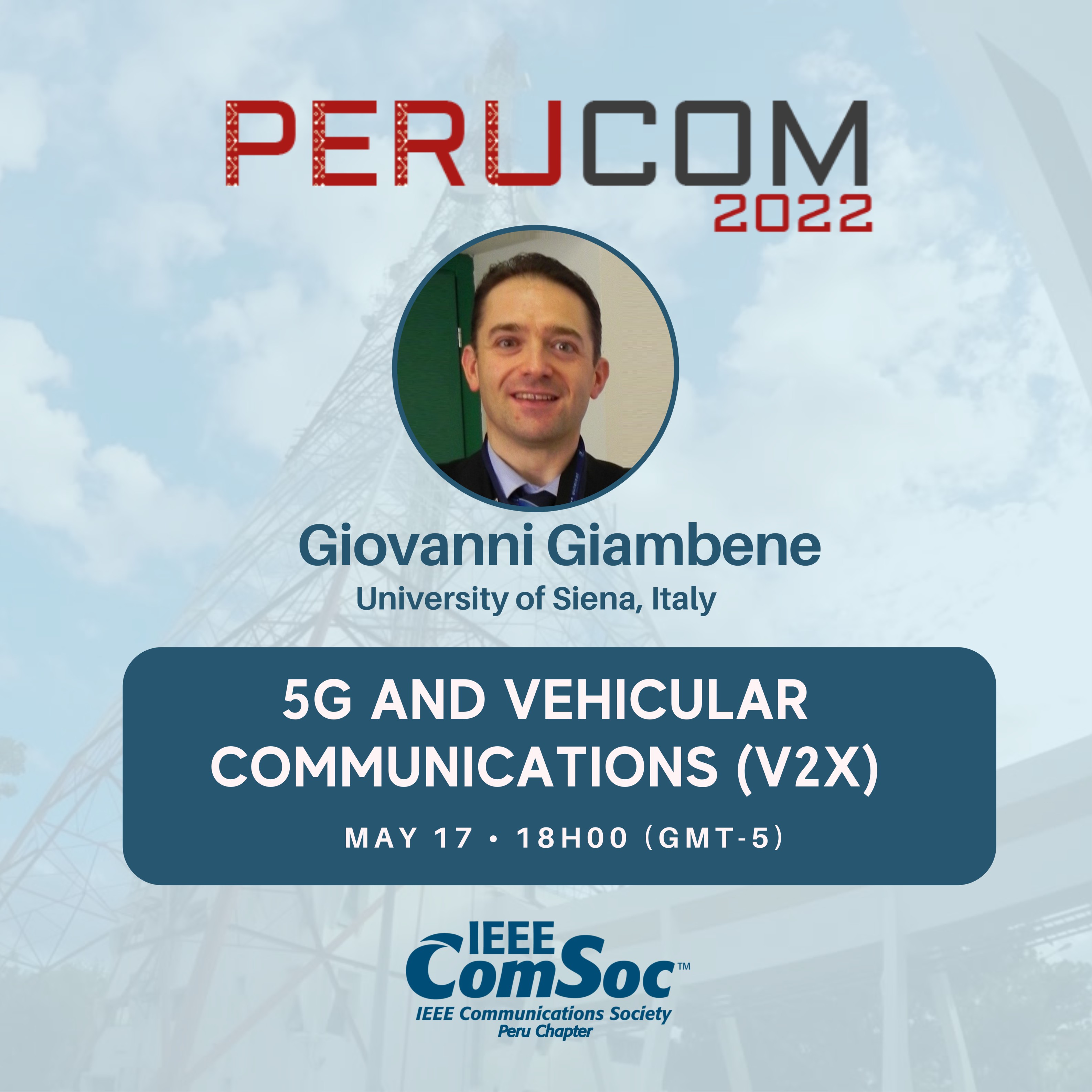 Virtual Distinguished Lecturer in PERUCOM 2022
---
Date and Time
Location
Hosts
Registration
---
Date: 17 May 2022
Time: 06:00 PM to 07:00 PM
All times are (UTC-05:00) Lima
Add Event to Calendar
---
Speakers
Topic:
5G and Vehicular Communications (V2X)
Today vehicles are expected to interact with each other to improve road safety and efficiency. This is a reality with autonomous car driving and platooning systems. Vehicle-to-Vehicle (V2V) and Vehicle to Everything (V2X) communications are supported by many standards such as LTE-V, 5G NR-V2X, IEEE 802.11p, IEEE 802.11bd. In these circumstances, the use of mmWave is an option to allow much larger
bandwidth but poses criticalities since the link is quite sensitive to Line-of-Sight (LoS) conditions. QoS requirements will be detailed according to the 3GPP URLLC class. In V2X, QoS needs are quite stringent since the motion of different vehicles has to be coordinated in a very short time to avoid collisions depending on vehicle speed and inter-vehicle distance.
Biography:
Giovanni Giambene (h index = 25 Google scholar, 20 SCOPUS, 16 ISI WoS) was born in Florence, Italy, in 1966. He received the Dr. Ing. degree in Electronics in 1993 and the Ph.D. degree in Telecommunications and Informatics in 1997, both from the University of Florence, Italy.
In 1999, he joined the Department of Information Engineering and Mathematical Sciences of the University of Siena, Italy. At present, he is an associate professor, teaching the first-level course on Fundamentals on Telecommunications and the advanced course on Networking at the University of Siena.
He has participated in the following international projects:
COST 290 Action (2004-2008), entitled "Traffic and QoS Management in Wireless Multimedia Networks" (Wi-QoST), vice-chair.

The SatNEx I & II network of excellence (EU FP6, 2004-2009), SatNEx III (ESA 2010-2013) and SatNex IV (2015-2019) as work package leader on radio access techniques, cross-layer air interface design, and network coding techniques for satellite systems;

The EU FP7 Coordination Action "Road-mapping technology for enhancing security to protect medical & genetic data" (RADICAL) as work package leader on security and privacy applications for the management of medical data;

The COST Action IC0906 (2010-2014) "Wireless Networking for Moving Objects" (WiNeMO) as national representative; the EU FP7 Coordination Action RESPONSIBILITY.
At present, he is involved in the ESA SatNEX IV project (2020-) and the ROMANTICA project with AIRBUS, financed by ESA IIT ARTES programme (2019-2021).
Giambene is IEEE senior member. Since 2010, he is a member of the Editorial Board of the "International Journal of Satellite Communications & Networking", Wiley. Since 2015, he is IEEE Transactions on Vehicular Technology editor. Since 2019, he is an IEEE Wireless Communication Magazine associate editor.
He has published the following book: G. Giambene, "Queuing Theory and Telecommunications: Networks and Telecommunications", Springer, November 2021 (3rd edition).
Research interests are as follows: satellite networking, mobile and wireless networking, 4G, 5G, NB-IoT, DVB-Sx/-RCS2, network coding and packet-level FEC, acceleration of TCP performance, satellite-terrestrial integration, queuing theory, satellite and IoT applications to environmental monitoring and smart agriculture.
Email:
Address:Siena, Toscana, Italy
---