Industrial Visit to Chetu , Noida
---
Industrial Visit to Chetu , Noida
---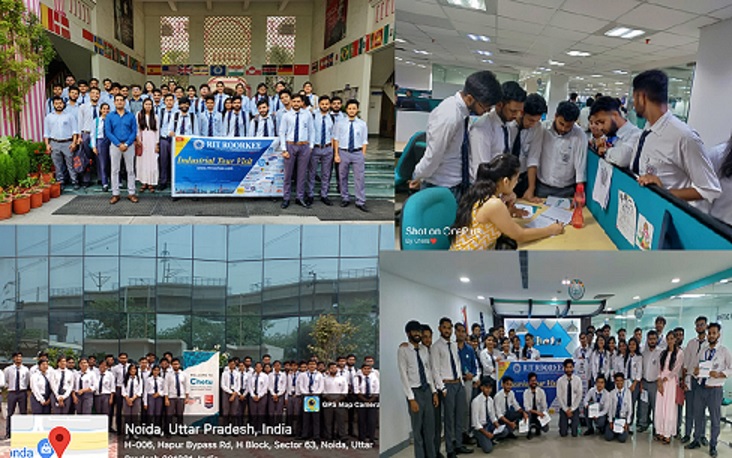 Industrial visit is considered as one of the tactical methods of teaching. The main reason behind this- it lets student to know things practically through interaction, working methods and employment practices. Moreover, it gives exposure from academic point of view. Main aim industrial visit is to provide an exposure to students about practical working environment. They also provide students a good opportunity to gain full awareness about industrial practices. Through industrial visit students get awareness about new technologies. Technology development is a main factor, about which a student should have a good knowledge. Visiting different companies actually help students to build a good relationship with those companies. We know building relationship with companies always will always help to gain a good job in future. After visiting an industry student can gain a combined knowledge about both theory and practical. Students will be more concerned about earning a job after having an industrial visit.
To get practical knowledge and to give an insight about the way things work in the real-life scenario, students of Roorkee Institute of Technology, Roorkee visited to Noida on 28th May,2022 assisted by 2 faculty members Dr. Manish Kumar, Ms. Chelsi Sen. A group of 40 members of RIT, Roorkee (2 Faculty members & 38 Students) visited Chetu, Noida (visited both offices in A-Block and H-Block, Sector 63, Noida) on 28th May, 2022.
This industrial visit was informative, interesting and successful that added a lot of corporate and interview knowledge for our students. We are expecting these type of visit must be organized by our institute. So that future students will also get benefited by these kind of activities.
---
Date and Time
Location
Hosts
Registration
---
Date: 28 May 2022
Time: 06:00 AM to 09:25 PM
All times are (UTC+05:30) Chennai
Add Event to Calendar
8TH KM DEHRADUN ROAD, PUHANA
ROORKEE, Uttaranchal
India 247667

Building:

8TH KM DEHRADUN ROAD, PUHANA
---
Mr. Aman Kumar

Coordinator R&D cell
---
Speakers
Mr Juned Hanfi (HR Technical)
of CHETU World Class Software Solution
Topic:
Brief Introduction on company profile and latest technology
Mr. Junaid introduced the students regarding work culture and latest technologies which company is using and which will make future carrier of students better. Refreshment was also provided to the students.
Mr. Junaid (HR Head) started the second session by giving us the tips of cracking an interview that contains interview skills and few important key points to improve the professional personality with much more. He guides us about the followings:
1. How to make an impressive resume/c.v.?
2. Things to be added or eliminated in one's resume.
3. Dos & Don'ts in an interview.
4. How to project oneself before the interviewer?
5. Discussion on frequently asked questions in the interview.
Email:
Address:Noida, India H-6, Sector-63 Noida-201301 (UP) India, , Noida, India
Miss Anjali (HR Team)
of CHETU World Class Software Solution
Topic:
Culture and Working Environment
Miss. Anjali & Miss. Chetna (HR team) started the first session by a brief introduction about company. The schedule in attached for more details. She shared her experience of IT sector with us and guide for the other trends. She also introduced the student regarding trending technologies like block chain, full stack and interacted with student.
Email:
Address:Noida, India H-6, Sector-63 Noida-201301 (UP) India, , Noida, Uttaranchal, India
---
Agenda
Industrial Visit to Chetu , Noida
---